UMass Boston Students Helping People Get Vaccinated
---
04/29/2021
| Crystal Valencia
Once a week this winter, UMass Boston master's nursing student Mirna Flores Raudez would make her way to the East Boston Neighborhood Health Center vaccination clinic. There, she helped Spanish-speaking community members and others receive their first doses of the COVID-19 vaccine.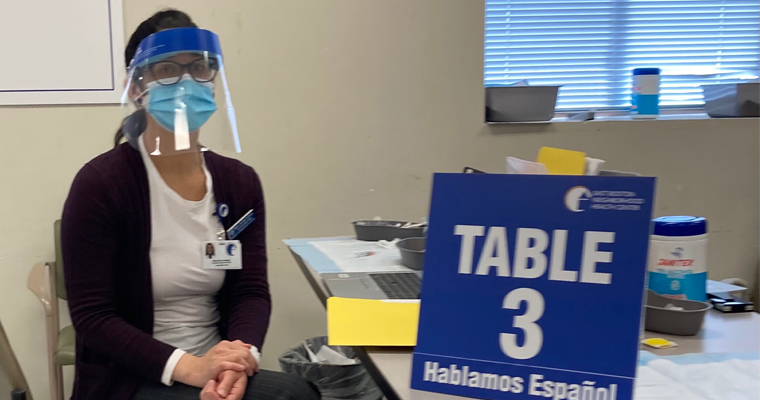 Mirna Flores Raudez gets ready for a day of administering vaccinations at the East Boston Neighborhood Health Center.
" Our students are from the communities most impacted by the pandemic and wanted to serve in any capacity to help and heal. "
"I wanted to be part of this historic time and give back a bit to all of these frontline workers working so hard," Flores Raudez said. "The opportunity came up to have some clinical hours and more exposure to minority populations. I am Hispanic, and it's important to me."
Flores Raudez, who is graduating in May, said she found the work rewarding.
"Being in East Boston, there were many people who only speak Spanish. I could help them feel more comfortable with the process by speaking to them in their native language," she said. "With my nursing education, I could answer their questions and explain any side effects they might experience. They feel better knowing what to expect."
Flores Raudez is one of many College of Nursing and Health Sciences students who are out in the community, vaccinating the most vulnerable populations while earning required clinical hours. Students are volunteering at clinics across the state administering vaccines and using the skills they've learned at UMass Boston to ensure proper post-vaccination monitoring and care.
"When the epidemic of COVID-19 limited students' access to clinical sites, many agreed to work as patient care technicians in every hospital in the region," CNHS Dean Linda Thompson said. "They saw this challenge as a once-in-a-lifetime opportunity to be part of the solution to a major public health crisis.
"When the vaccines were available, our students volunteered to vaccinate. Our students are from the communities most impacted by the pandemic and wanted to serve in any capacity to help and heal," she said.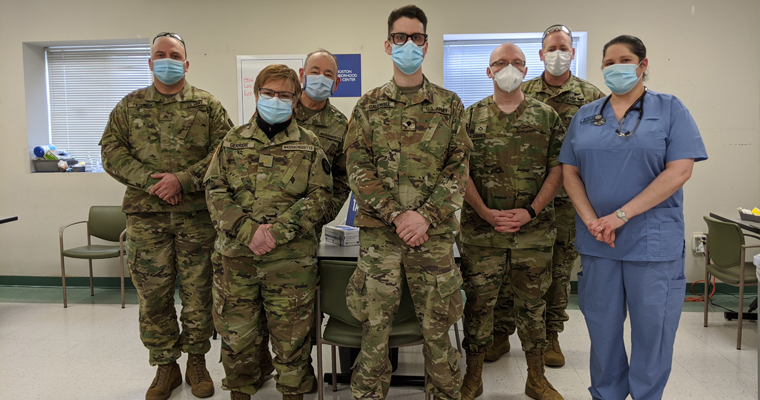 Ariane Nicole Theriault, a nursing master's student who works in a local hospital, also volunteered at the East Boston Neighborhood Health Center with Flores Raudez and seven other master's students. She said it was a great opportunity to help make a difference.
Theriault explained how she applied her knowledge learned in the program when dealing with people with preexisting health conditions; people have asked about rescheduling mammograms, concerns about being pregnant and getting the vaccine, whether they still need to wear masks and social distance, and whether they could take a vacation.
"It's interesting in that I'm able to promote health in that sense and help them," she said. "I received my vaccine at another location. I got no information, no education. It was so different. We really get the chance to do a lot of health promotion while giving vaccinations. We spend a lot of time looking up information and teaching them."
Theriault said it's been a rewarding experience just to interact with the patients.
"It's been great speaking to the patients," Theriault said. "A lot of them have a great story. They tell me how they haven't been out and want to see their grandkids, or they want to be able to hug their mom. . . . It's a moment for patients to be able to vent a little bit. They're happy to be there."
Both Flores Raudez and Theriault encourage people to get vaccinated.
"We can help decrease this pandemic and get back to the normal," Theriault said.
"I got the vaccine. I have two young children. Once they open it up to children, I'll have my children vaccinated as well," Flores Raudez said. "Vaccines have been shown effective. We have to trust scientific data."