UMass Boston's Center for Women in Politics and Public Policy Announces New Distinguished Public Service Fellows
---
04/06/2021
| Center for Women in Politics and Public Policy
Suffolk County District Attorney Rachael Rollins, Joanne Dunn, Gladys Vega, and Lisa Wong Selected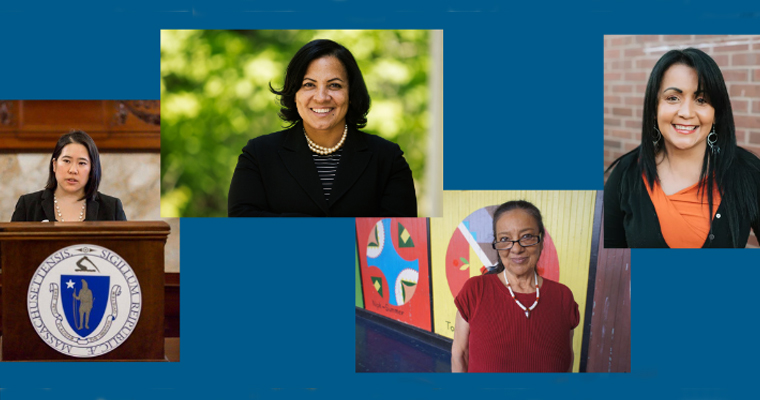 (From left) Lisa Wong, Rachael Rollins, Joanne Dunn, and Gladys Vega
" We are more than delighted to announce the selection of this new cohort, which for the first time are all women of color. "
The Center for Women in Politics and Public Policy (CWPPP) at UMass Boston has announced the selection of its third cohort of Distinguished Public Service Fellows whose mission for the next two years will be to help bridge the gap between generations of women leaders and prepare the next generation of leaders, with a particular emphasis on advancing the leadership of women of color.
The four new fellows are Suffolk County District Attorney Rachael Rollins; former Executive Director of the North American Indian Center of Boston Joanne Dunn; Executive Director of the Chelsea Collaborative Gladys Vega; and Winchester Town Manager and former Mayor of Fitchburg Lisa Wong.
The fellows will give public lectures, mentor students in CWPPP's Gender, Leadership, and Public Policy Program (GLPP), and share their papers and leadership narratives and lessons, which will be contributed to the Women's Public Leadership Archive, based in UMass Boston's Healy Library. This cohort of fellows has selected the theme, "Bold, Brave, and Beautiful: Women of Color Leading Together" to describe their collective vision for their tenure. District Attorney Rollins has been designated as the Betty Taymor Distinguished Public Service Fellow, in honor of the founder of CWPPP's graduate program whose 100th birthday was recently celebrated by CWPPP and a host of Massachusetts luminaries.
Dr. Laurie-Nsiah Jefferson, director of CWPPP and the GLPP graduate program emphasized that, "We are more than delighted to announce the selection of this new cohort of fellows, which for the first time are all women of color. Each has made tremendous contributions to our Commonwealth and beyond. In their role as fellows, they will have a formal way to transmit knowledge gained through their experiences, not only to students in our graduate program, but also to the wider community through their public lectures and forums, and by donating their papers to the Women's Public Leadership Archive."
Former Betty Taymor Distinguished Public Service Fellow and current Interim Chair of CWPPP's External Advisory Board, Charlotte Golar Richie, described the fellows program as a unique opportunity to analyze one's community work and professional experiences in an academic setting: "This fellowship has been a great experience — and I'm grateful to have had the chance to work with an extraordinary group of accomplished women, and to join them in confronting and exploring the pressing social issues of our day."
David Cash, dean of the McCormack Graduate School for Policy and Global Studies, CWPPP's base at UMass Boston, says that, "The new cohort of fellows follow in the impressive footsteps of CWPPP's first two cohorts of fellows which included Charlotte Golar Richie, Alice Wolf, Lydia Lowe, Vanessa Calderón-Rosado, Jackie Jenkins-Scott, Patricia McGovern, Dolores Mitchell, and Maria Elena Letona. Their contributions to public life and nonprofit leadership in Massachusetts and beyond are unparalleled".
The first public event for the third cohort of fellows will be a virtual welcome featuring a lively panel discussion highlighting their perspectives on their chosen theme of "Bold, Brave, and Beautiful: Women of Color Leading Together." The event will be held on April 13 at 6 p.m. ET and is open to the public (register here).
Biographical Details of the Fellows
Suffolk County District Attorney Rachael Rollins is the chief law enforcement official for Boston, Chelsea, Revere, and Winthrop, Massachusetts, and oversees an office of approximately 300 people handling approximately 35,000 new cases each year. She took office on Jan. 2, 2019 as Suffolk County's 16th district attorney, the first woman to be elected to that position in Suffolk County history, and the first woman of color ever to serve as a Massachusetts district attorney.
Joanne Dunn retired as executive director for the North American Indian Center of Boston (NAICOB) in August 2016. The NAICOB is the successor to the Boston Indian Council (BIC), the first and oldest urban Indian Center in the northeast. Dunn enjoyed a career that spanned more than 40 years serving Boston's urban Indian Community from all over the United States and Canada. She recently retired from her seat with the Massachusetts Commission on Indian Affairs ( MCIA} in February, 2021 following more than 20 years of service. Dunn is Mi'kmaq and an enrolled member of the Wagmatcook First Nation Indian Reserve in Cape Breton, Nova Scotia.
Gladys Vega has dedicated 30 years of service to the City of Chelsea and the Chelsea Collaborative, which she joined in 1990 - just two years after its founding. Vega has worked as an organizer and an advocate to ensure that the Latino community has a role in determining the ways its needs and concerns are addressed. She is the architect of most of the collaborative's community coalitions and has played leadership roles in organizing for immigrants' rights, welfare rights, tenants' rights, open space and the environment, multicultural and anti-racism programs and in numerous grassroots campaigns.
Lisa Wong became the town manager of Winchester in November 2018. Wong served four terms as mayor of Fitchburg and received recognition for her work on issues including conservation, urban education, public health, and anti-poverty initiatives. She was the executive director of the Fitchburg Redevelopment Authority, and the executive director of the Women's Institute of Housing and Economic Development. She served as a senior fellow at Governing, taught at Clark University and the University of Wyoming, and worked in human rights. Wong serves on the Board of Overseers at Boston University and on the Boards of the Massachusetts Smart Growth Alliance, MassINC, ACLU of Massachusetts, and Ivy Child International. She was appointed in 2018 by Governor Charlie Baker to serve on the state's Commonwealth Corporation board.