Wheels Brings MicroMobility to UMass Boston and the MBTA
---
11/10/2021
| Office of Communications
UMass Boston has partnered with the Massachusetts Bay Transportation Authority (MBTA) and Wheels, the leading last-mile, shared electric mobility platform, to offer hybrid micromobility devices—popularly referred to as e-bikes—on campus.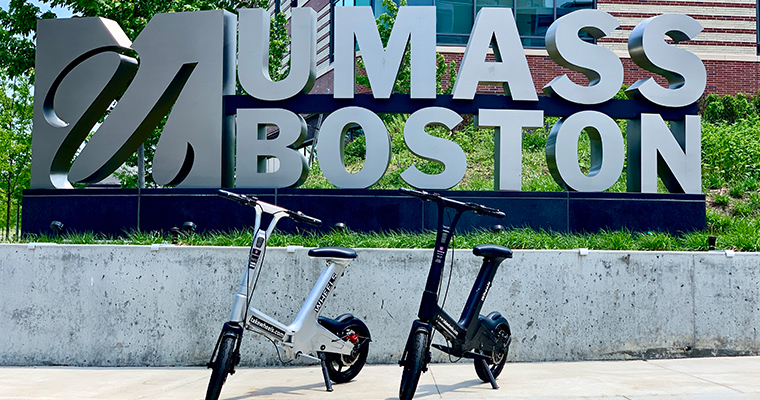 " We wanted to offer additional first-last mile solutions to our community that protect the health of our students and employees. "
Wheels launched at UMass Boston on Friday, October 15, and will be available at the MBTA's JFK/UMass station in the coming weeks as a drop-off/pick-up location. This collaboration marks a significant moment in creating a safe, sustainable transportation option in Boston and makes Wheels the only hybrid micromobility device available in the city limits.
The devices are located at the West Garage, the ISC, Wheatley Hall, University Hall, the Clark Athletic Circle, and Bayside on campus (visit link here for a map).
"We created Wheels to give people a convenient, safe way to get around while beating traffic and limiting environmental impact," said Marco McCottry, CEO of Wheels. "As in-person activities resume, co-created micromobility solutions like this partnership with UMass Boston and the MBTA will only become more important. This collaboration shows what's possible for universities and cities across the country, and we couldn't be more thrilled to help Boston students, employees, and visitors connect the first and last mile between campus and mass transit."
With students and faculty returning to campus after months of remote and hybrid classes, Wheels will supplement the university's shuttle service and provide an accessible form of sustainable transportation from the MBTA's JFK/UMass station.
"With COVID-19's initial impact, we wanted to offer additional first-last mile solutions to our community members that protect the health of our students and employees," said Daniel Scavongelli, a transportation demand management coordinator at UMass Boston. "We're excited to partner with Wheels to give people a safe, affordable, and sustainable option to get around campus so they can focus on gearing up for the school year."
Students, faculty, and staff will have two options for using Wheels at the UMass Boston campus. First, they can sign up for Wheels' first-ever Semester Pass, which saves students 20 percent, and waives the $1 unlock fee for each ride until the end of the semester. Alternatively, riders can pay as they go ($1 per unlock plus 39 cents per minute).
Today's news comes on the heels of several recent Wheels announcements transforming urban transportation safely and sustainably. Most recently, Wheels launched an exclusive partnership with St. John's University through E&I Cooperative Services that provided them with a quick and easy way to add micromobility to their campus. In July, Wheels launched in Santa Monica and West Hollywood to give residents and tourists an end-to-end micromobility option across Los Angeles.
To learn more, including safety tips, visit: http://takewheels.com/umb
In addition to Wheels, UMass Boston's sustainable transit features include shuttle buses, discounted transit passes, cars and fleet on demand, alternative commuting rewards program, and a bike-sharing program. Learn more about all the university's sustainable transit features at www.umb.edu/the_university/getting_here.