$1.2 Million Grant Launches New Interdisciplinary Education Program at UMass Boston
---
05/19/2022
| Danielle Bilotta
A new interdisciplinary program at UMass Boston prepares future educators for social-emotional learning while addressing personnel shortages in education.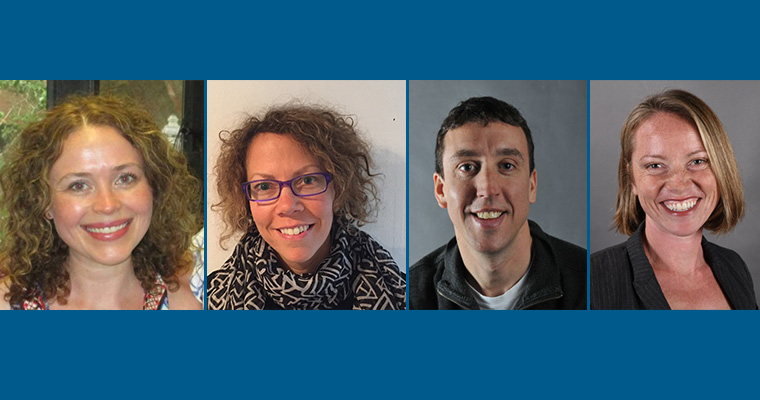 Left to Right: Principal Investigators Kristin Murphy and Amy Cook and TLC Co-Principal Investigators Chris Denning and Laura Hayden.
Associate Professors of Special Education Kristin Murphy and Chris Denning have partnered with Associate Professors of Counseling Amy Cook and Laura Hayden and CEHD Associate Dean of Grants and Research Angi Stone-MacDonald to create Project Teachers Learning with Counselors (TLC). The program will ensure the interdisciplinary preparation of 15 master's level candidates across the two disciplines of the Special Education and School Adjustment Counseling Program in the next four years.
TLC is funded by a $1.2 million grant from the U.S. Department of Education's Office of Special Education Programs.
"It was exciting as we were drafting our proposals for the grant and thinking, wow, this would be a way to build more connections across programs that typically we'd never connected," Cook said.
"The grant asks you to rethink and reshape your programs so that students who will be required to collaborate in their future professional roles are receiving interdisciplinary opportunities together during their graduate studies," Murphy said.
The TLC program pays particular attention to social-emotional learning to support academic outcomes for students with disabilities including those with and at-risk for emotional and behavioral disorders. The two-year program of study includes joint classes and activities, mixed reality simulations, and urban fieldwork in the Boston Public School system.
Considering the current times, social-emotional learning is non-negotiable. "It's a foundation we have to work from if we want to accomplish anything else," Murphy said. "It was very important for that to be central to our program."
"Right now, more than ever, this is critical as we navigate through dual pandemics," she said. "We have a racial pandemic and the COVID-19 pandemic, and this has erupted into all different kinds of ramifications for students and school-based staff."
Although students in the counseling and special education programs both complete field work and seminars on campus, the programs are separate, leaving students siloed within their chosen disciplines. Cook explained that they want the TLC program to create shared work experiences and mentorships and address student interest in learning about other fields and topics within education.
"It's a great opportunity for our TLC scholars to get that additional instruction, get that practice in the field, and be more prepared to serve the population," Cook said. "I think it will be more comprehensive by having this grant and pushing us to do that more effectively."
The TLC program will be able to fund 15 scholars in the next four years The first cohort of 8 scholars will start this summer. A second cohort of 7 scholars will start in Summer 2024. In partnership with an advisory board made up of Boston Public School teachers, leaders, and counselors, in addition to researchers with expertise in disability and social-emotional learning from around the country, the team is committed to recruiting diverse, high-quality scholars for the project, Murphy said.
One group they are especially interested in recruiting are paraprofessionals who are currently working in the school system and often more reflective of the students in the Boston Public Schools.
"For individuals that want to become teachers in Massachusetts, you have to get a master's degree. We know that there are amazing paraprofessionals already committed to serving students in the Boston Public Schools and factors like cost can be a significant barrier to pursuing graduate studies," Murphy said. "One of the best parts of the program is that the majority of the funding goes towards student support."
TLC scholars will receive tuition and fees coverage at the in-state rate, a stipend each fall to support additional expenses, a complimentary Council for Exceptional Children Membership, and more. The five-year grant will start enrolling students in Summer 2022.
"This is a new and exciting way for us to be engaging with each other and really thinking about how we can accomplish a shared vision, which is a commitment to diversifying our graduate programs and pipeline of future special educators and school adjustment counselors," Murphy said. "I think it builds on really powerful work that many of my colleagues are engaging in at UMass Boston and in partnership with Boston Public Schools."