2021 Earthshot Prize Finalist Living Seawalls Announces Partnership with Stone Living Lab as Prince and Princess of Wales Visit Piers Park in Boston
---
12/01/2022
| Office of Communications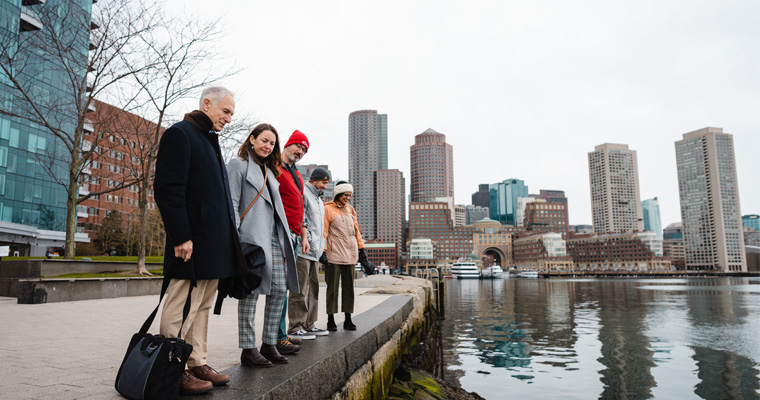 Image By: Javier Rivas
" We are honored to conduct collaborative research with our colleagues from Living Seawalls. "
Living Seawalls and the Stone Living Lab announced today they will partner on an ecological restoration project on Boston Harbor's existing coastal seawalls to support the region's climate resiliency efforts. The partnership was announced on Thursday, December 1 as Their Royal Highnesses The Prince and Princess of Wales visited Piers Park while in Boston to celebrate The Earthshot Prize.
The Stone Living Lab is developing monitoring systems, research projects, and prototypes to test nature- based approaches for building coastal resilience in urban areas like Boston Harbor. Over the course of 2023, two project sites in Boston Harbor will be selected for the installations following a review from the Lab researchers and outreach to the local community.
In each site, the partners will install Living Seawalls panels, mimicking the habitat features of natural shoreline ecosystems, such as rock pools and crevices, to be fitted in scalable mosaics onto seawalls with otherwise low marine biodiversity. The complex panel surfaces will increase the habitat area available for growth of marine life, such as shellfish, tunicates, and seaweed, critical to supporting the rest of the food web. They will also add protection to marine life from high temperatures and predators.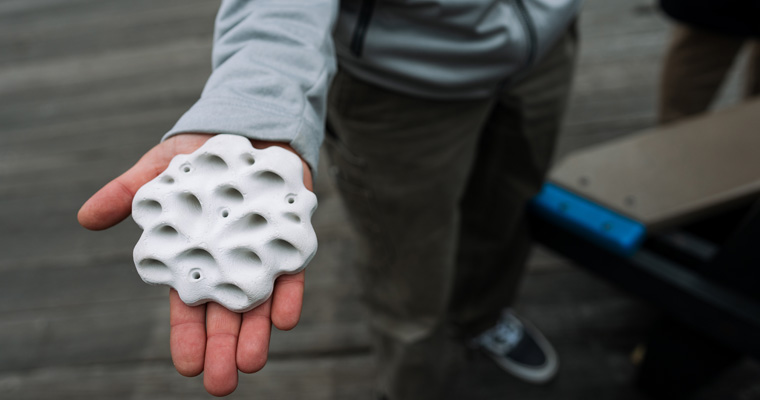 In 2021, Living Seawalls was named a finalist for The Earthshot Prize to Revive our Oceans. Launched in 2020 by Prince William, The Earthshot Prize is a global prize for the environment, designed to discover, spotlight and scale groundbreaking solutions to the world's greatest challenges.
Inspired by President John F. Kennedy's 'Moonshot' program, The Earthshot Prize was created to mobilize a wave of innovation and inspire a collective mindset of optimism, possibility, and creativity in the global race to repair and regenerate our planet.
Since becoming an Earthshot Prize Finalist, the Living Seawalls team have enjoyed a significantly increased global profile including an audience with Australian PM Scott Morrison and being featured on Cate Blanchett's Climate of Change podcast. They have also continued to win commissions around the world including two recent UK projects, as well as expansion of the Sydney Harbour project supported by a recent AUD$4.5 million grant from the New South Wales Government.
With support from Herbert Smith Freehills - a Member of The Earthshot Prize Global Alliance, they are on track to spin out from the Sydney Institute of Marine Science to be an independent organization by end of 2022, allowing them to scale up to meet the increased global demand.
"Boston Harbor's coastal communities are presently threatened by coastal flooding, as shown by University of Massachusetts Boston research, and over the next few decades this threat is amplified due to climate change," said Paul Kirshen, a professor at UMass Boston's School for the Environment, and research director of the Stone Living Lab. "We are honored to conduct collaborative research with our colleagues from Living Seawalls on the applicability of their prototype to help improve biodiversity and manage flooding in Boston Harbor."
"The climate resilience issues facing the Boston waterfront require collaboration from organizations near and far," said Kathy Abbott, president and CEO of Boston Harbor Now, executive committee member of the Stone Living Lab, and Earthshot Prize Host committee member. "As one of the Lab's key partners, we are so excited to work with the creative and dedicated team from Living Seawalls on this project."
"In addition to research, the Stone Living Lab also carries out educational and engagement activities that promote social resilience and equity," said Joe Christo, managing director of the Stone Living Lab, and Earthshot Prize Host committee member. "The Living Seawalls project will be an incredible opportunity to engage residents and students and can result in many ecological and societal benefits."
"Construction is a growing source of biodiversity loss in our seas and is projected to increase by 70% over the next 10 years in response to climate change and population growth. Living Seawalls is a modular and adaptable solution bringing life back to built structures around the world," said Dr. Katherine Dafforn, associate professor at Macquarie University, and co-founder of the Living Seawalls project. "We are thrilled and honored to partner with the Stone Living Lab to bring Living Seawalls to Boston. This project will showcase the amazing benefits to be gained by designing built structures for both humans and nature and serve as an enduring legacy of The Earthshot Prize Boston 2022."