A Beautiful Resistance: UMass Boston Celebrates Black Lives Matter Day
---
11/14/2022
| Crystal Valencia
UMass Boston came together for its third Black Lives Matter Day this week, celebrating Black lives and contributions not only here on campus, but throughout the community and world.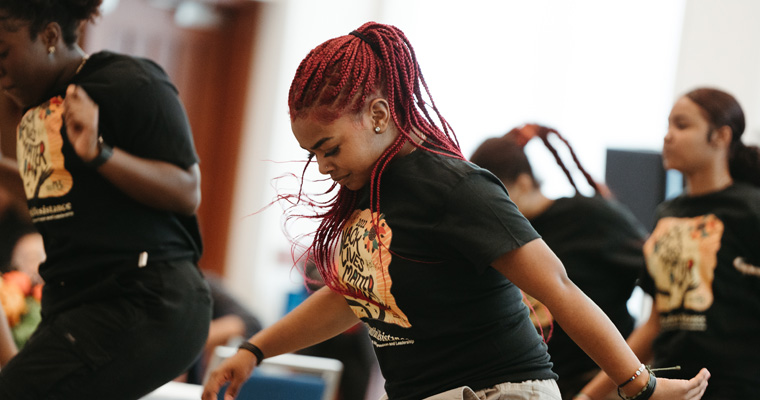 Students perform at Black Lives Matter Day 2022.
Image By: Javier Rivas
" On Black Lives Matter Day we honor Black brilliance, Black beauty, Black joy, and the Black legacy at UMass Boston. "
The full day of sessions, A Beautiful Resistance: Black Excellence Through Art Expression and Leadership, connected students and faculty with Black leaders, artists, activists, and scholars from across the city and state to reflect on the commitment to honoring and uplifting the Black community and explore what it means to embody a beautiful resistance.
"My life is a beautiful resistance because I woke up today, and because I woke up that means I'm possible, and every day that we have possibilities there's room to dream and grow and joy and make change," said keynote panel moderator Jenee Osterheldt, the senior assistant managing editor for culture, talent, and development at The Boston Globe.
Community members gathered in groups small and large in the Campus Center, engaging in panel discussions and workshops that focused on everything from hip-hop as history to shifting cultural patterns and narratives in the name of wellness and healing, a keynote speech, dance and musical performances, and community art.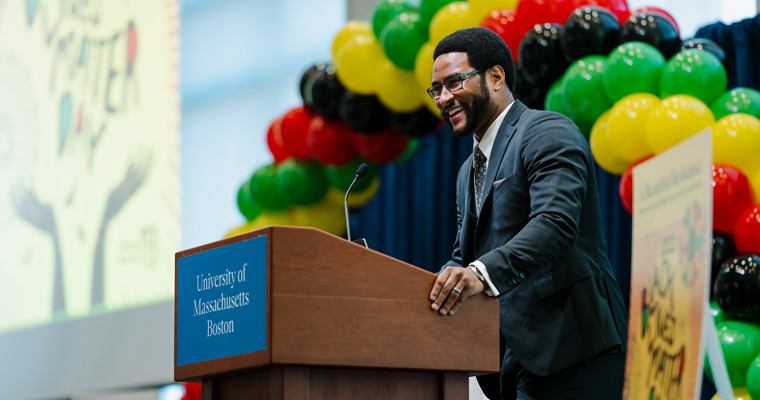 "We want to focus on our collective resolve, that we've utilized various resources within our families, our communities, our associations, our organizations, to combat anti-Black racism and to promote human harmony across racial groups," said Dr. Joseph Cooper, special assistant to the chancellor on Black life and chair of the Black Lives Matter Day Committee.
BLM Day at UMass Boston was created in November 2020 under the leadership of Pilar Nelson to represent the university's commitment to honoring Black lives and eliminating anti-Black racism at the systemic, institutional, and interpersonal levels. Chancellor Marcelo Suárez-Orozco has declared that UMass Boston will commemorate Black Lives Matter Day every year on the first Monday of November.
"On Black Lives Matter Day we honor Black brilliance, Black beauty, Black joy, and the Black legacy at UMass Boston, and appreciate the social, cultural, and intellectual contributions of every Black student, staff, faculty, and administrator who has ever set foot on this campus," Suárez-Orozco said.
Celebrating Black Lives Matter Day is vital to UMass Boston in its ongoing efforts to become a leading anti-racist and health promoting institution.
"As a university community of educators and scholars, we seek to expand the essential dialogue about intersecting identities and lived experiences as we work to create a more inclusive, humane, and just UMass Boston," Suárez-Orozco said. "We welcome a more complete understanding of the Black Lives Matter movement so that our students may find transformative meaning in the historic events of recent years. And we acknowledge the history of anti-Black racism in Boston, as well as the progress our city has made on racial justice."
Keynote speaker Dr. Bettina Love, an award-winning author and the William F. Russell Professor at Teachers College, Columbia University, spoke about hip-hop, civics, abolitionism, resistance, and creativity and what this all means for Black lives to matter.
"We do this time and time again. We improvise, we adapt, and they change the rules and we keep going, and we do it with so much swag that our stories, our dreams, our style of walk, talk, dressing, cooking, our heroes and heroines provide a record so distinctive that its origins in culture have been misconstrued as rooted in biology," Love said. "Meaning it's not biological to fight racism.
"No matter what you believe or don't believe, no matter what, you can't believe that Black folks are here to fight racism. That's racist. We should be here to live our full lives. I shouldn't be arguing with anybody that I'm human."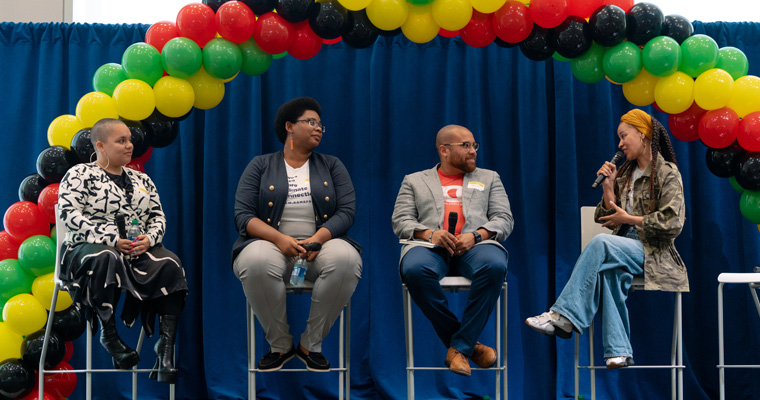 Keynote panelists included Andres Holder, executive director of the Boston Children's Choir; Catherine T. Morris, founder and artistic director of BAMS Fest; OJ Slaughter, a photographer and creative director; and Jeneé Osterheldt. Workshops were led by Marlene Boyette, a trauma-informed wellness practitioner, yoga and mindfulness educator; Vincent Siders, an actor, director, producer, and educator at Central Square Theater; Pacey Foster, founder of the Massachusetts Hip-Hop Archive; hip-hop artists Born Bi-Kim and Bernard "Smok N Strok" Johnson Jr.; and Sivia Malloy, MA '22, author of "Hip-Hop History: Grades 9–12 Local History Curriculum." Students Anchell Aguy, Izabel Depina, Marvel Melon, Justyn Santiago, and David Phiri also shared their stories.
"I feel like it's my role and responsibility to show people who come here the sides of Boston that I grew up in where there are generational family, there are cultural institutions that sustain black and brown culture," Morris said. "I'm so proud to boast and brag about a history of Boston that's often suppressed that has retained those who are from here, those who come here and want to stay here and those we haven't even met yet."
BLM Day organizers also presented three awards to individuals who have demonstrated a commitment to positive change in Boston through artistic expression and empowerment. Awardees included Catherine T. Morris, founding artistic director at BAMS Fest and director of arts & culture at The Boston Foundation; Rob "ProBlak" Gibbs, graffiti artist, and co-founder of Artists for Humanity; and Vania J. Arroyo, photographer, makeup artist, and educator.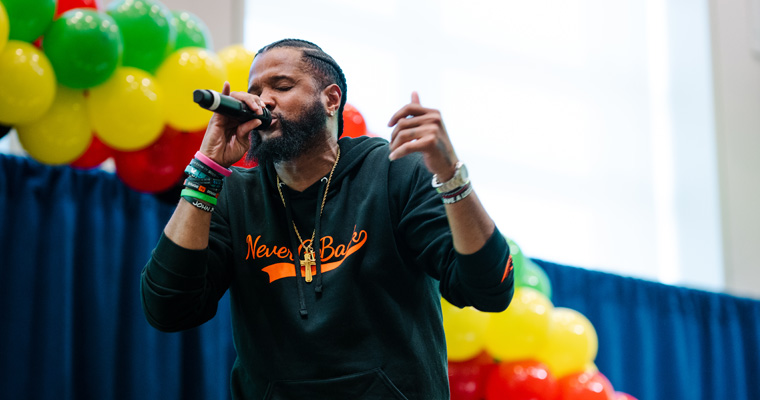 The audience enjoyed music and spoken word performances from Jazzmyn RED, Mathematics, DJ Chubby Chub, and Eric Henderson (aka EXITFRAME).
The event was sponsored by Black Life; the Office of Diversity, Equity, and Inclusion; Student Equity, Access, and Success; Office of Community Partnerships; and Housing and Residential Life.