Alumnus Mikel Moyer '19 Establishes Scholarship to Honor UMass Boston Professor, Mentor
---
08/01/2022
| Vanessa Chatterley
When Mikel Moyer '19 enrolled at UMass Boston, it had been over 30 years since he last set foot in a classroom.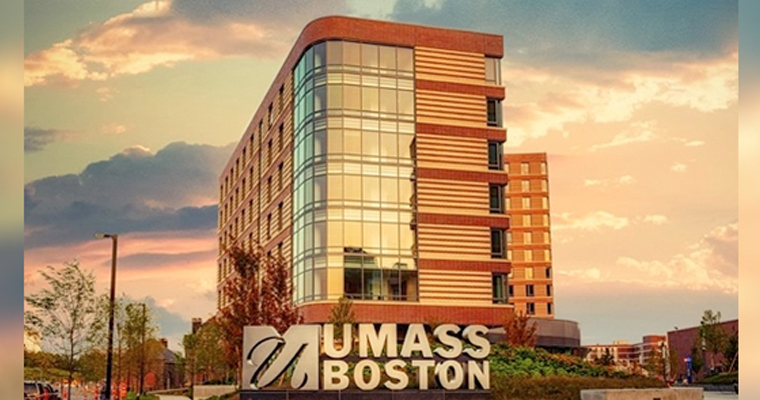 After earning his doctorate degree in synthetic organic chemistry in 1986, he enjoyed a career in the biopharmaceutical industry, holding leadership positions at some of the most prestigious pharmaceutical and biotech companies in the country.
When he ultimately retired in 2015, Moyer was left with a hunger for learning that could not be fully satiated by his go-to hobby — reading.
"I read fairly widely for a couple years after I retired," said Moyer, who preferred non-fiction, gravitating toward history in particular. "What I was finding was that I wasn't really retaining much of what I was reading. It was fairly scattered and not really with much of a systematic element to it."
His decision to enroll in UMass Boston came from that desire to expand his knowledge beyond what he felt he could accomplish on his own. Moyer's initial plan was to enroll in a few individual classes that piqued his interest. It wasn't until he stumbled upon UMass Boston's Second Degree Program that he switched gears, overhauling his curriculum to instead pursue a bachelor's degree in history.
In addition to the three history classes he took during his first semester, Moyer also enrolled in a philosophy course taught by Professor Nelson Lande. This class, called Social and Political Thinkers, would ultimately change the trajectory of his path at UMass Boston.
"From that course, I was hooked on philosophy," said Moyer, who immediately switched his major to philosophy with a minor in history.
He went on to take four additional classes with Lande, who has been a professor at UMass Boston since 1979. His teachings are primarily focused on logic, metaphysics, medieval philosophy, metalogic, and philosophy of logic. Additionally, Lande was the recipient of both the Chancellor's Distinguished Teaching Award and the Philosophy Department's Robert Swartz Creative Teaching Award in 2004.
Moyer said Professor Lande played a fundamental role in his ability to understand the challenging and dense reading that is often associated with philosophy, advising students to not feel discouraged if they don't understand the assigned readings the first — or even second or third — time around.
"That was hugely important for me because it took multiple times to understand what the text was saying. The writing style can be different than a modern-day style. The terminology is different, and the concepts are hard. But Professor Lande's advice told me that I wasn't stupid for not getting it the first time. In that one little discussion, he alleviated a whole realm of anxiety for me," said Moyer, who ultimately became a tutor for several of Lande's classes. "It's just an example of one of Professor Lande's strengths: the understanding from the students' standpoint and tailoring his teaching to help us through those difficult points."
As a retiree with college-aged children, Moyer acknowledged his unique and privileged position of being able to focus on his coursework without external pressures. He said this made a monumental difference in his studies, and he wanted to find a way to alleviate stressors for future students as well.
So three years after graduating with his bachelor's degree in philosophy, Moyer set out to do just that. He established the Dr. Nelson P. Lande Endowed Student Support Fund, which will provide one or more annual awards to a part- or full-time undergraduate student who has outstanding financial need.
"I wanted the name to have some bigger meaning. Recognizing Professor Lande and all he's done for all those years and all those students just seemed to be a good way to go about it," said Moyer about his decision to establish the scholarship in his mentor's name. "I wanted to name it after Professor Lande because of the huge influence he had on me during my time at UMass Boston."
Lande said he felt "unimaginably honored" to learn about the scholarship.
"[Moyer] is just an extraordinarily admirable person in every conceivable respect. The idea that an accomplished older person would want to go back to school and get a new undergraduate degree with no intention of doing anything — just because he really, really wanted to learn. To me, that's just phenomenal. Absolutely phenomenal," he said.
And Moyer isn't done learning. He's currently pursuing his master's in philosophy at Tufts University, where he also serves as a teaching assistant. He said this role has made him even more appreciative of his professors.
"The more you learn, the more you find out you don't know," said Moyer. "So, there's no end goal other than to hopefully keep learning."