Applied Linguistics Professors Awarded $2.9M for Development Program for Teachers of English Learners
---
UMass Boston Associate Professor of Applied Linguistics Avary Carhill-Poza and Professor of Applied Linguistics Panayota Gounari have been awarded a prestigious five-year, $2.9 million grant from the U.S. Department of Education's National Professional Development (NPD) program.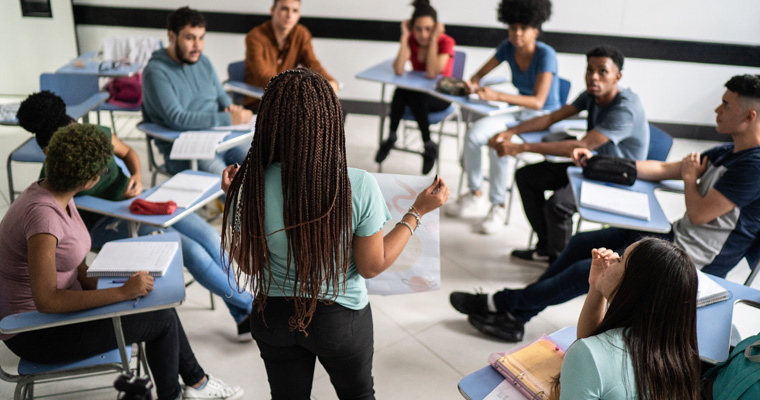 " The funding will enable us to partner with school districts to create equitable learning environments for English learners. "
The project, Centering Relationships, Equity, and Access for Teachers of English Learners (CREATE), is a rigorous professional development program that offers a practical solution for the shortage of qualified, diverse teachers of English learners in eight urban high-needs public school districts in Greater Boston. Educators participating in CREATE will develop the knowledge, skills, and pedagogy to lead their school districts to benefit from the strengths of immigrant students who are learning English. 
Co-principal investigators Carhill- Poza and Gounari, along with Assistant Professor of Applied Linguistics Chris Leider, designed CREATE to recruit and train 120 teachers over the next five years. Recruitment will focus on Black, Indigenous, People of Color (BIPOC) teachers who are bilingual, and paraprofessionals who typically lack direct pathways to licensure and long-term careers in schools. The project will enable designated school districts to increase their capacity to serve multilingual students and their families. In some participating schools, English learners comprise as much as 40 percent of the student body. 
"CREATE is innovative and exciting," Carhill-Poza describes, "because it empowers teachers to advocate for change within our school district partners through better understanding of the assets their multilingual immigrant students bring to learning. The expertise teachers develop from participating in the CREATE coursework, cohorts, and leadership activities will be brought into their classrooms, schools, and districts creating a ripple effect throughout communities."
Gounari explains, "Our UMass Boston team is looking to support public education in our state and serve the needs of teachers and English learners while redressing the inequities these historically marginalized students have been experiencing in their schooling. The NPD funding is a wonderful opportunity to amplify our efforts."
CREATE will also promote additive language policies for multilingual students in Massachusetts, which encourages English learning while also having mastery of their native language. "I grew up speaking Spanish at home and thrived as an English learner in school thanks to great teachers who helped me realize that my bilingualism and my biculturalism would someday be my superpower," U.S. Secretary of Education Miguel Cardona shared when announcing the recipients of this year's NPD grants.
"As a public research university with a vibrant, multicultural educational environment and an unwavering commitment to diversity, equity, and inclusion, UMass Boston is honored to be awarded a National Professional Development grant from the U.S. Department of Education," says Chancellor Marcelo Suárez-Orozco. "The funding will enable us to partner with school districts on the crucial work of creating equitable learning environments for English learners."
The public school districts participating in CREATE are Cambridge, Chelsea, Everett, Lynn, Medford, Milford, Revere, and Somerville. UMass Boston's additional partners in this study include the Massachusetts Association of Teachers or Speakers of other Languages, the Massachusetts Association of Bilingual Educators, and the Massachusetts Department of Elementary and Secondary Education.