Asian American Women Make Strides in Massachusetts House
---
08/19/2022
| Office of Communications
Notable Increase Since 2018 Signals Shift in Legislative Representation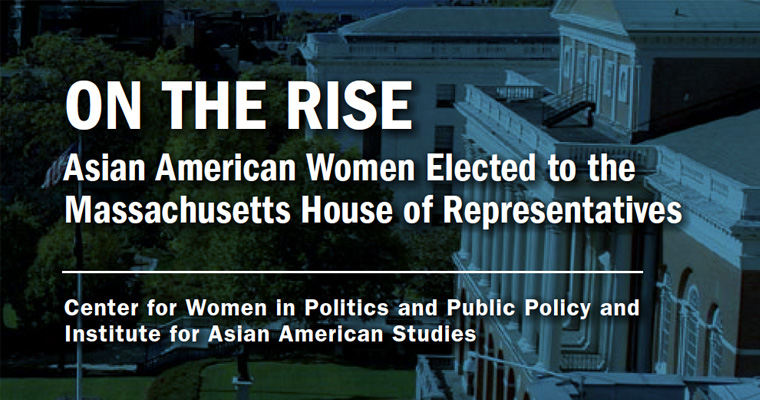 " These women knew well the consequences of not being 'at the table' and were driven to be agents of change for their communities. "
With its rapidly growing Asian American population and historically limited representation by Asian American women in its General Court, Massachusetts has seen a notable increase in the number of Asian American women serving in the Massachusetts House, even with the departure of Maria Robinson given her recent appointment in the United States Department of Energy as the first-ever Director of the Grid Deployment Office.
A new publication issued by UMass Boston's Institute for Asian American Studies (IAAS) and Center for Women in Politics and Public Policy provides a first-ever in-depth analysis of the experiences of the five Asian American women elected to the 160-member House. On the Rise: Asian American Women Elected to the Massachusetts House of Representatives explores their civic and community leadership, paths to elective office, and shared experiences of differential treatment due to their cultural and racial backgrounds as well as gender identity.
Author Katie Mai, UMass Boston alumna and former State House intern, was compelled to tell the story of the first five Asian American women elected to the Massachusetts House to "share their insights into the challenges of breaking in and staying in the political arena as Asian American women."
Paul Watanabe, director of the Institute of Asian American Studies, stated "these women knew well the consequences of not being 'at the table' and were driven to be agents of change on behalf of their communities. Whether pursuing sound energy policy, addressing domestic violence, or confronting challenges facing refugee women, they saw becoming legislators as a way to provide leadership on these issues and other problems facing the Commonwealth."
Laurie Nsiah-Jefferson, director of the Center for Women in Politics and Public Policy, commented that, "as diverse Asian women with intersecting identities, they faced and overcame particular challenges on both the campaign trail and as lawmakers. Nevertheless, their commitment to serving the Commonwealth was firm and steadfast. They deserve our respect and admiration."
No Asian American women served in the Massachusetts House of Representatives until 2011 when Keiko Orrall became the first Asian American woman elected to the House and first Japanese American woman to serve in the legislature. Since then, four Asian American women have been elected to the House, indicating a growth in state legislative leadership which has included the first Vietnamese American woman (Tram Nguyen), first Korean American woman (Maria Robinson), first Cambodian woman (Vanna Howard), and Erika Uyterhoeven, a Japanese American woman. Key findings indicate that the "wait your turn" approach is becoming an outdated barrier to political leadership as evidenced by their journeys to office. Additionally, fostering deep community connections and taking on pivotal civic and policy leadership roles laid the groundwork for their successful bids for a seat in the state legislature.
The new publication may be found at: https://scholarworks.umb.edu/cwppp_pubs/65/