Boston Mayor Michelle Wu Encourages UMass Boston Grads to Think About What Is Possible
---
05/27/2022
| Crystal Valencia
University Confers Degrees to 4,013 Graduates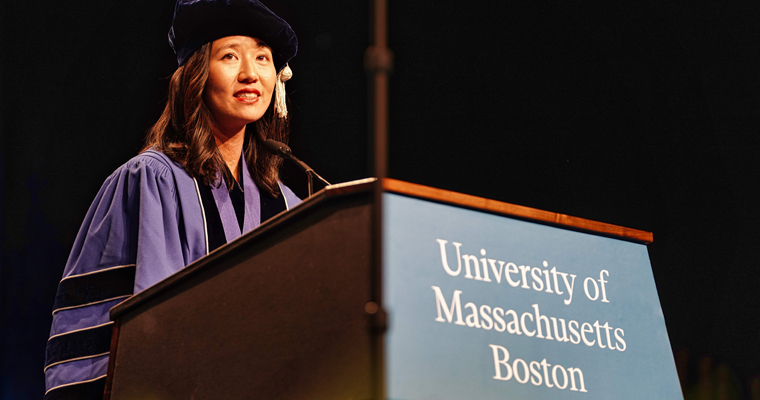 Image By: Janina Seibel
" ... At this moment in time, we need change too urgently not to try. "
Boston Mayor Michelle Wu called on the Class of 2022 to embrace the radicalness of possibility in her keynote address at UMass Boston's undergraduate commencement at the Boston Convention and Exhibition Center Friday morning.
"There will always, always be those who try to tell you what's impossible. What's dangerous, and radical, and impractical—what cannot be done because it's never been done before," she said.
"But at this moment in time, we need change too urgently not to try."
As she began her speech, Mayor Wu looked out on the sea of 10,000 graduates, family members and friends in attendance, and pointed to what she called an "incredible transformation."
"[UMass Boston] has gone from Boston's best-kept secret to a public research university that remains committed to its community, while being renowned around the country," she said. "Today, UMass Boston is the most diverse public university in New England…. Every new class of graduates has expanded the horizons of possibility—opening doors and widening paths for those following in their footsteps."
This year's graduates hail from more than 110 countries around the world, and speak 100 different languages. More than 50 percent of UMass Boston students are first-generation college students. There were 120 veterans and service members graduating this year.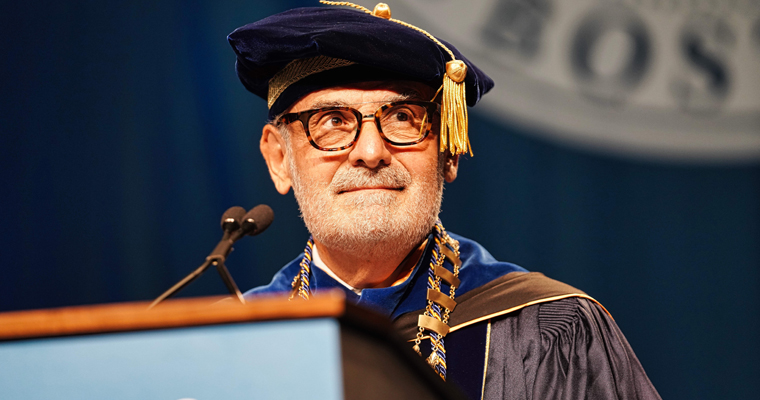 Chancellor Marcelo Suárez-Orozco awarded Mayor Wu with a Chancellor's Medal for Distinguished Service at the ceremony. Wu, the daughter of Taiwanese immigrants, is the first woman and person of color elected to lead the city of Boston as mayor.
"We are here in the birthplace of America, and of our democracy. But—until six months ago—in our city's nearly 400 years of history, we had never elected a person of color, or woman, or a mom, as mayor," she said. "When I first ran for office a decade ago, I was told over and over that it would be impossible, because Boston didn't have a history of electing women or people of color or young people or people not born in Boston. And it was true. But because all those barriers were things I couldn't change about myself, and because I felt the urgency of changing systems that weren't working, I ran anyway, and won."
This year, UMass Boston conferred 4,013 degrees (2,815 undergraduate; 1,062 graduate; 136 doctoral). The university held two commencements in one day— with an undergraduate ceremony kicking off festivities in the morning, and graduate students processing later in the afternoon. The university also hosted a doctoral hooding ceremony the day before.
Chancellor Suárez-Orozco presided at the ceremony, applauding the remarkable achievements of this year's graduating class.
He said that every single member of the Class of 2022 has something unique to give – a skill, a socio-emotional sensibility, or knowledge that cracks the code on the issues of the day and thus serves us all.
"Among the worthiest outcomes of a college education is finding that one thing that you love to do so much that the sun can't come up fast enough – and in doing so, becoming an unstoppable force for good. I am betting that most of you in the Class of 2022 are on that pathway," he said.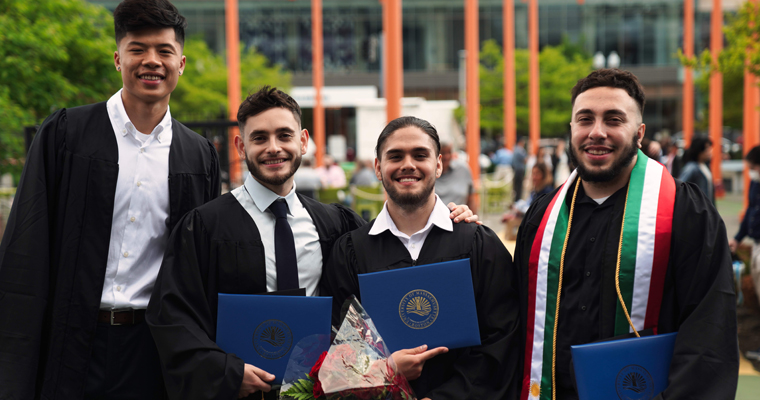 Chancellor Suárez-Orozco called on graduates to be civil, explaining that civility – citizens relating to each other in pursuit of the common good – entails listening, appreciating differences, and showing mutual respect and goodwill.
"To tackle the challenges of our times, civility is essential," he said. "Grappling with knowledge prepares you to be citizens who are not spectators and who will not throw up their hands. On the contrary, your education has unleashed your civility and secured your place in the arena of consequential ideas and progress.
"At UMass Boston, there is an embarrassment of riches in this regard. And the world needs more of it, more of the civility that our students, faculty, and alumni offer."
UMass Trustee Mary Burns commended students' determination and discipline.
"You, the Class of 2022, have worked hard to get to today: You have committed yourself to an important goal and you have achieved it. Many of you have done this while working, meeting family responsibilities, performing community service, and lest we forget, the COVID pandemic, which unexpectedly disrupted all of our lives for the past two years," she said.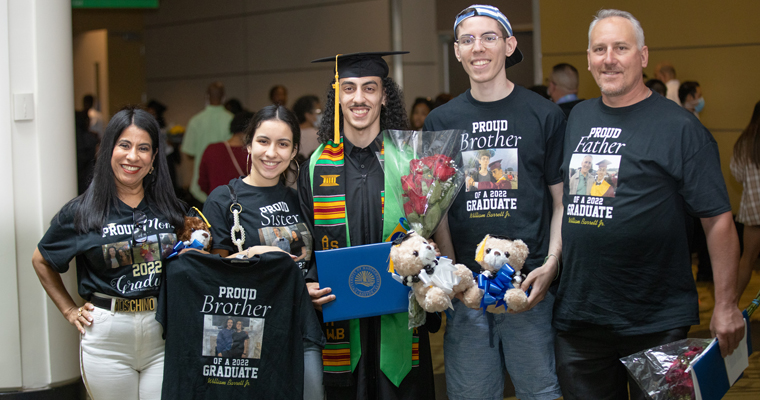 Student Speakers Share Experiences, Offer Advice to Classmates
MG Xiong, a philosophy and public policy major with minors in Spanish language and women, gender, and sexuality studies, received this year's John F. Kennedy Award and served as undergraduate speaker. Xiong, an Alaska native, will join the Massachusetts Transgender Political Coalition as a program manager upon graduation, and pursue a PhD in inclusive education.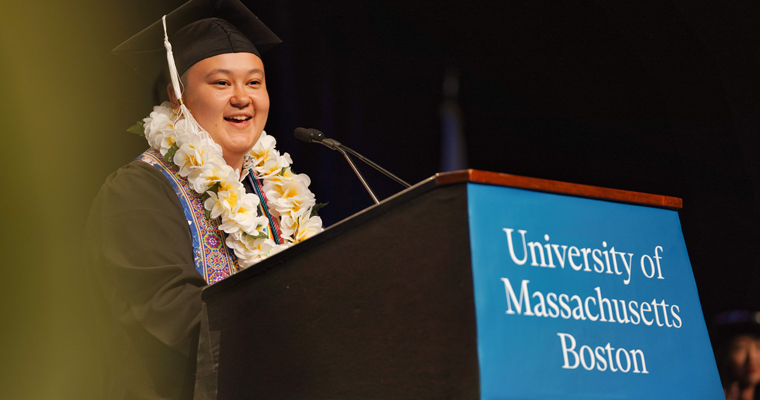 "As a first-generation college student like so many of you, as a Hmong, transgender Bostonian from Alaska, as a Beacon, I am honored and privileged to stand here today to congratulate all of you, each of you," they said.
Xiong encouraged their fellow graduates to be "savagely thankful."
"Love unguardedly. Say thank you. Sit in your gratitude. You possess the unlimited power to hand out kindness to others and be a producer of joy. So be generous. Hold each other accountable to this commitment to love," they said. "Make it such that wherever you belong, as long as you are there, there will not be any scarcity of love or shortage of worthiness. Love exists inside of you. And therefore it exists in our community. Because you exist in our community."
Courtney Humphries, who was the student speaker at the graduate ceremony, was a journalist reporting on science and urban issues before coming to UMass Boston to earn her PhD in Environmental Sciences. Her dissertation looks at the past, present, and future of Boston's waterfront, how the city is preparing to face sea level rise, and the daunting risks that it brings.
"UMass Boston is the perfect place to do this kind of work," Humphries said. "More than any other university or college in the area, it is embedded in its community, in this city, and in this region. We can and should strive for world class research and education, but we should also recognize that our strength comes from the quality of these local connections."
She urged her classmates to think of their careers like a tree. While they might reach higher and spread out in different directions, they need to be rooted in something bigger than themselves, she explained.
"As we do our work, we make new connections, we strengthen existing ones, we grow new branches, and together and each in our own ways we help to create the soil on which other people's work will grow," she said. "So, as we move on from our graduate school experience, let's think about the larger landscape we hope to be a part of and contribute to, … and let's connect with one another and grow the landscape we want to see in the future."
University Honors Standout Faculty, Honorary Degree Recipients
Three faculty members received 2022 Chancellor's Awards at the graduate ceremony: Professor of Psychology Laurel Wainwright, Associate Dean of the College of Liberal Arts and Associate Professor of French Pratima Prasad, and Professor Mark Warren from the Department of Public Policy and Public Affairs for their distinguished teaching, service, and scholarship, respectively.
The university also celebrated the 2021 Chancellor's Award winners: Professor of Physics Christopher Fuchs, Associate Professor of Molecular Ecotoxicology Helen Poynton, and Professors of Africana Studies Tony Van Der Meer and Keith Jones for their distinguished scholarship, teaching, and service, respectively.
The Chancellor's Awards for Distinguished Scholarship, Teaching, and Service celebrates faculty excellence by recognizing the accomplishments of members who have demonstrated exceptional contributions in one of the three primary areas of faculty responsibility.
Chancellor Suárez-Orozco presented three honorary degrees to exemplary leaders whose life and work serve as an inspiration for the UMass Boston community at a doctoral hooding ceremony on Thursday. Sisters Marie-Marguerite B. Clérié and Guylène B. Salès were individually recognized as education and human rights advocates and as co-founders of the Duty of Memory Foundation, which was created in honor of their father who was executed by the Duvalier regime in Haiti. Robert Hildreth is a passionate advocate for higher education access and was honored for his foundation work that helps disadvantaged students navigate the college preparation process. A leader in social and environmental justice issues impacting the health of people on the island of Vieques, Robert L. Rabin Siegal was honored in November 2021 before he passed earlier this year.