Chancellor Suárez-Orozco Welcomes 49 New Citizens Sworn in at the Massachusetts State House
---
09/21/2022
| Danielle Bilotta
On Friday, September 16, Chancellor Marcelo Suárez -Orozco spoke at a special naturalization ceremony held by the U.S. Citizenship and Immigration Services (USCIS) and the U.S. District Court for the District of Massachusetts at the Massachusetts State House. As part of the USCIS's annual Constitution Week and Citizenship Day celebrations, 49 new citizens representing 29 different countries from around the world were welcomed by District Judge Angel Kelley of the U.S. District Court for the District of Massachusetts.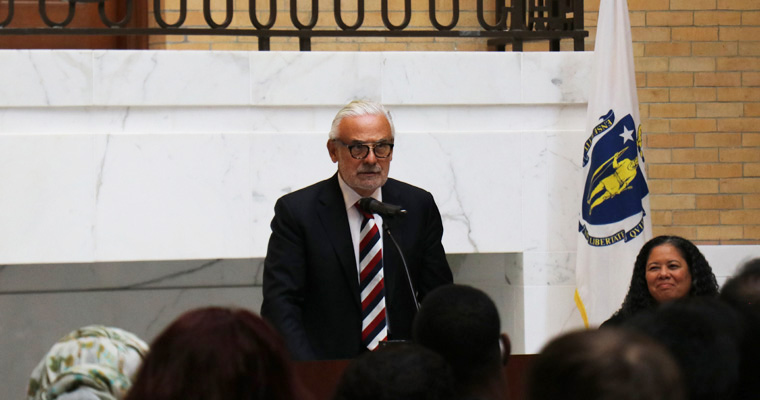 " Channel the feelings, the emotions, the sense of pride, the joyous effervescence of the day into purpose and civility. "
Every year, the USCIS holds special naturalization ceremonies across the country to celebrate the connection between the Constitution and citizenship and highlight what it means to be a citizen of the United States. The court was opened by U.S. District Court Naturalization Clerk Samantha Stoutenburg, followed by the presentation of colors by the Massachusetts State Police Honor Guard.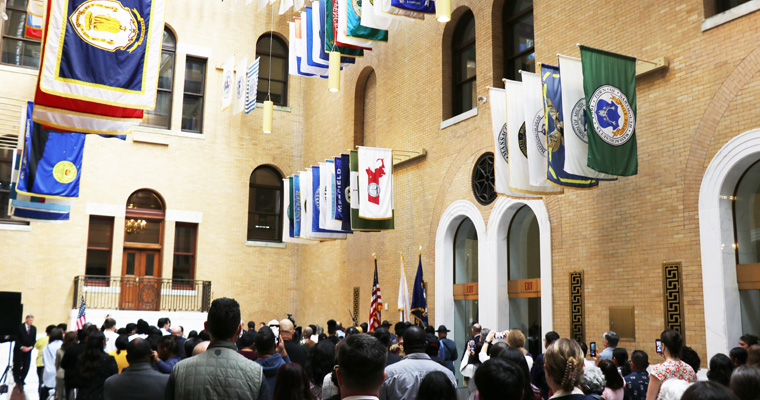 The new citizens were welcomed in the Hall of Flags by Project Citizenship Executive Director Dr. Mitra K. Shavarini and heard remarks from Kelley, who encouraged them to fight divisiveness by being active in their communities, and USCIS N11 District Director Denis Riordan, who also introduced Chancellor Suárez-Orozco.
Surrounded by flags representing the welcoming communities of Massachusetts, Chancellor Suárez-Orozco addressed the crowd of new citizens and their families, congratulating them on marking the culmination of their extraordinary journeys. As an immigrant himself, Chancellor Suárez-Orozco spoke about his own journey arriving to the United States "with nothing more and nothing less than a dream and the human agency to seek something better for myself."
Chancellor Suárez-Orozco also highlighted the vast contributions that immigrants have made to the United States throughout history, including Dr. Rene Favaloro, an immigrant from Latin America who completed the first-ever coronary by-pass operation at the Cleveland Clinic in Ohio, and John von Neumann, an immigrant from Hungary who developed MANIAC (mathematical analyzer, numerical integrator, and computer), which was at the time the fastest computer of its kind.
Acknowledging the conflicts and division the country faces today, Chancellor Suárez-Orozco encouraged the crowd to embrace civility and to listen, appreciate differences, and show mutual respect and goodwill. He told the new citizens that citizen engagement is "what makes the land of possibilities possible" and that citizenship is a feeling and emotion that "lives in the heart" and gives us a common purpose.
"Our country has shaped generations of immigrants into proud Americans and generations of immigrants have shaped our country for the better," he said. "So now it is your turn. Channel the feelings, the emotions, the sense of pride, the joyous effervescence of the day into purpose and civility."