Chancellor's Awards for Distinguished Scholarship, Teaching, and Service Announced
---
05/24/2022
| Office of Communications
UMass Boston Chancellor Marcelo Suárez-Orozco has announced this year's winners of the Chancellor's Awards for Distinguished Scholarship, Teaching, and Service. Each year the university celebrates the excellence of its faculty by recognizing the accomplishments of members who have demonstrated exceptional contributions in one of the three primary areas of faculty responsibility by presenting them with these awards.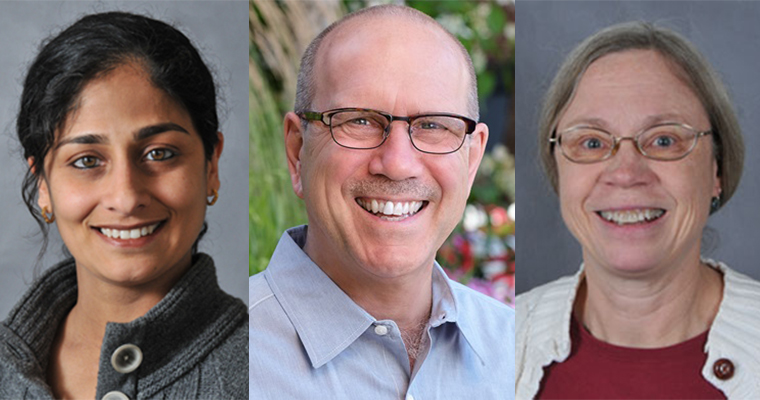 Professors Pratima Prasad, Mark Warren and Laurel Wainwright
"I congratulate my colleagues for this well-deserved recognition," said Chancellor Suárez-Orozco. "My thanks to all our faculty members for your work this academic year—yet another year when COVID presented us with many challenges, but you persevered. I very much appreciate your efforts and dedication to our students."
The award winners, selected by faculty committees for each area, are:
Chancellor's Award for Distinguished Scholarship
Professor Mark Warren, Department of Public Policy and Public Affairs, has made a significant impact on crucial issues for disadvantaged communities across the nation. In addition to his teaching, Professor Warren has dedicated his career to community engagement, racial equity, and social justice in education and community development.
He has been presented with numerous awards, including the Steve Biko Award for Educational Innovation & Justice from the Scribe's Institute, and the inaugural Cambridge College Social Justice Educator Award. He was honored with the Fellow of the American Education Research Association in 2020, received the SAGE Sara Miller McCune Fellowship at the Stanford's Center for Advanced Study in the Behavioral Sciences, and a John Simon Guggenheim Memorial Foundation Fellowship. Professor Warren has acquired over $2 million in total external funds for research projects. At least $1 million in the mentioned sum has been secured since joining UMass Boston 10 years ago.
"Professor Warren's extraordinary contributions to community engagement, racial equity, and social justice in education and community development make him more than deserving of this year's Chancellor's Distinguished Scholarship Award," the selection committee wrote in its recommendation.
Chancellor's Award for Distinguished Teaching
With 36 years at UMass Boston, Professor of Psychology Laurel Wainwright has been a stellar example of providing accessible, engaging, and compassionate education with a student-centered teaching perspective. As a psychology professor, she has taught more than 14 courses as well as contributing to the development of 21 courses. She teaches statistics at the undergraduate and graduate levels, and although students may find statistics a frustrating subject, Professor Wainwright has relentlessly worked to provide quality course materials that make a sometimes difficult subject accessible.
With a close relationship to her students, Professor Wainwright engages in formal and informal mentorships. Students have noted her compassionate approach and praised her for the comprehensive individualized support that she affords them. Furthermore, Psychology Department faculty have spotlighted her incredible impact on student advising and her willingness to provide pedagogical teaching to colleagues. Faculty ranging from new graduate instructors to junior tenured-track faculty have benefitted from her steadfast leadership. Although the COVID-19 pandemic brought an abrupt shift to remote learning, Professor Wainwright efficiently transitioned her classroom to reduce disruption to her students' education.
"Professor Wainwright's dedication to teaching represents one of the best examples of providing quality education at UMass Boston," the selection committee noted.
Chancellor's Award for Distinguished Service 
In addition to her responsibilities as an associate dean of the College of Liberal Arts and an associate professor of French, Pratima Prasad has developed a plethora of student success initiatives to capture the best of UMass Boston's community over the years. Her vigorous work to strengthen her field of scholarship by increasing the membership of junior faculty and conference organizations for an international stage has been especially effective and important. In all her service activities, she is committed to facilitating and constructing consensus within groups.
Professor Prasad stepped up and played a vital role in assisting the transition to new leadership in the College of Liberal Arts, providing stability and support. She focuses her work on equity and inclusion in the true spirit and tradition of UMass Boston.
"Without colleagues like Pratima, who choose service to the institution above all other professional goals," said one nomination letter, "UMass Boston quite simply could not exist."