Faculty Members Honored with Dissertation Awards
---
04/18/2022
| DeWayne Lehman
The two faculty members in Rhetoric and Composition who were hired to co-direct the new university-wide Writing Center—on track to open for tutoring in the fall of 2022—have received significant recognition for the quality of their dissertations.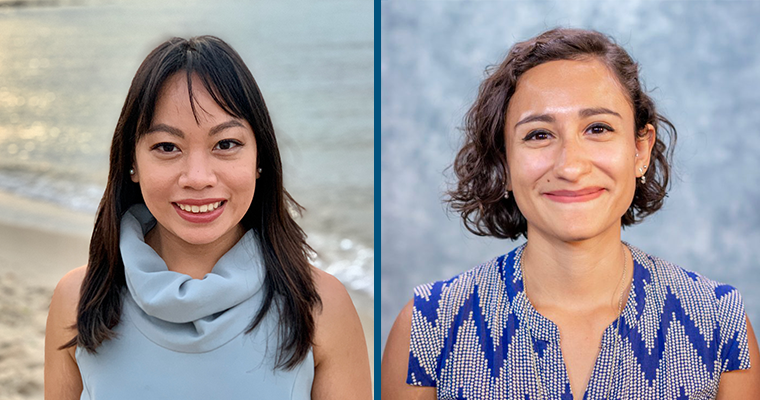 Florianne (Bo) Jimenez (left) and María Carvajal Regidor (right) have received significant recognition for the quality of their dissertations.
María Carvajal Regidor is one of two academics to be named 2022 Conference on College Composition and Communication (CCCC) James Berlin Memorial Outstanding Dissertation Award winners. The CCC award is the most prestigious recognition in the area of composition nationally and is given for a dissertation that "improves educational process in composition studies, or adds to the field's body of knowledge."
Carvajal Regidor's dissertation, entitled "I'll Find a Way to Make my Voice Heard:" Transformational Literacies of Latinx Students, "makes significant theoretical and methodological contributions that add to the field's body of knowledge, including in counterstory, archival and ethnographic research, and in the language and literacy practices (both classroom and extracurricular) and ways of knowing of Latinx students within a specific context," the selection committee wrote. It "effectively demonstrates a rethinking [of] current educational practices as they relate to writing, literacies, and language [to] create more socially and racially just approaches to the teaching of writing and the research that informs it."
Last fall, Writing Center co-director Florianne (Bo) Jimenez was the recipient of the 2021 American Society for the History of Rhetoric (ASHR) Outstanding Dissertation award for her dissertation, "Echoing and Resistant Imagining: Filipino Student Writing Under American Colonization." Jimenez' dissertation analyzed an archive of essays written by Filipino high school students at the turn of the 20th century, when the Philippines was colonized by the U.S. The ASHR Outstanding Dissertation award is given to "a dissertation of especial significance to the Society's mission defended in the past year." The selection committee noted that they were "particularly impressed with [her] treatment of an era of US colonialism rarely discussed in the discipline of rhetoric, as well as the nuanced integration of texts, critical theory, and methodological choices."
English Department Chair Eve Sorum calls Carvajal Regidor and Jimenez "rising star scholars and leaders in their field," well-suited to lead the Writing Center. She notes that "we are incredibly lucky that Professors Carvajal Regidor and Jimenez, who bring not only expertise but also experience in the administration of writing programs, have come to lead the new university Writing Center." Although the center will be part of the College of Liberal Arts, it will serve the entire campus, including graduate and undergraduate students, faculty, and staff. "Even during the short time that they have been here," Sorum emphasized, Carvajal Regidor and Jimenez "have started to make their mark; they have been offering workshops for graduate student instructors and Intermediate Seminar faculty on responding to multilingual writing and starting a new Faculty of Color writing group, among other activities."
"My research directly informs my work as assistant professor and Writing Center co-director at UMass Boston," says Carvajal Regidor, "The new university-wide writing center … seeks to serve UMB writers by creating an equitable, socially, racially, and linguistically just culture of writing on campus." Carvajal Regidor explains that "The research that informs the dissertation and my larger research agenda, will inform the daily work of the writing center, which we hope to be recognized as a leading anti-racist writing center and be a model for other writing centers seeking to create more just practices."
"My research, teaching and administration work at UMass Boston are animated by an interest in understanding student experiences with writing," says Jimenez. "I envision the Writing Center as a site for students to work out what writing is and different strategies to do it with knowledgeable peers." As a multilingual writer and an immigrant to the United States from the Philippines, Jimenez sees the Writing Center as an important place for writers who have often been marginalized in U.S. academic spaces. "Everything we will do at the Writing Center – one-on-one tutoring for students, faculty writing groups and writing retreats, and consulting and workshops on writing instruction across the disciplines – aims to be social justice-oriented and anti-racist."
Carvajal Regidor and Jimenez bring the same energy they put into their critical scholarship to their work with the writing center. Their scholarship on writing, especially by writers who have traditionally been at the margins of higher education, will guide the work they do to support all writers at UMB through the new writing center.