History Professor Featured in The History Channel's 'The Food that Built America' Series
---
03/30/2022
| Crystal Valencia
In the spring of 1950, a small doughnut shop in Quincy rebranded from Open Kettle to become Dunkin' Donuts. Over the next seven decades, Dunkin' has grown into a multibillion-dollar brand, with more than 11,000 stores around the world.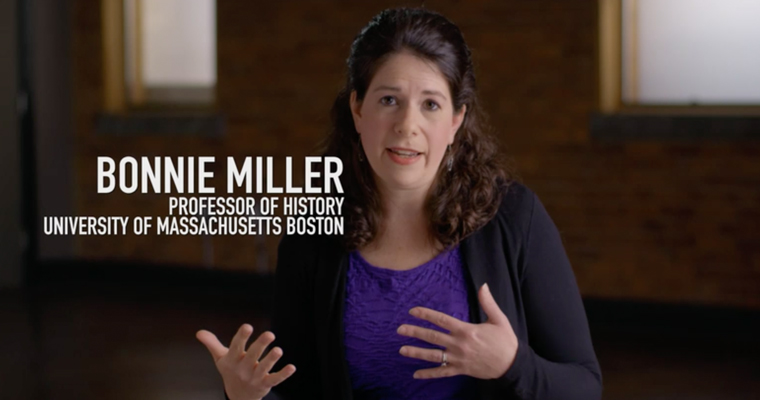 UMass Boston Professor of History Bonnie Miller helped tell the story of how founder Bill Rosenberg turned Dunkin' Donuts into one of the world's largest coffee and baked goods chains on a recent episode of The History Channel's hit documentary series The Food that Built America.
The episode, titled "Do or Donut," focuses on the rise of both Dunkin' and Krispy Kreme and the rivalry that grew out of their fame, using dramatic recreations and commentary from historians to chefs and food industry titans. It aired on March 13, and can be streamed on the History Channel website.
Miller said History Channel producers were looking for a food historian from the Boston area to provide expert commentary for the episode.
"They flew me out to their studios in Newark, New Jersey and filmed a three-hour interview with me. It was an exciting experience," she said.
Miller teaches AMST/HIST 285L: Food in American Culture course, examining the history of food in the U.S. from the colonial era to now. Students learn about the fast-food industry, its influence, global tastes, and business practices.
One class session takes a deep dive into the history of coffee, looking at various aspects of the history of coffee, from its early history that had to do with trade, cultural diffusion, and the rise of slavery to the political, environmental, and health impacts of coffee production in the last century.
"We look at a case study, for example, of the history of Colombian coffee and its political, economic, and labor impacts there," she said. "We also look at the global production of coffee and talk about its environmental impacts on a world-wide scale. Finally, we talk about the rise of coffee chains and how it has transformed coffee consumption patterns in the United States."
While Miller focuses more on the history of Starbucks than Dunkin' Donuts in class, the New England chain finds a way into the conversation.
"Inevitably students have a brief debate about which chain is the best, but what is clear is that we have a student body that loves to buy coffee!" she said. "There is a lot of local and campus pride for the DD brand."