Mayor Wu Appoints UMass Boston Professor as Chair of Boston Human Rights Commission
---
07/19/2022
| Crystal Valencia
Boston Mayor Michelle Wu has named Professor of Latin American and Iberian Studies Reyes Coll-Tellechea as chairwoman of the city's Human Rights Commission, which aims to advance equity, understanding, and respect for all.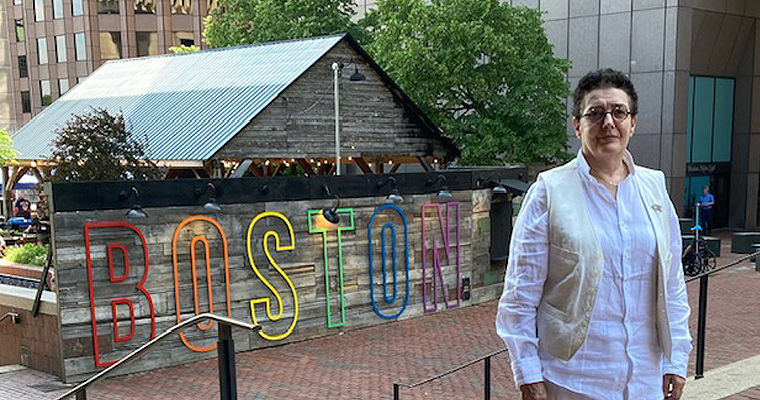 Reyes Coll-Tellechea
" I believe that the highest function of knowledge in academia is service. "
Coll-Tellechea was first appointed to the commission in 2020, when it was reactivated by former Mayor Martin Walsh. She says she is committed to continue building and strengthening the Boston Human Rights Commission (BHRC).
"We are at a treacherous political crossroad in our nation. The rise of hate is palpable. History shows that civic organizations such as the BHRC can play an important role as advocates, protectors, and representatives of those who are the targets of hate," Coll-Tellechea said.
"The BHRC stands ready to confront any attempts by national or local organizations to intimidate the city's residents and guests, to propagate hate among us, and to attack our democratic system of government."
The BHRC's mission is to enforce human rights, to engage in relationships and partnerships that embody the principles of dignity and respect, and to create a culture of human rights compliance and accountability.
The commission conducts research on policies, practices, systems, or issues were discrimination, hate, racism, or bigotry may be a factor in the differential treatment of specific groups of people in the City of Boston. They also assist individuals in finding the appropriate resources to address their discrimination complaints, and educate the public and policy makers on issues, needs, and perspectives related to confronting discrimination, racism, hate, and bigotry in Boston.
Coll-Tellechea says one of her favorite aspects of working at the BHRC is interacting with UMass Boston graduate and undergraduate students working at City Hall.
"A good number of former students of mine currently work for the city at the Office of Language and Communications Access, the Zoning Board of Appeal, the Assessing Department, the Office of Neighborhood Services, and so on," she said. "At the Boston Human Rights Commission, I work directly with graduate interns who are completing their doctorate in Human Rights at UMass Boston at the School for Global Inclusion and Social Development."
The author and editor of several books, Coll-Tellechea's research reflects on the experience of marginalization, exclusion, and discrimination as represented in literature, as well as on some of the strategies used by the powerful to exclude others from their privileges.
She has previously served on Mayor Walsh's Transition Task Force (Human Services) and the City of Boston's Diversity Task Force, and she frequently volunteers as a translator and interpreter for Massachusetts nonprofits working with immigrants and refugees.
"Personally, I believe that the highest function of knowledge in academia is service," Coll-Tellechea said. "In my scholarship I seek to understand the past and its representations. Some of the skills I have honed during my academic career—for example, the capacity to identify, analyze, research, organize, interpret, communicate, and educate—can be applied to a variety of public settings."