McCormack Alumnus Dr. Christopher Graham's Local-to-Global worldview in Shaping Student Success and Continued Commitment to Public Service
---
05/16/2022
| McCormack Graduate School | Adam Mooney
One of the core components that binds together Dr. Christopher Graham's academic, professional, and community-based work is what he describes as his "local-to-global worldview." Dr. Graham understands that efforts within the local sphere—whether that is studying government processes, facilitating opportunities for student success at UMass Boston, or volunteering in local Dorchester soup kitchens —can resonate on global levels, and vice versa. This perspective opens new pathways that inspire Dr. Graham's dedication to community engagement and public service. Much of his work connects the two spheres, and fittingly, UMass Boston, as a public research university, encourages these public commitments.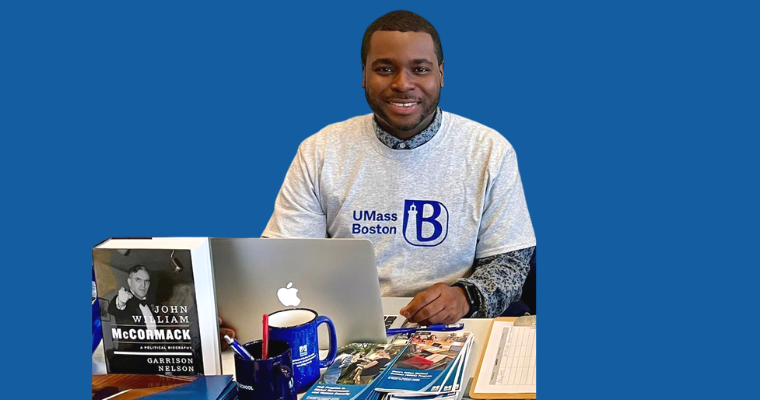 Christopher Graham, PhD '20, UMB & McCormack Alumnus
" McCormack's Student Success provides an experience that allows our students to not just survive but thrive... "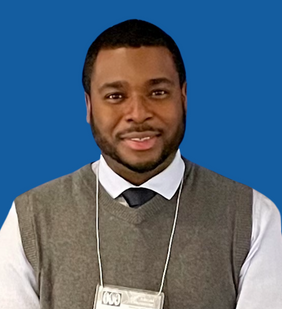 Dr. Graham is a McCormack alumnus, having graduated in 2020 with a PhD in Global Governance and Human Security with concentrations in Public Policy, International Relations, and Political Economy. He is currently the Manager for Student Success and Undergraduate Advising in the McCormack Graduate School Dean's Office and a Research Fellow at the Center for Peace, Democracy, and Development. Dr. Graham's research interests include the socio-ecological dimensions of climate change and how this global issue is remediated through STEM-based programs, policy, and governance solutions at both the global and local levels.
As part of his continued commitment to public service, Dr. Graham enrolled in the Commonwealth Seminar last fall. The Commonwealth Seminar is a 6-week intensive training program designed to "open the doors of government to everyone" and facilitate fuller access for people by offering training, networking, and professional development on local and state government and legislative processes. The program is coordinated by long-time Boston community activist, Leverett Wing, and often partners with the Massachusetts Office of Public Collaboration at UMass, Boston.
Dr. Graham recounts that his experience in the Commonwealth Seminar resonated with his commitment to the work of the McCormack Graduate School and his duties as a public citizen and leader. The Seminar also provided Dr. Graham the opportunity to build upon his scholarship on politics and public and global affairs in a more granular way, providing him with "a lot of various policy-insider perspectives on how to approach these situations—what to look for, why these issues matter, who these issues impact, and how to scale up solutions."
Dr. Graham's admission to the Commonwealth Seminar was funded through the Nam Pham scholarship made on behalf of Commonwealth Seminar alumnus and community leader Mealea Chan-Polcari in gratitude to her mentor Nam Pham, the former Executive Director of the Massachusetts Office for Refugees and Immigrants and current Director of the Massachusetts Department of Transportation. For Dr. Graham, the Nam Pham Scholarship exemplifies a pay-it-forward commitment that he takes seriously as he engages with the communities that he serves. Over the years, Dr. Graham has dedicated himself to creating lasting change through community-based leadership and volunteerism programs like volunteering in soup kitchens that supply meals for unhoused populations in the Greater Boston area and serving as a Judge for the Profile in Courage Essay competition at the John F. Kennedy Presidential Library.
At MGS, Dr. Graham facilitates opportunities for continued success for students, noting that "student success does not suggest that students do not already have success and must be guided to attain it." In his perspective, "students are already successful—their acceptance to MGS is in part a confirmation of that"—so his role, as he sees it, is "to ensure that every student, including exceptionally high-performing ones, get the networks and resources necessary to keep them connected, engaged and motivated as students and future distinguished alumni who shape their communities and the world". For Dr. Graham, Student Success at McCormack "provides an experience that allows our students to not just survive but thrive both within and outside the walls of this institution post-degree." Such opportunities are nurtured though community-building events, internships, professional development, research and career workshops, summer fellowships, conference travel grants, and networking with thought-leaders representative of where McCormack students see themselves — providing insight, inspiration, connection and service beyond self.
Dr. Graham's work upholds MGS' core principles: a commitment to public service and leadership. Dedicated to creating meaningful and lasting local-to-global change, for Dr. Graham, "this work is tied to the spirit and visionary legacy of Speaker John W. McCormack, whom our college is named in honor of." These principles resonate both personally and professionally for Dr. Graham as demonstrated through his role at UMass Boston, his community-based volunteerism, and his ongoing policy and solutions-oriented research.