New Dean Appointed to Lead College of Management
---
04/21/2022
| DeWayne Lehman
Venky Venkatachalam, PhD, has been appointed dean of the College of Management and Distinguished Professor of Management Science & Information Systems. The appointment will take effect in July 2022.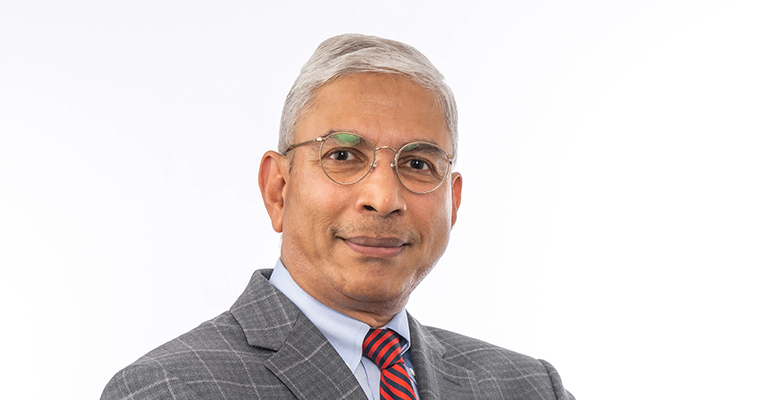 Dr. Venkatachalam is currently in his eighth year as dean of the Beacom School of Business at the University of South Dakota's flagship campus. During his tenure he established a track record of championing transformative changes, focusing on distinguishing his school globally and attracting and retaining world-class faculty and students. Under his leadership the Beacom School of Business realized significant enrollment growth, achieved the highest retention and graduation rates among the USD's academic divisions, and climbed high in national rankings.
"I am confident that the College of Management will greatly benefit from Dr. Venkatachalam's visionary leadership, extensive management experience, strategic acumen, commitment to shared governance, innovative program development, and demonstrated record of accomplishment," Provost and Vice Chancellor for Academic Affairs Joseph Berger wrote in an email to the campus community. "As we have successfully shifted back to in-person learning this school year, we will continue to serve our community with compassion, excellence, and equity. Dr. Venkatachalam will be a great asset to our university as we continue these efforts and launch into a new strategic plan as we navigate new heights of success in the future."
Berger also highlighted Dr. Venkatachalam development of strategic partnerships with South Dakota businesses for executive education and experiential learning opportunities, and his founding of Coyote Business Consulting during the pandemic, a student and faculty engaged consulting service to help small businesses in South Dakota survive and succeed during and post pandemic. Now in its third year, Coyote Business consulting has benefited 90 small businesses across 29 counties in South Dakota.
"I am truly excited about leading the College of Management at UMass Boston and working with the university leadership and the CM faculty and staff in advancing CM and UMass Boston to greater heights," Dr. Venkatachalam said. "During my recent visit, I observed first-hand the dedication and talent of the CM faculty and staff.  CM has world-class faculty who are great teachers and researchers. I am very excited about the opportunities that we can collectively pursue to grow enrollment, boost student success, and secure high national and global rankings for the College of Management."
Joining UMass Boston will be a bit of a homecoming for Dr. Venkatachalam, who was previously a professor and academic leader at the University of New Hampshire at the Peter T. Paul College of Business and Economics for 22 years, where he served as associate dean, chair of the Decision Sciences Department, director of the Enterprise Integration Research Center, and professor of Information Systems. He was the recipient of multiple awards for excellence in teaching, research, and public service and was recognized as an accomplished scholar, generating external sponsorships and contributing to multiple academic publications.
Dr. Venkatachalam will assume the dean's position from Dr. Arindam Bandopadhyaya, the current interim dean of the College of Management.