New UMass Boston Report Details Latest Climate Risk Projections for the Greater Boston Area
---
06/01/2022
| Office of Communications
Greater Boston Research Advisory Group Report (GBRAG) highlights climate change impacts for 101 cities and towns on extreme temperature, elevated precipitation, flooding and sea-level rise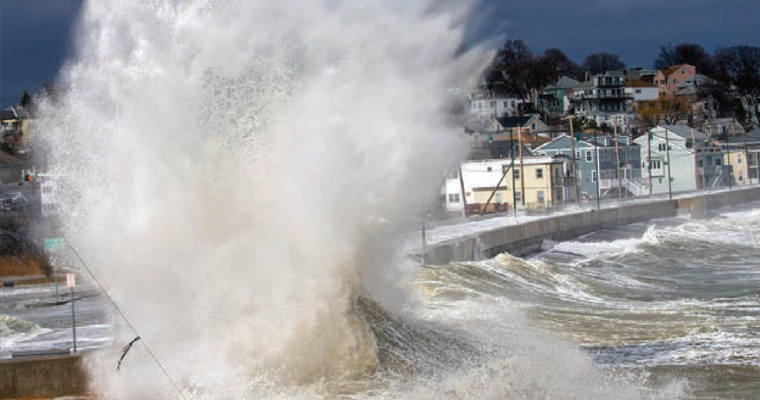 In a five-year update to research on likely climate changes in the Boston area, researchers from the University of Massachusetts Boston today released findings from the Greater Boston Research Advisory Group Report (GBRAG), entitled Climate Change Impacts and Projections for the Greater Boston Area, which provides detailed information on projected changes over this century to temperature, storms and precipitation, flooding, sea-level rise and groundwater in the Greater Boston area.
The findings of this report underscore that reaching net-zero emissions by 2050 is an essential part of achieving the best outcomes for the City of Boston and the Greater Boston area – but action in Greater Boston alone cannot prevent the worst-case scenarios – all nations around the world must also reach net zero emissions by 2050 to prevent catastrophic levels of warming and sea-level rise. The report highlights familiar warnings around increased frequency of extreme weather events, but also spotlights underreported climate risks like decreased groundwater recharge, which has far-reaching consequences for infrastructure, agriculture, the availability of drinking water, and more.
GBRAG, undertaken in response to a 2016 Climate Ready Boston recommendation that called for the report's projections on climate change to be updated every five years, is comprised of leading scientists from the northeastern U.S. The group is led by the School for the Environment at the University of Massachusetts Boston, with guidance from a steering committee of stakeholders from the region. Funded by the Barr Foundation and now broadened to include Metropolitan Area Planning Council (MAPC) cities and towns, its purpose is to provide the City of Boston and surrounding municipalities with updated information that can be used to inform near-term and long-term strategies to address climate mitigation and resilience.
"We know that the window of time to act on climate change is closing quickly and it is critical to align our policies and programs with the latest science," said Mayor Michelle Wu. "The GBRAG report analyzes Boston's climate risk projections so we can make the most informed decisions on how to protect our communities from unavoidable impacts while mitigating emissions that contribute to climate change."
"We are proud to deliver these updated projections – a collaborative analysis featuring contributions from some of the leading scientists in the world – and are empowered by the opportunity to continue these critical updates every five years as we near targets and decisions on climate actions become more high-stakes," said Paul Kirshen, a professor at School for the Environment at UMass Boston, director of the Stone Living Lab, and co-lead for the report. Ellen Douglas, also a professor at the School for the Environment and the other co-lead added, "With this new information, the City of Boston and MAPC cities and towns across Massachusetts are armed with the most up-to-date research representing an analytic backbone for development of climate adaptation and mitigation plans and policies for these regions."
"Following a number of Intergovernmental Panel on Climate Change (IPCC) reports signaling the global catastrophe we face if we fail to swiftly act to address climate change, this report – a localized look at climate risks to this region – is more important than ever," said Martin Pillsbury, director of environmental planning at the Metropolitan Area Planning Council (MAPC). "This new and expanded research provides cities and towns with a more precise view of the challenges they may face when it comes to temperature, storms, precipitation, flooding, sea-level rise, and groundwater under multiple greenhouse gas emission scenarios as climate change progresses."
The report does not make recommendations on carbon mitigation or climate resilience strategies to pursue – it is the responsibility of each municipality to digest the findings into policies and actions specific to their projections. Report highlights include:
Temperature:
Average annual temperatures could be approximately 3 to 10 ℉ greater by 2100 compared to the start of the century, depending upon location and whether greenhouse gas emissions are moderate or high. The number of days over 90 ℉ could increase from approximately 10 days/year to 20 to 80 days/year, depending on future emissions. Temperature increases are expected to cause losses in some of Massachusetts' signature industries, including cranberries, maple syrup, Cape-caught lobsters, and shellfish, and a reduction in winter sports due to lack of snow.
Consequences for human and economic health include as much as a 12 percent increase in residential electrical energy costs and rising heat-related mortalities by 2050 – these impacts will disproportionately affect marginalized and socioeconomically vulnerable populations.
Heat-related impacts will be felt most acutely in urban heat islands, which are often populated by people that have been marginalized and oppressed. These communities will be at greater risk of experiencing impacts of excessive heat and poor air quality, including mortalities, as well as economic stressors associated with increased energy costs, and disruptions to public transportation.
Groundwater:
Groundwater levels have increased over the last 50 years. Over the next 50 years, groundwater recharge is projected to increase in the late fall and early winter with increased precipitation but to decrease sharply during late winter and spring due to reduced snowpack and increased evapotranspiration.
Annual average recharge is projected to decrease by approximately 18 percent towards the end of the century (depending on the location) even with the lower emissions scenario – potentially resulting in less available drinking water.
The quality of drinking water in coastal areas will also be reduced as salt water intrudes into groundwater aquifers. Groundwater levels in coastal areas may increase due to this saltwater intrusion.
Compared to surface water, groundwater contributes to a much greater percentage (52–76 percent) of potable water withdrawals in Norfolk, Plymouth, and Middlesex counties. Over the next century, it will be important for counties to balance drinking water demand with projected decreases in groundwater availability.
Sea-Level Rise and Coastal Flooding
This report projects the median sea-level rise for Boston Harbor to be 3.4 feet by 2100 under a high emissions scenario, though greater than 10 ft of sea-level rise is still possible. Uncertainty in the behavior of Antarctic ice sheets and in future greenhouse gas emissions still drive uncertainty in sea-level rise projections.
If greenhouse gas emissions continue to increase, Boston will see more nuisance flooding days, which are days in which the local flood threshold is exceeded for at least an hour. By 2050, nuisance flooding may occur in Boston Harbor on roughly half the days each year. Presently it is less than approximately 15 days each year.
Even with lowered greenhouse gas emissions, what is now a 1 in 10-year flood could be an annual occurrence by 2050. Under higher emissions scenarios, our current 1 in 100-year flood events would likely become an annual flood by 2100 or sooner.
This report also includes an analysis of the rate of sea-level rise, as this may be more informative to mitigation planning. The analysis incorporates statistical modeling under low, medium, and high emissions scenarios to project rates of sea-level rise by 2100 between 0.6 and 1.4 inches/year, which could be challenging to manage.
River and Stormwater Flooding:
The 2022 update increases confidence in 2016 projections of a 20–50 percent increase in small (e.g., two year) river floods and a 15–70 percent increase in 100-year river floods by 2100, and states that these projected increases in flooding can no longer be considered conservative estimates.
As snowfall shifts to rainfall in late winter and early spring, when there is less plant growth to absorb the extra water and precipitation events become more intense, we will see increased stormwater runoff and pluvial flooding. This excess water can impact wildlife species and stress human developments and infrastructure, resulting in increased costs to repair damaged systems and property.
The increase in the amount and intensity of precipitation will increase flood risk in all of the communities studied, though with different manifestations for coastal vs. inland areas. In coastal areas, increased precipitation may combine with higher groundwater tables and sea levels to exacerbate damage from storm surge. For inland areas, river and flash flooding due to more intense rainfall, soil saturation, and changing plant diversity will predominantly drive flood risk.
Storms and Precipitation:
This report offers more certainty on the effect of climate change on storms. The strength of extratropical storms may decrease but the proportion of stronger tropical storms is expected to increase. For all types of storms, precipitation intensity is expected to increase.
Annual precipitation has increased in the Northeast. Increased winter and spring precipitation could cause a continued increase in annual precipitation, but this remains highly uncertain. As the City of Boston currently experiences relatively consistent rainfall year-round, changes in seasonal precipitation variability introduces another factor to consider in flood mitigation planning.
Most projections point to a 10–20 percent increase in daily precipitation intensity by 2050 and a 20–30 percent increase by 2100, impacting existing and future developments, public infrastructure, stormwater and watershed management, and agriculture.
The projected increases in daily and annual precipitation, coupled with decreased groundwater recharge, will have wide-reaching consequences on infrastructure, food production, and the availability of drinking water.
Updated analysis in this report is designed to inform policymakers as they choose pathways to reach aggressive goals on mitigation and adaptation in the face of climate change. While it's not too late to achieve net-zero emissions by 2050, there is now only limited time to implement changes that will contribute to preventing the worst-case scenarios projected in this report.
This report is based on a collaborative technical analysis of researchers from UMass Boston, UMass Amherst, UMass Lowell, Northeastern University, Cornell University, Rutgers University, risQ Inc., JFK Environmental Services LLC, NASA, and NOAA led by UMass Boston. MAPC organized the Stakeholder engagement. The GBRAG Steering Committee and external reviewers are acknowledged for their invaluable assistance and reviews. The report has been made possible thanks to financial support from the Barr Foundation.
For more information, and to see the Executive Summary and full report, visit the UMass Boston website.
About UMass Boston
The University of Massachusetts Boston is deeply rooted in the city's history, yet poised to address the challenges of the future. Recognized for innovative research, metropolitan Boston's public university offers its diverse student population both an intimate learning environment and the rich experience of a great American city. UMass Boston's colleges and graduate schools serve 16,000 students while engaging local and global constituents through academic programs, research centers, and public service. To learn more, visit www.umb.edu.