Nursing PhD Students Travel to Malawi to Research Preventative Healthcare for Women
---
10/19/2022
| Danielle Bilotta
Nursing PhD Candidates Deogwoon Kim and SangA Lee traveled to Malawi this past spring to conduct research for their dissertations on women's health. Building on the UMass Boston connection with Malawi that was formed by their mentor and advisor Professor of Nursing Haeok Lee, who has previously traveled to Malawi to provide cervical cancer testing, Kim and Lee's research focuses on preventative health care for Malawian women.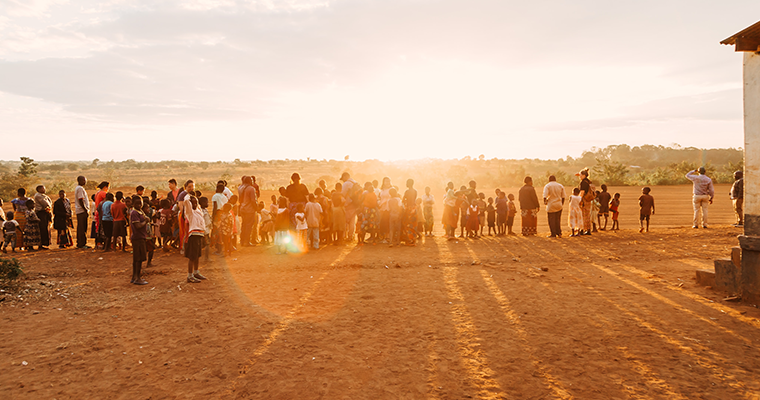 Image By: Image by Abrahan Echeverria on Unsplash
Kim's dissertation on cervical cancer screening behavior among women in Malawi with a specific focus on human papillomavirus infection (HPV) screening tests explores how willing Malawian women are to embrace new self-sampling screening tests that have the potential to reduce health care barriers. Cervical cancer has become a symbol of global health disparities because it's easily preventable through noninvasive screening procedures, but low-income countries often don't have the infrastructure or money to provide screenings for their most vulnerable populations, Kim said. Undiagnosed HPV cases are at risk of developing into cervical cancer and, without proper screening, the cancer diagnosis may already be in the late stage by the time the patient can go to a clinic.
"It would be wonderful if women can do the self-sampling. They don't necessarily need to visit a clinic for the screening so they can just do it at home and then send the sample to the clinic," Kim said. "Those who can't afford transportation to the clinic just for a screening can easily do the screening themselves."
Lee's dissertation on tuberculosis (TB) transmission prevention behaviors among women living with HIV and TB in Malawi leads with a hygiene-geo-temporal approach. After devoting 10 years to studying infectious diseases, her dissertation combines two diseases that she had previously studied separately.
"I did my master's degree in Korea and my dissertation was about tuberculosis, and then when I moved to the U.S., I focused on the HIV population since there aren't that many people here with TB," Lee said. "I was very interested in infectious diseases, and Malawi merged the two populations into one research, so I saw it as an opportunity to invest really deeply."
Although they conducted their research separately, Kim and Lee had similar experiences during their time in Malawi. Through their work in the local communities, they found that women's health care goes hand-in-hand with women's empowerment, and providing efficient preventative care can only be achieved through health care education. Malawi is a highly patriarchal society and experiencing how that impacts women's access to preventative care was surprising, they said.
Due to the patriarchal nature of the Malawian culture, building a trusting relationship with the local community was necessary to recruit research participants and gain a deeper understanding of the obstacles that Malawian women face when it comes to advocating for their own health. Through interviews with potential research participants, Kim learned that Malawian women would need to ask for their husband's permission to be able to participate in the study, she said.
"In order to share those subtle things, it's not like you can just ask directly," Kim said. "To pull out that information, I have to break that psychological and emotional barrier and build a rapport. It was important to me to get meaningful data."
Lee said that because of cultural norms, many vulnerable and marginalized communities in Malawi conceal their health status from their families, which made it difficult to find participants who were living with HIV and TB until she was able to find the "gatekeeper" of the community who helped make introductions. Once she built trust with the research participants by ensuring their individual status wouldn't be shared publicly, Lee said the women were enthusiastic about telling her anything she needed to know because they felt she was there to support and help them.
Malawi is often visited by researchers from outside the country to do survey and data collection, so the added benefit of building a rapport with participants in the local communities ensured that the data they collected was genuine and that they were able to reach, and positively interact with, low-income and vulnerable populations, Lee said.
"One approach I really prioritized when I met the participants was doing my best not to academically or mentally colonize or westernize them. That was an important lesson that Dr. Lee gave me," she said. "When you go there, it's already happening, and if I didn't study at UMass Boston, I would've never realized that."
Kim said it was also important to be transparent with participants that the data she was collecting was for her dissertation but that the research is meant to contribute to the local community and be the start of something meaningful. She wants to continue her research to study actual behavior and if participants are able to do the HPV self-screening sampling. Kim credits her time with the Asian American Studies department and Nursing program at UMass Boston for teaching her how to look at health disparities at a systemic level and take the time to listen to the marginalized voices that are impacted by those health issues.
Over the decade that she's been studying infectious diseases, Lee said she's realized that there are a lot of stigmas against people with infectious diseases that prevent communities from addressing health care disparities. She explained that Malawian women are powerless, but they are the center of the household. For women who are infected by a disease, they could transmit it to their family and community, and while it seems extreme, there's potential it could spread across the country, Lee said.
After she completes her dissertation, Lee's interested in continuing this research by including men in her next study, but she acknowledges that in countries like Malawi with patriarchal structures, it's difficult for men to work with women researchers.
"If we don't change men's attitudes towards women and disease, we can't change things," Lee said. "I realized that in those countries with that kind of culture, we have to do something with men at the same time otherwise it cannot be changed."
"They say, 'that's our culture,' but for me, I think there's something there that we can do better," Kim said. "Indirect information like literacy and education level is also related to their health outcomes, and in the long-term, all those things need to come together and it's all related to women empowerment. We need women empowerment for women's health in those countries."