Roxbury High School Students to Study Urban Planning at UMass Boston
---
06/24/2022
| Office of Communications
UMass Boston's Department of Urban Planning and Community Development and Pre-Collegiate Program, in collaboration with the Boston Planning and Development Agency, Boston Public Schools, and Madison Park Technical Vocational High School, are launching a new summer immersion program to introduce Boston youths of color to the many desirable public service careers available within the fields of urban planning, design, and development.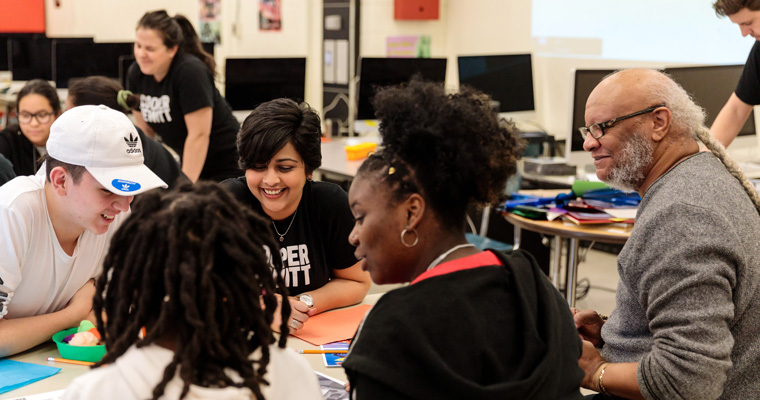 The overall goal of this initiative is to increase the percentage of planners of color in Boston from 5.75 percent to 24 percent during the next fifteen years.
"While Boston has emerged one of the nation's most diverse metropolitan regions, people of color are significantly underrepresented within our region's urban planning and design professions," said Ken Reardon, professor and chair of the Department of Urban Planning and Community Development. "UMass Boston's newly launched Summer Program in Urban Planning at Madison Park Technical Vocational High School in Roxbury reflects our campus's commitment to address this issue."
Students participating in the 2022 Summer Program in Urban Planning will devote twenty hours a week throughout the month of July to enhancing their understanding of the critical role urban planners play in investigating and designing strategies to mitigate the impact of extreme heat on local communities.
Using mobile heat sensors and smart phones, these high school students will work with UMass Boston urban planning students and faculty to measure indoor and outdoor air temperatures at schools, social service agencies, area businesses, housing complexes, and parks in their Roxbury communities to locate and map urban heat islands, where extreme temperatures threaten public health. The students will receive a $200 weekly stipend in recognition of their contribution to this important community-based research effort.
The students will subsequently collaborate with Roxbury residents and civic leaders as well as urban planners and climate scientists to devise workable strategies to address this often overlooked dimension of climate change. The students' program will feature a ship-based tour of coastal adaptation sites via UMass Boston's research vessel the M/V Columbia Point, a walking tour of the Rose Kennedy Greenway led by urban planners from the Boston Planning and Development Agency, an engineering design class at the Boston Museum of Science, and an introduction to the legislative debate currently taking place regarding the Green New Deal at the Edward M. Kennedy Institute for the U.S. Senate.
The program will culminate with a presentation of the students' "Keep Roxbury Cool Plan" before area civic leaders, urban planners, and elected officials on Thursday, July 28t, at 7 p.m. in the Harborview Room of the UMass Campus Center.
Students who complete this program will have the opportunity to enroll, tuition free, in two UMass Boston urban planning classes during the coming academic year. Following their completion of these courses, they will be invited to complete a twelve-week paid internship with a major public and/or private urban planning agency during the summer of 2023.
This Summer Program in Urban Planning is the newest effort by UMass Boston's Office of Pre-Collegiate Programs to expand higher educational opportunities for underserved communities. Among the programs this office operates to achieve this goal are Upward Bound, Talent Search, and Project REACH. The program is open to all rising sophomores and juniors attending Boston Public Schools.
Students interested in participating should contact Professor Ken Reardon at kenneth.reardon@umb.edu or 607-275-7402.