Success, Diversity, and Service: UMass Boston, US Coast Guard Academy Partner to Provide Cadets with Expertise in Engineering, Cybersecurity
---
01/28/2022
| Gray Milkowski
UMass Boston and the United States Coast Guard Academy are partnering on a pilot program that will diversify the pool of cadets on the engineering and cybersecurity track and bolster their academic experiences. Leaders from the two institutions signed an agreement Friday afternoon in front of an audience of service members and academics in the Campus Center.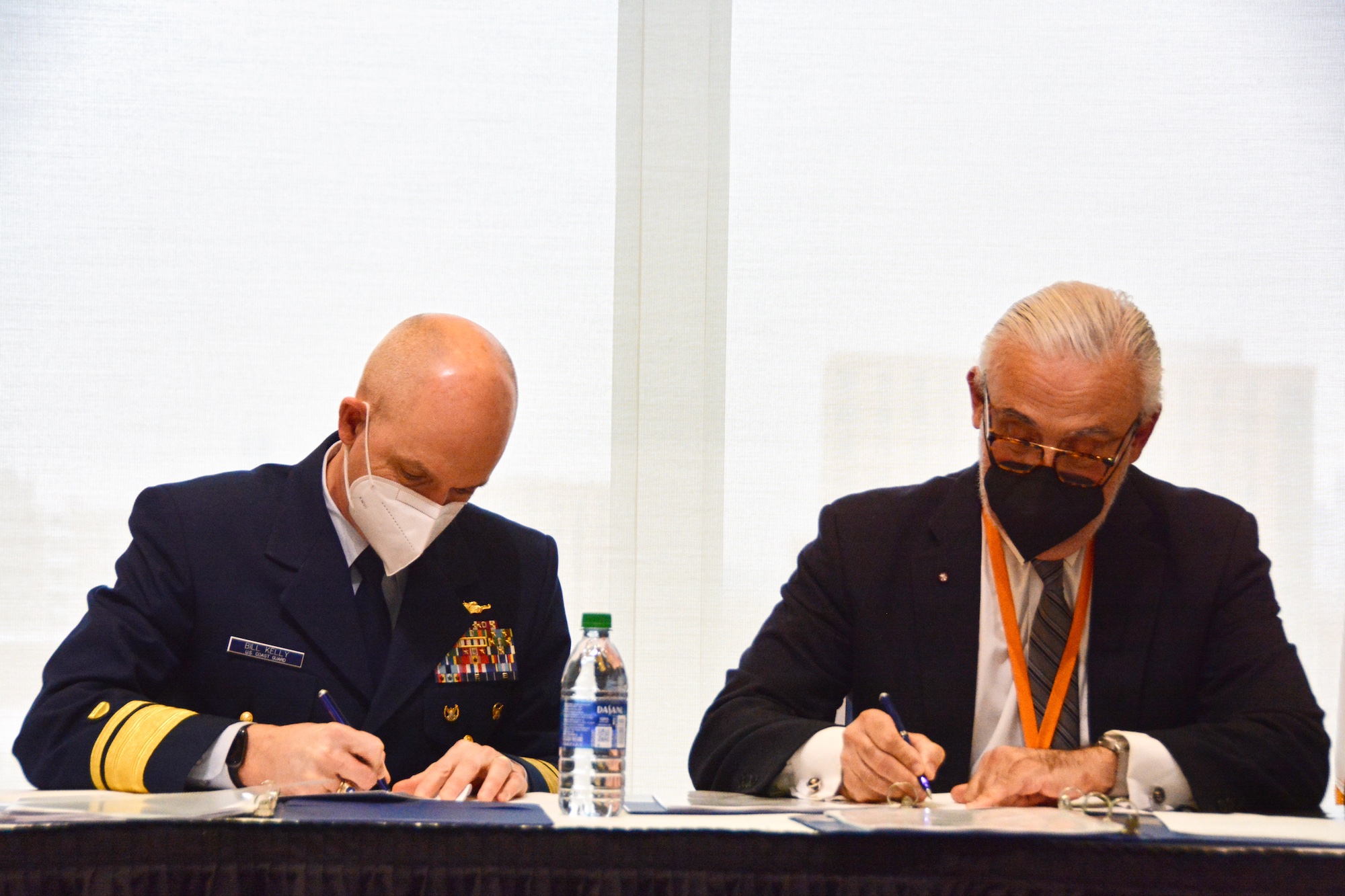 USCGA Superintendent Rear Admiral William Kelly and UMass Boston Chancellor Marcelo Suárez-Orozco sign the agreement on Friday.
Image By: Gray Milkowski
" We are all in on our commitment to this opportunity. "
The partnership, known officially as the Engineering & Cyber Security 5-Year STEM Pilot Program, will provide students who are studying engineering and cybersecurity the opportunity to take one year of classes in their field at UMass Boston before entering the Coast Guard Academy.
Not only will it give them expertise in their field, but it will also help the academy recruit, accept, and retain more women and people of color, bringing their diversity more in line with national standards and better preparing their officers for the demands of service today.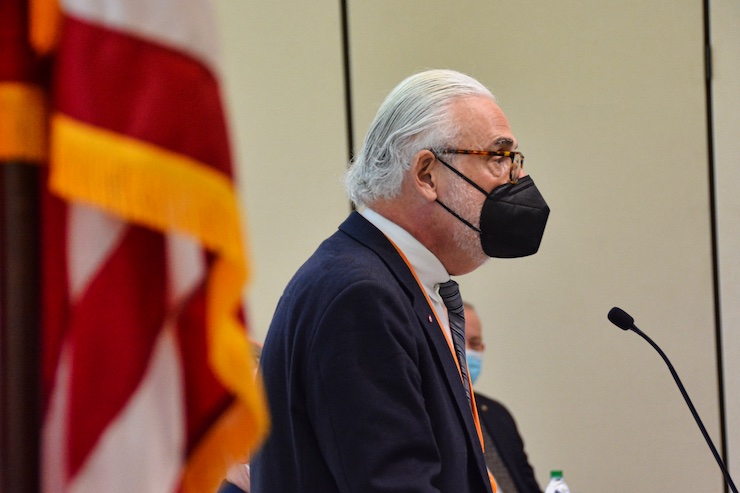 Chancellor Suárez-Orozco speaks during Friday's ceremony.
Chancellor Marcelo Suárez-Orozco praised the agreement's commitment to service, a core tenet of both UMass Boston and the Coast Guard Academy.
"Military alliances are forged to deploy joint resources cost-effectively in pursuit of common goals. Partnership arrangements, like the one we sign today, mimic this kind of alliance. In addition to modeling a more efficient use of our shared resources, they offer the versatility that institutions like UMass Boston need to accommodate student interest in Coast Guard service," he said.
"We are grateful to the Coast Guard for partnering with UMass Boston on this pilot program. We stand ready to honor this partnership to ensure that participating students are prepared to be Coast Guard officers who serve with distinction."
Rear Admiral William Kelly, superintendent of the U.S. Coast Guard Academy, touted the benefits that the program will bring to the academy, its students, and the Coast Guard as a whole.
"We are all in on our commitment to this opportunity," Kelly said. "The relationships we have formed [at UMass Boston] will ensure we prepare the future officers of the Coast Guard with the STEM skills needed to compete in the dynamic arenas where our service is asked to protect, defend, save, and shield our nation."
A Coast Guard Academy cadet looks on during the ceremony.
The partnership, which will start with a three-year pilot, was designed strategically with UMass Boston's strengths in mind. As a minority serving institution, the third most diverse campus in the country, and STEM programs that enroll significant populations of people of color and women, there is perhaps no better institution from which to begin a pipeline.
The university's waterfront location and proximity to the academy was another key factor in the partnership. A two-hour drive away, the distance will allow administrators, faculty, and admissions officers to regularly check in on cadets, and visit prospective students in Boston Public Schools near Columbia Point, helping them chart a path of service and graduate the academy with an officer ranking.
The ceremony wrapped up with a friendly exchange between the two leaders, who gave each other baseball hats with their school logos, which they can wear to sporting events between the schools, who will face off in a basketball game later this year.
The admiral also gave the chancellor his military challenge coin, another token of gratitude.
"In the United States military, we present challenge coins to those who have distinguished themselves in service. … So sir, we just want to thank you on behalf of the entire Coast Guard Academy," Kelly said.