THRIVEing and surviving: UMass Boston, Dana Farber team studies how exercise helps Black and Hispanic patients recover from chemo
---
01/06/2022
| Gray Milkowski
More than 650,000 people undergo chemotherapy treatments each year, and for anyone who has experienced it — or knows someone who has — the procedure takes a toll.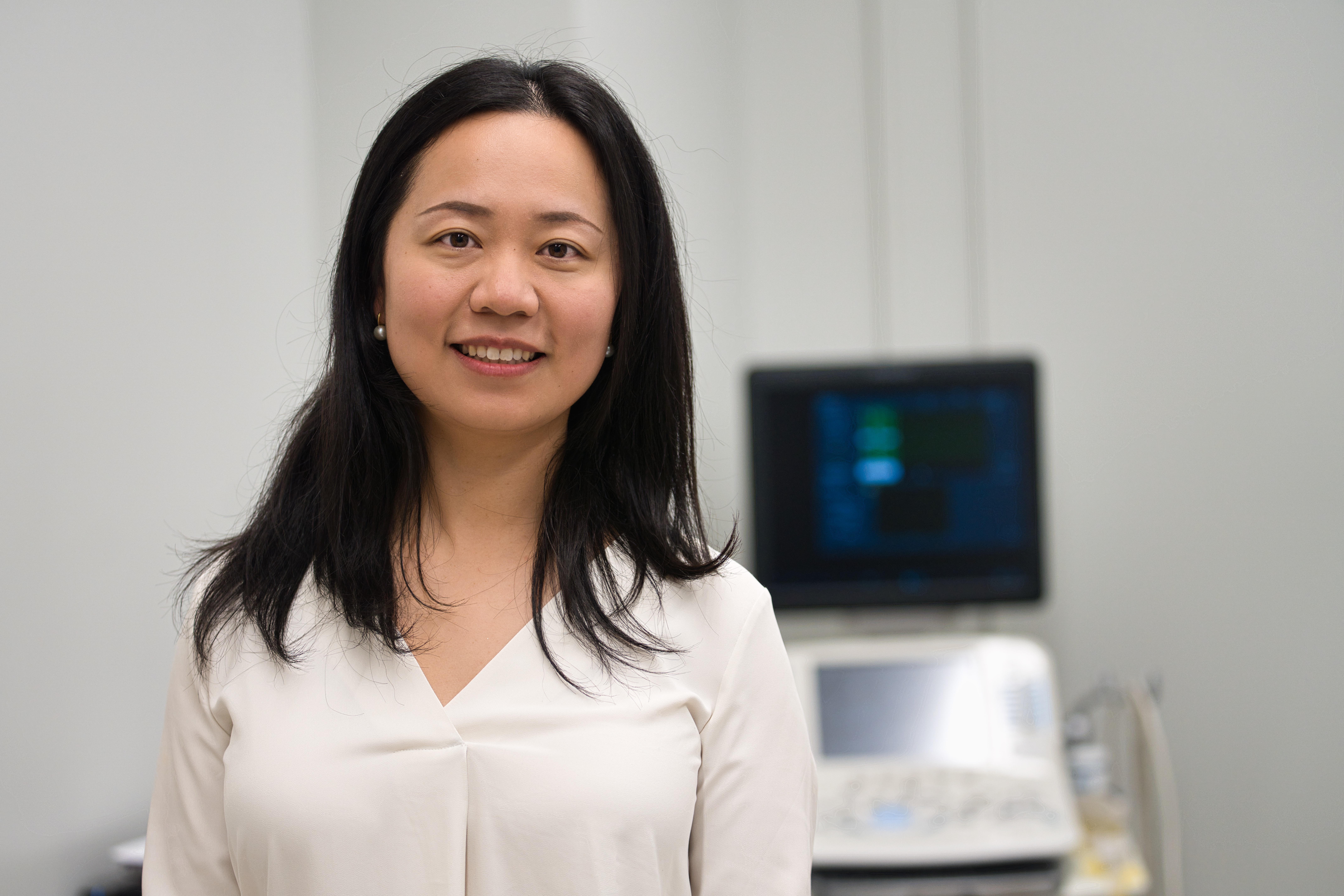 Dr. Huimin Yan
Image By: Gray Milkowski
" We're trying to make the intervention targeted to lower the barriers for our target population to exercise. "
One of the serious side effects is a weakened cardiovascular system, something that scientists have spent years researching how to help patients recover from. Though they have had a great deal of success, the studies have had one problem — participants are overwhelmingly white.
"Black and Hispanic patients only make up six to eight percent of whole participants who are enrolled in those research studies," says Dr. Huimin Yan, an assistant professor of exercise and health sciences. The outcome is that the results cannot be generalized for everyone, which is a barrier for people of color who need care.
It's a problem that researchers from UMass Boston's Manning College of Nursing and Health Sciences and the Dana Farber/Harvard Cancer Center (DF/HCC) are set on solving as part of a three-year, nearly $1 million study being funded by a U54 grant from the National Institutes of Health. Known as the THRIVE study, Yan is working with Professor of Nursing Dr. Laura Hayman and Dr. Christina Dieli-Conwright of DF/HCC to measure how home-based exercise improves participation and the cardiovascular health of Black and Hispanic patients receiving chemotherapy for breast, colorectal, and prostate cancer.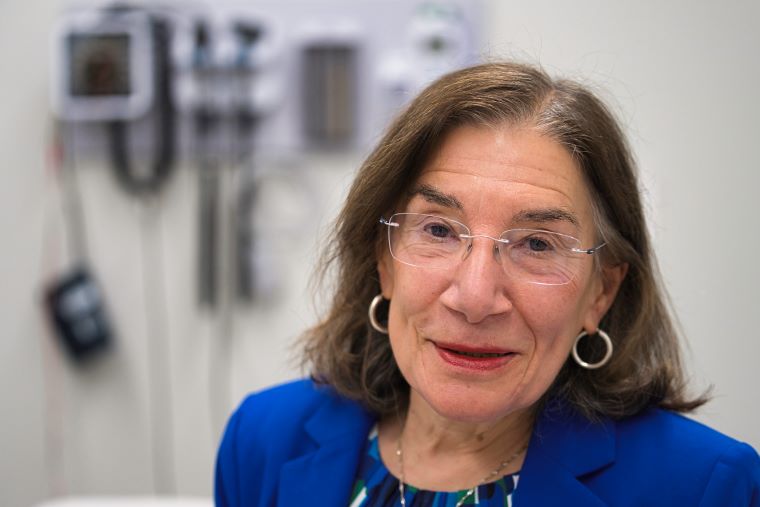 Dr. Laura Hayman.
It's research that is groundbreaking for two reasons: the team is exclusively working with Black and Hispanic cancer patients, and they are using next-generation technology and inclusive methods.
The research uses blood pressure as a key indicator of the subject's cardiovascular health, but measuring it is a little different from the cuff you put on in a doctor's office. Yan and her team use a machine to noninvasively measure aortic arterial pressure, which is a better predictor of future diseases.
Yan says the device "senses the pressure at its highest, but then also all the way through." The generated pressure waveforms tell researchers how stiff the patient's arteries are.
"The techniques Dr. Yan is using are really innovative technologies that are designed to be more predictive of those at risk for hypertension and other cardiovascular risks in oncology patients," said Hayman, an expert in cardiovascular disease risk factors and health disparities.
The study then asks patients to undergo an exercise regimen and track improvement, something that those in the medical field wouldn't have dreamed of until recently.
"In the past people thought that if you're receiving chemotherapy, you're too tired or too fragile to exercise," says Yan. "But there is emerging evidence that suggests it's feasible, and that's beneficial."
One of the challenges that the study faces is overcoming mistrust of medical research in the Black and Hispanic communities, bred by a long history of malpractice and unethical treatment. It makes it difficult to recruit participants, but the study is built to get past this by meeting participants where they are.
"We go to the community more, we talk to potential participants, and we explain what we'll be doing to them, and that's really helped with recruitment," says Yan.
Recruiting student researchers who can have those conversations with participants has also helped.
"I welcome students with diverse backgrounds into my lab, because when they go out and talk to people to try and recruit them for research studies, they can relate more and can communicate better – there's more trust," says Yan.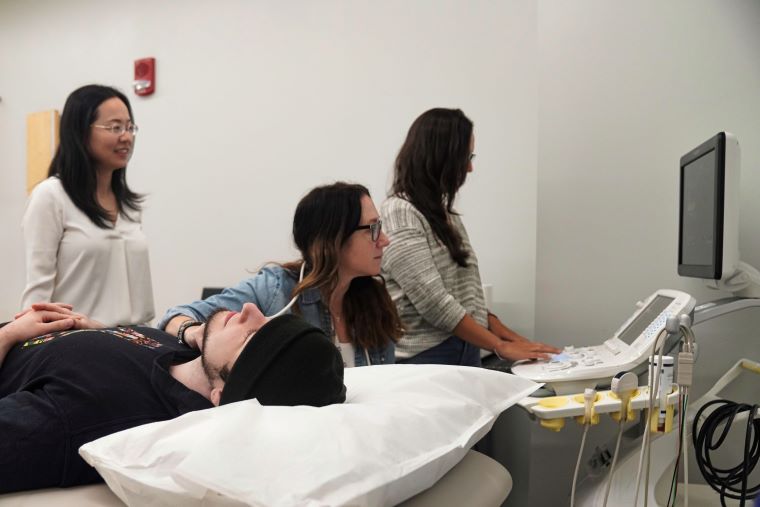 Dr. Yan and her team of students demonstrate how they would measure a patient's artery pliability.
The study also puts money and resources into inclusivity. Typical studies might ask for participants to travel to a lab to do their exercise, meaning that participation was much more difficult for people using public transit, who need to find childcare, or even pay for parking.
But Yan and her colleagues instead ask people to stay home. They send exercise equipment, iPads, Fitbits, and Wi-Fi hotspots to each participant, and by doing so, each person can have reliable internet, video call with researchers, and track their exercise without being impeded by travel or money.
"We're trying to make the intervention targeted to lower the barriers for our target population to exercise," says Yan.