Track and Field Icon Edwin Moses Speaks at Black History Month Event
---
03/22/2022
| Danielle Bilotta
The Black Faculty, Staff, and Student Association (BFSSA) hosted "A History of Black Activism in Boston Sports" webinar last month, as part of the campus's Black History Month activities.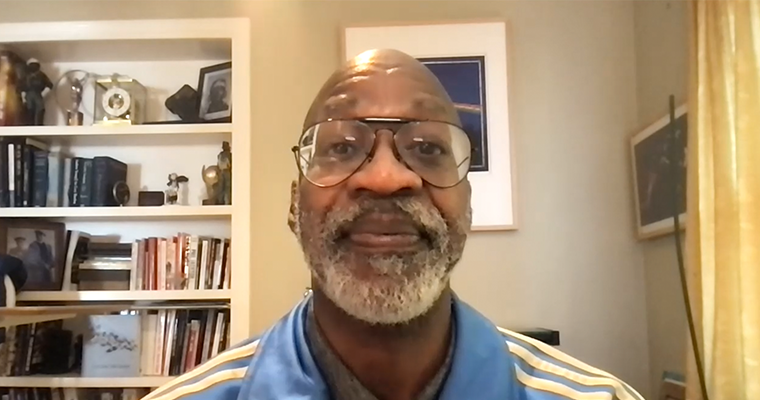 Dr. Edwin Moses
The event featured two-time Olympic gold medalist and track and field icon Dr. Edwin Moses, H'09 and J. Keith Motley Endowed Chair of Sport Leadership and Administration Joseph N. Cooper, who presented the rich history of resistance and activism in and through sport in Boston. Moses and Cooper also tackled commercialization and politics in sports alongside the rise of performance enhancing drugs at the Olympics.
The presentation highlighted the work of Boston bicycle racer Kittie Knox who became the first Black athlete to be accepted into the League of American Wheelman, and Mabray "Doc" Kountze, a sportswriter and Black historian who was the first Black journalist to be issued a press pass by the Boston Red Sox. Cooper shared how these historic moments were a part of progressive racial change in Boston, breaking barriers, shifting attitudes, and providing a blueprint for future sports activists seeking to improve the plights of Black communities locally and internationally.
Moses then shared his personal story as a former track and field athlete who won gold medals for the 400 m event at the 1976 and 1984 Olympics. In 1981, he was invited to join the International Olympic Committee (IOC) by former IOC President Juan Antonio Samaranch, and was involved in the growth of track and field as a commercial sport. Moses was also one of the first athletes to be commercially viable at the 1984 Olympics in Los Angeles, California.
Moses spoke of the desire to keep sports and politics separate at the time, which Moses now describes as "naive."
"The businesspeople that run the sports are completely political because of the nature of commercialization," he said. "There are major deals done between people at the high levels of sports making major commercial deals, representing companies or private organizations, and international sovereign countries. It's sometimes very difficult to untie."
Because of his experience behind the scenes of the Olympics, Moses rejects the idea that athletes are the only ones injecting politics into sports and instead notes that the entire event is business driven.
"I would agree with Dr. Moses that sport is inherently political so whenever athletes or individuals connected to sport use it as a platform to champion causes that are important to them, I think it's perfectly within their purview as long as it's done in a respectful manner, such as a peaceful protest," Cooper said. "Often times people don't question if there are militaristic associations with certain sports. Even with playing the national anthems before certain games, people often times don't view that as a political statement but it actually is."
"An educator and mentor of mine always uses this phrase and I believe it to be true, 'everything in society is economically and politically motivated with socio-cultural implications,'" Cooper said. "We have to start thinking critically about the messages that our institutions and our organizations are communicating, and which communities are benefiting from the current status quo."
The BFSSA also hosted a Black History Month Film Discussion on Passing; Summer of Soul; and Judas and the Black Messiah, and a Celebration of Black Entrepreneurship, which encouraged the UMass Boston community to patronize as many Black-owned businesses in greater Boston as possible and discuss their experiences supporting Black entrepreneurs.