Transgender Activist MG Xiong Named JFK Award Winner
---
05/23/2022
| DeWayne Lehman
Will Address Class of 2022 at Undergraduate Commencement Ceremony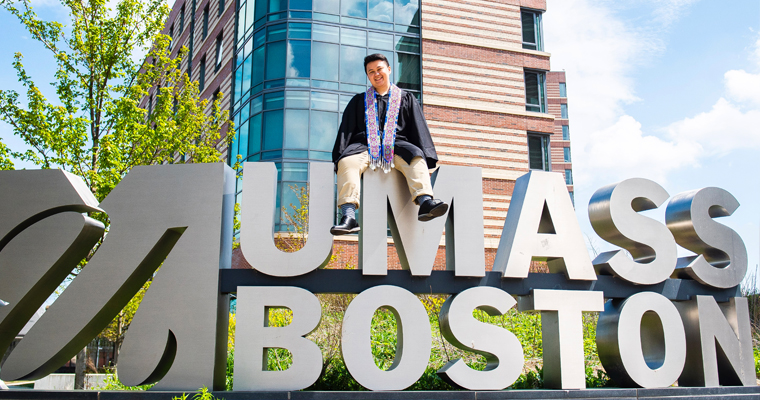 " Every professor that I've had ... they truly are advocates not just for education but for us as individuals. "
MG Xiong, originally from Anchorage, Alaska, came to Boston because of its higher education offerings, has been named the Class of 2022 John F. Kennedy Award winner, the highest honor bestowed on a graduating senior at UMass Boston.
In selecting Xiong, the review committee noted "a dedication to service that is truly laudable." In particular, they have organized the Transgender Day of Visibility 2022, served as a member of the Vice Chancellor for Student Affairs Leadership Council, Program and Communications Coordinator for the Asian American Student Success Program, and as the Chapter Director and DEI Coordinator for Strong Women Strong Girls.
"The committee was in awe of MG's accomplishments during college," the chair wrote. "And the committee found MG to be an intelligent and articulate individual who is truly dedicated to the service of our university, our city, and our world."
In an email announcement to the campus community, Chancellor Marcelo Suárez-Orozco congratulated Xiong for their "extraordinary achievements at UMass Boston."
Xiong will graduate from UMass Boston on May 27, 2022 with a B.A. in Philosophy and Public Policy and minors in Spanish Language and Women, Gender, and Sexuality Studies (WGSS).
They said they were surprised to be nominated for the award—and even more so by dual nominations—first by the Philosophy Department and then WGSS. Just being nominated for the award was an honor, Xiong said, not expecting to be selected.
"I was very pleasantly surprised and super thrilled to hear the good news," they said.
Xiong's family, of Hmong descent, emigrated from Laos to California during the Vietnam War. Xiong was born and raised in Alaska, and lived in Anchorage until moving across the country to attend UMass Boston as a first-generation student. They said they saw the Boston area as a place filled with much greater opportunities for growth and education than their home state.
"A lot of the reasons why I chose UMass Boston is because I knew that I would be in a community that shares a lot of experiences that I'm coming in with," Xiong said. "Being the child of immigrants, being from a lower socioeconomic background, being Asian, being queer and trans, I knew my space of belonging would be in an environment where others share a lot of the same identities or share marginalized identities as well."
Xiong said that they are "truly grateful" for the supportive educational and community environment at UMass Boston that led to developing deep relationships during their three years here.
"I would say I have never had an educator that didn't want to advocate for me and my fellow students as much as possible," they said. "Every professor that I've had, every staff person that I've interacted with, they truly are advocates not just for education but for us as individuals."
Xiong has already accepted a position as Programs Manager for the Massachusetts Transgender Political Coalition and plans to stay in the Boston-area for the foreseeable future, working in a nonprofit or government office. They also plan to pursue a PhD in inclusive education, with the future goal of becoming a professor at a public university.