UMass Boston Announces New Round of Krystle Campbell Scholarships
---
04/21/2022
| Office of Communications
Scholarship Fund Commemorates the Death of Student in Marathon Bombing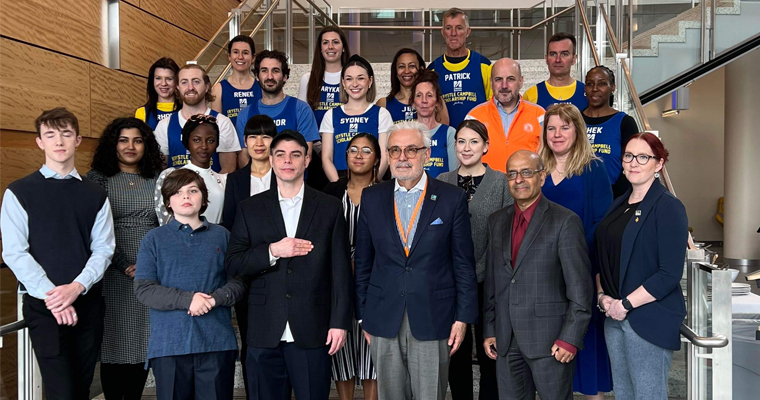 " This scholarship is a fitting tribute to a special young woman who was proud to be a UMass Boston student. "
UMass Boston on Marathon Weekend hosted a Krystle Campbell Scholarship Presentation and Marathon Team Celebration to announce new scholarship awards and recognize the team running the marathon to raise money for the scholarship fund.
The annual event honors the legacy of alumna Krystle Campbell, who was killed in the 2013 Boston Marathon Bombing. This year the event awarded the 2020, 2021, and 2022 Krystle Campbell Scholarships following two years of pandemic. It also celebrated and thanked the UMass Boston marathon teams that every year raise money for the fund.
"Although I wasn't here at the time of the Boston Marathon bombings, I was inspired to learn how our university came together to honor a beloved member of our community who had tragically lost her life," said Chancellor Marcelo Suárez-Orozco. "This scholarship is a fitting tribute to a special young woman who was proud to be a UMass Boston student. Those who knew Krystle remember her as a hard worker, an enthusiastic learner who worked to overcome obstacles, a loving daughter and sister, and a kind and generous friend who was always there to support others. I have no doubt that she would be especially pleased to know that a scholarship in her name supports students at her alma mater."
Former UMass Trustee Richard Campbell (not related to Krystle) established this scholarship fund with his late wife, Barbara, to support educational opportunities for students like Krystle, pursuing a degree in business. The scholarship fund currently has a market value of more than $1.5 million dollars.
The first two $5,000 scholarships were awarded in 2015. Because of annual gifts and marathon fundraising, the endowment has grown and enabled additional scholarships to be awarded each year. Four were awarded in 2020, five in 2021, and seven in 2022.
Cora Cluett '22, Anna Huang '22, Anh Ly '22, and Mekhribon Otajonova '22 were named 2020 Campbell Scholars. Shanarah Bargan '22, Mya Matarazzo '22, Noshin Omar '22, Eliana Semaan '22, and Caleb Tolentino '21 were 2021 Campbell Scholars. And Taisiia Boyd '24, Erin Collins '24, Darsheenlove Darius '23, Anna Huang '22, Spencer Keating '23, Kareem Mansour '23, and Katherin Ramirez '24 are 2022 Campbell Scholars.
"Applying for this scholarship was a last ditch effort. After one of my roommates moved out due to the pandemic, I had ended up working two jobs to cover our additional expenses in addition to being a full time student," scholarship recipient Shanarah Bargan said at the reception. "It was a tough time and I really needed a break financially if I was going to be able to afford all of my commitments and be able to focus on my classwork…. this scholarship has provided me with opportunities I couldn't see coming, the type of relationships and connections that can really change someone's life."
The scholarship is intended to provide financial support to students interested in pursuing a degree in business. Students in the College of Management with a GPA of 3.0 or higher are eligible.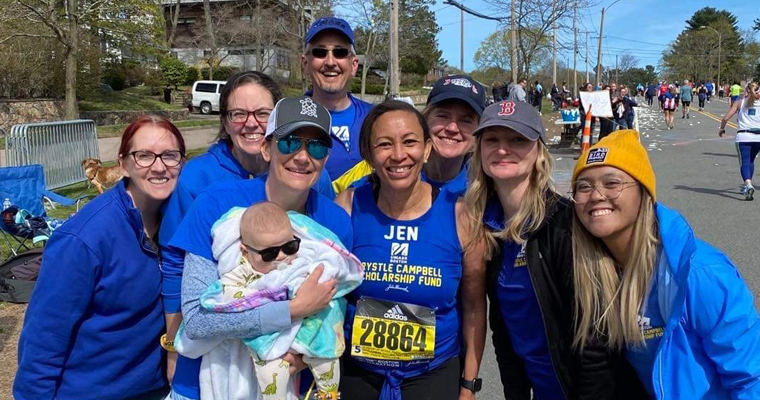 The Run for Krystle marathon team included Connor Cannizzaro, Sydney Doneen, Paul Dyson '00, Ainien Gilligan, Sara Harland '21, Rhonda Hodge '13 G'20, Jen Kanyugi G'10, Renee Laurencelle, Michaela Menard, Joshua Pritchard G'15, MaryKate Riordan '25, Christopher Tabing, YaSheka Taylor '21, and Matthew Thistle.
"I strongly believe in the power of sport to not only unite communities but change the world. When I learned about the Run for Krystle team and their mission to keep Krystle Campbell's legacy alive by providing scholarships to fellow students who exhibit the same level of determination and drive as Krystle, I knew it was on organization I wanted to be a part of. From the beginning to the end of this journey, I received an abundance of support that continued to inspire me as I made my way from Hopkinton to Boston in honor of Krystle and the many leaders that will follow in her legacy," said runner MaryKate Riordan, a student in UMass Boston's Sport Leadership & Administration program.
Runner Yasheka Taylor '21 plans to continue to stay involved by starting a children's triathlon relay race and donating proceeds to the scholarship fund.
"This was an amazing experience running the Boston Marathon for UMass Boston and supporting the Krystle Campbell Scholarship," the former Olympic Development runner and first-time marathoner said. "It was an honor to represent a former student who attended UMass Boston and passed away in the Boston Marathon bombing. This entire experience absolutely rendered me as an formidable advocate."