Biology Major Earns Prestigious Goldwater Scholarship
---
04/26/2022
| Crystal Valencia
Maddison Lessard has received the Barry M. Goldwater Scholarship, one of the most prestigious awards in the U.S. for undergraduates studying the sciences.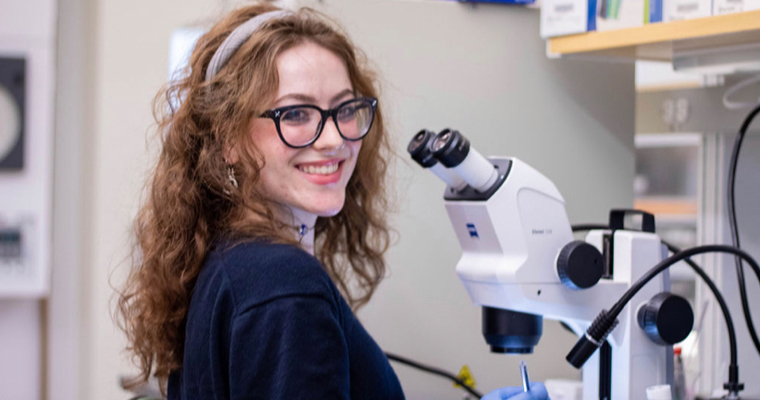 " Whatever I learn, I want to be able to teach to everybody else as well. "
The scholarship is given annually to college sophomores and juniors who demonstrate excellence in natural science, engineering, and mathematics. Lessard is one of 417 recipients selected this year, and is the fifth UMass Boston student to earn a Goldwater Scholarship.
"I was so shocked. I wasn't expecting it at all," Lessard said.
A junior biology major with a minor in English, Lessard is an Honors College student and an Initiative for Maximizing Student Development (IMSD) scholar. She has been working in Professor of Biology Alexey Veraksa's lab over the past year, using the fruit fly Drosophila melanogaster to investigate cell signaling mechanisms during organism development.
"I congratulate Maddison Lessard on receiving this highly prestigious scholarship and national recognition," said UMass Boston Chancellor Marcelo Suárez-Orozco. "I am proud to see our students achieve at the highest level, and am grateful for our faculty who guide them toward success."
In Veraksa's lab, Lessard has joined a project that is using bimolecular fluorescence complementation (BiFC) to study cell signaling in the Hippo pathway, a conserved cellular system for controlling cell growth, looking at how cells grow and how they become different from one another.
"We're interested in this broad question of embryonic development. We all start off just as one cell and then become trillions of cells that are all different from one another, and it's a really complicated process," she said. "We're trying to figure out how cells communicate with each other to direct this process."
Lessard explained how this is not only important in understanding development, but also in understanding how cancer develops in the body, because abnormal signaling through the Hippo pathway has been implicated in multiple cancers in humans.
"I've been looking at these two particular proteins, which depending on where they're located in the cell, they'll either tell the cell to divide or not to divide. So I've been studying how they're interacting and where their interaction is under different environmental conditions," she said.
Lessard had been conducting this research with graduate student Claire Jackan, who recently graduated. Now she will be working independently to move this project forward, Veraksa said.
"Based on her performance so far, I am fully confident that she will successfully carry out all of the proposed experiments," Veraksa said. "She has all the talent and motivation to become a first-rate independent investigator as well as an effective science educator and communicator."
Lessard credits her advisors and professors at UMass Boston for putting her on the path of research.
"When I came into college, I didn't even really know what scientific research was," she said. "I'd never seen a pipette before my first Bio 111 lab, so I had no idea how any of this works. I was always interested in science but didn't know what I could do with it."
She joined the IMSD, a research-intensive, skill-building mentoring program for undergraduates interested in pursuing research careers in the biomedical sciences. Lessard said the program was "invaluable." Lessard also credits her mentors in the Biology Department with teaching her so much about the physical science, but also sharing their individual stories, from how they became scientists to what their day-to-day work looks like.
"I've had really incredible experiences with all of the biology faculty," she said. "Without my professors and advisors there's no way I'd be doing what I'm doing today."
Lessard, who earns top grades in her classes, has received UMass Boston Chancellor's Scholarship, the John and Abigail Adams Scholarship, and Honors College Classroom Leadership Award. She has worked as a tutor and taught science classes at all levels, from elementary and middle school through college. She also serves as an ambassador for the Honors College and works as a writing coach in the English Department's Writing Nook.
Lessard aims to obtain a PhD in biology and become a researcher in the biomedical field, with the goal of contributing to science that will improve the human condition.
"When I picture looking back and knowing I've had a good career, I think I would've contributed knowledge to something that is meaningful for us and to our lives, but also have been able to share that knowledge with other people," Lessard said. "Whatever I learn, I want to be able to teach to everybody else as well."