UMass Boston Launches Urban Public Health Department in Manning College of Nursing and Health Sciences
---
03/22/2022
| Office of Communications
BOSTON, MA – The University of Massachusetts Boston is launching an innovative department of Urban Public Health (UPH) with the goal of preparing students for jobs in the public health field uniquely focused on improving the health of diverse urban populations.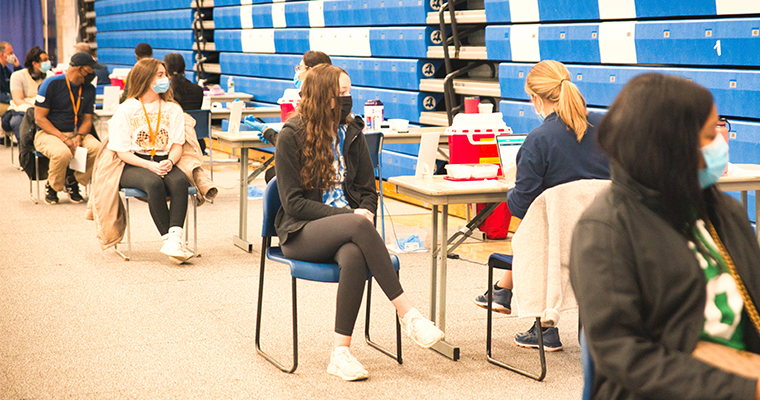 Housed within the recently endowed Robert and Donna Manning College of Nursing and Health Sciences (MCNHS), the new department will begin offering BA and BS majors in Urban Public Health in fall 2023. The program will focus on urban populations, the social determinants of health, and health equity challenges across the lifespan.
According to the United Nations, more than two-thirds of the world population will be living in urban areas by 2050. Humans will therefore have to adapt to living in close quarters that are further threatened by climate change. Communicable diseases spread quickly in urban settings, making exposure to more pollutants, allergens, and toxicity, and chronic and behavioral health issues more prevalent than in less densely populated areas.
"For these reasons, among others, there is a significant burgeoning need for highly skilled diverse professionals and thousands of new job opportunities will emerge in public health and related fields," said UMass Boston Provost Joseph Berger. "Students who graduate with a BA or BS in public health are the future leaders in the full range of health care agencies and organizations."
Speaking of the new department, MCNHS Dean Rosanna DeMarco said, "The UPH department will be a leader in educating students to be innovative thinkers, strategizing to find public health solutions to the enduring problems of health inequity in diverse urban populations in our state and beyond. The BA and BS degrees are geared to prepare students for careers in state and local health departments, non-governmental organizations, health care organizations, the private sector, and federal agencies to promote health equity."
Students in both undergrad degree programs are required to implement a community-engaged practicum and a capstone project in a real public health setting, DeMarco said.
"I join Provost Berger in commending the MCNHS faculty, staff, and administrators for supporting and developing a department whose programs are focused on strategies to address social and behavioral determinants of health in an urban environment because we can't approach policy solutions without this integral knowledge and work," said UMass Boston Chancellor Marcelo Suárez-Orozco. "Evidently, the advent of COVID-19, more than ever, has highlighted the critical importance of public health while at the same time, the pandemic has sharpened the consciousness of the prevalent structural injustices in health care. In launching this department, MCNHS has indeed answered a timely call to action."
More than two dozen current and former UMass Boston faculty contributed to creating the UPH department over the past several years.
"We will not only create intra-college synergies by sharing faculty and leveraging their wide-ranging expertise in public health, but also will promote transdisciplinary synergies campus-wide through cross-listing courses with other colleges," said Dr. Phil Gona, 2021/22 Global Health and Teaching Fulbright Scholar, who helped steer the development of the department and curriculum approved by the Massachusetts Board of Higher Education. The benefits of studying public health go considerably beyond understanding infectious diseases. For example, the concepts introduced in basic epidemiology courses include causation vs. correlation and the role of confounding in various study designs, absolute risk and relative risk, biological plausibility and statistical uncertainty in studies of environmental exposures, health consequences of climate change, major chronic diseases, and cancer risk, Gona said.
The first cohort of students for the BA and BS will matriculate in fall 2023.