UMass Boston Police Raising Funds to Bring Community Resource Dog to Campus
---
10/26/2022
| Crystal Valencia
The UMass Boston Police Department is looking to bring a cuddly, four-legged friend into its ranks.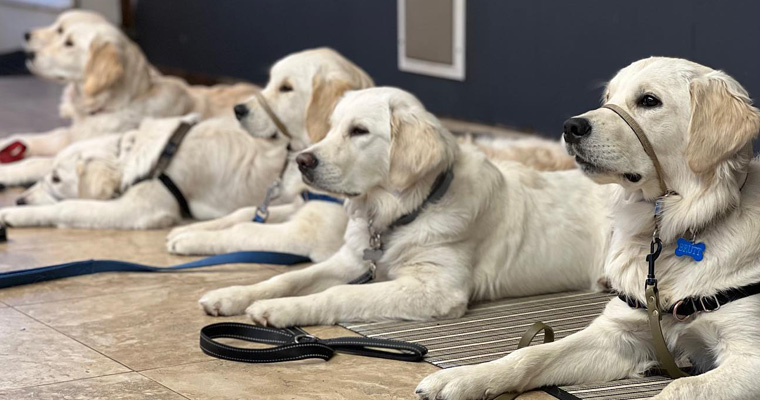 Golden Retriever community resource dogs in training at Golden Opportunities for Independence, a Walpole-based nonprofit that UMass Boston Police is partnering with.
Image By: Golden Opportunities for Independence (GOFI)
UMBPD is raising funds to bring a full-time community resource dog to campus, trained to provide comfort and serve as an ambassador for the department.
The golden retriever pup will work alongside UMass Boston police officers, greeting and interacting with students, staff, faculty and visitors, and aid the department in better responding to areas of victim's advocacy, mental health, and trauma.
"Community resource dogs differ from a traditional police K9 dog in that they're utilized more as a de-escalation tool," said Officer Mark Cikacz, who is spearheading the community resource dog program. "The use of the dog on campus would be to respond to stress related incidents, and for community engagement to promote a healthy work and school environment."
Cikacz explained that a visiting community resource dog promotes greater self-esteem and focused interaction with other students and faculty members.
Research has also shown that simply petting a dog lowers the stress hormone cortisol, while the social interaction between people and their dogs actually increases levels of the feel-good hormone oxytocin — a benefit for those processing traumatic events or everyday stressors.
Cikacz got the idea to bring a community resource dog on campus after seeing other dogs report for duty on campuses across the country, and the positive effect it has had on community relations.
UMass Boston Police will partner with Golden Opportunities for Independence (GOFI), a Walpole-based nonprofit that breeds and trains dogs in the hopes of turning them into assets for the community at large.
Eight universities in the state now have community resource dogs, and they are becoming commonplace in law enforcement agencies.
"As an institution that aspires to be health-promoting, this comfort dog program offers great possibility for our first responders to interact with our community in new ways that can promote wellness and safety," said Vice Chancellor for Student Affairs Karen Ferrer-Muñiz.
The community resource dog will be used in a variety of ways, providing comfort for students, faculty and staff during times of great stress, providing support for victims in the aftermath of critical incidents, and helping officers start conversations with community members who otherwise might have avoided personnel in uniform.
UMBPD is looking to raise $35,000 to cover the purchase of the puppy, training, veterinary appointments, equipment, and food. You can donate by visiting their fundraising page.
"Officer Cikacz is extremely passionate about this program," Police Chief Donald Baynard said. "He has been studying and researching similar programs for the better part of a year now, mostly on his personal time. We are grateful that Officer Cikacz is pursuing his passion and spearheading this project. This program will be an invaluable asset to UMBPD, the university community, and the students we serve."