UMass Boston Receives $1 Million for Quantum Computing Lab
---
04/27/2022
| Office of Communications
The Massachusetts Executive Office of Housing and Economic Development has awarded UMass Boston $999,000 to fund new quantum commuting infrastructure on campus. The grant is from the Collaborative Research and Development Matching Grant program, an effort managed by the Innovation Institute at the Massachusetts Technology Collaborative (MassTech), and will support a three-year, $1,999,774 project managed by UMass Boston in partnership from Western New England University in Springfield.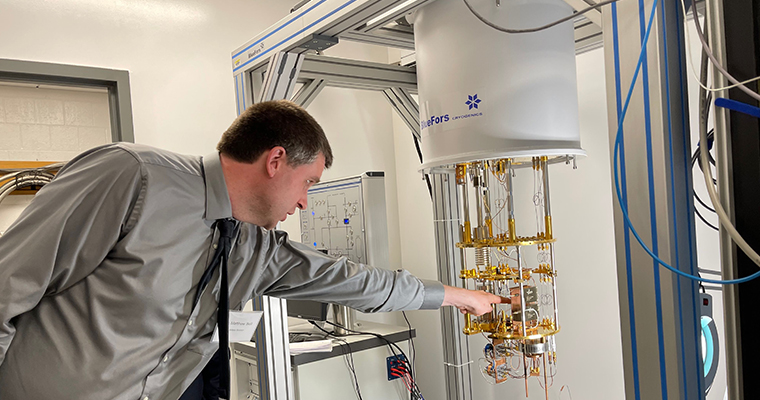 Dr. Matthew Bell, associate professor of engineering at UMass Boston, highlights the existing quantum computing infrastructure on campus following the announcement of the new R&D award from the Commonwealth of Massachusetts.
The project will create a collaborative network among the research centers at the two universities and with three Massachusetts-based small businesses: Millimeter Wave Systems, LLC in Amherst, Cohasset's Quantum Microwave, and JanisULT, located in Woburn. This network will boost the commercialization of computing hardware and support workforce development for the quantum information industry.
"The Commonwealth is a global leader when it comes to cutting-edge technology," said Governor Charlie Baker. "In quantum computing, we not only have an opportunity to lead on the research side, but we also have a growing, competitive sector of companies that will help develop new products and tools to drive innovation and we are pleased to support this project."
Quantum computing is a fast-growing field, with Massachusetts poised to take a leadership role. As highlighted by the U.S. Department of Energy, quantum computers consist of quantum bits, or "qubits," which can store more information than traditional computers, but need super-cooled systems in order for researchers to study them. The Commonwealth's investment in these low temperature R&D facilities will create new opportunities for Massachusetts companies to validate and test their products. The increased access to R&D will help shorten the product development cycle and support increased pricing for Massachusetts-based quantum supply chain companies that sell into large computing services companies.
"By supporting increased capacity of quantum computing in the Commonwealth, we can support local companies in their efforts to unlock new and innovative advancements that will have applications in areas such as aerospace, data analytics, cybersecurity, robotics, and artificial intelligence," said Housing and Economic Development Secretary Mike Kennealy. "Through this investment and by working in partnership with UMass Boston and Western New England University, we can also give students a head start by providing access to the tools and training as they look to join the workforce in this important field."
The project will fund the establishment of two quantum-focused R&D facilities, providing increased opportunities for companies and students across the state:
An ultra-low temperature measurement facility located at UMass Boston, including a 20 milliKelvin dilution refrigerator for state-of-the-art quantum hardware validation and development; and,
A low-temperature measurement facility located at Western New England University, with a 50 milliKelvin refrigerator to develop cryogenic radio frequency (RF) microwave support hardware for use in prototype quantum computers.
UMass Boston and Western New England University will also utilize the facilities for workforce training, helping to create a quantum trained workforce by introducing engineering students with related skills to Quantum Information Sciences and making this training available to engineers already in the workforce. Students will gain experience and understanding of the RF engineering, low-noise measurements, and cryogenic technology needed to realize a superconducting quantum computer. For UMass Boston, it will help expand on existing academic programs, such as the Quantum Information Certificate program within its College of Science and Mathematics.
"As we continue to see, higher education can play a key anchor role in the knowledge economy," said UMass Boston Chancellor Marcelo Suárez-Orozco. "By aligning the intellectual resources of UMass Boston and Western New England with local and regional priorities, we deepen an ecosystem for applying knowledge and delivering solutions."
"Building strong industry partnerships is key to solving the world's greatest challenges," said Western New England University President, Dr. Robert E. Johnson. "This partnership aligns well with our strengths and goals as a New Traditional University and our commitment to student career readiness through relevant industry-aligned learning opportunities."
To date, the Collaborative R&D Matching Grant program has awarded more than $31 million to projects across the state, leveraging more than $50 million in matching contributions from outside partners. This includes 10 projects that have supported innovative industry-academic collaborations and investment in novel R&D infrastructure to bolster the Massachusetts tech and innovation economy statewide.
Organizations interested in applying to the Collaborative R&D Matching Grant learn more at https://masstech.org/collaborative-research-matching-grant-program-solicitation.
About the Innovation Institute at the Massachusetts Technology Collaborative
The MassTech Collaborative is a quasi-public economic development agency that strengthens the competitiveness of the tech and innovation economy by driving strategic investments, partnerships, and insights that harness the talent of Massachusetts. The Innovation Institute is the division of MassTech that advances its core mission of innovation and cluster growth across the Commonwealth. Created in 2003, the Innovation Institute intervenes in the economy in the following four ways:
Conducts research and analysis that improves the state's understandings of unmet needs and opportunities in the innovation economy;
Serves as convener and key strategic broker on the landscape;
Manages high-value projects on behalf of the Commonwealth; and
Makes strategic investments in support of innovation-based economic development.
For more information, visit https://innovation.masstech.org/.
About UMass Boston
The University of Massachusetts Boston is deeply rooted in the city's history, yet poised to address the challenges of the future. Recognized for innovative research, metropolitan Boston's public university offers its diverse student population both an intimate learning environment and the rich experience of a great American city. UMass Boston's colleges and graduate schools serve 16,000 students while engaging local and global constituents through academic programs, research centers, and public service. To learn more, visit www.umb.edu.