UMass Boston Receives $1.6 million in Funding for New Biophysical Core Facility
---
06/03/2022
| Danielle Bilotta
UMass Boston has received $1.6 million in funding from the Massachusetts Life Sciences Center (MLSC) to establish a new Biophysical Instrumentation Core Facility. The new Core Facility will be a part of the UMass Boston core facilities, which bring cutting-edge instrumentation, methodologies, and expertise to the research community.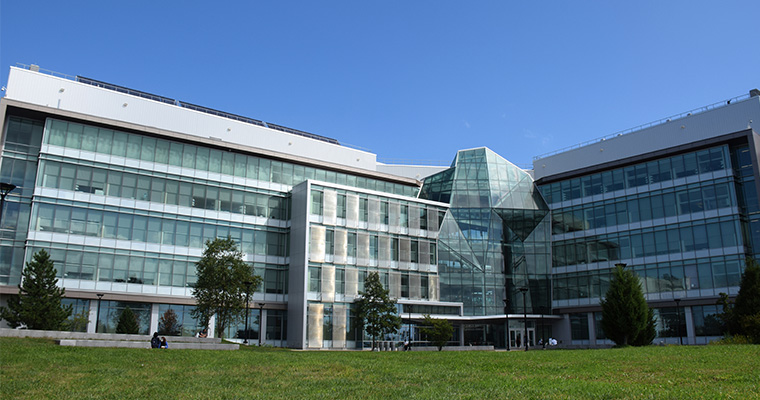 Associate Professor of Chemistry Daniel Dowling said the funding will enable researchers from the university and the Greater Boston area to interrogate important systems in the life sciences that will contribute toward understanding different diseases and the development of therapeutics.
"To understand biological function in human development and disease, it's critical to elucidate the molecular interactions and features of important biomolecules," Dowling said. "As a biochemist and an X-ray crystallographer whose research focuses on understanding how processes function at the molecular level, I'm drawn to characterizing the interactions between molecules that drive biological processes."
The Biophysical Instrumentation Core (BIC) will greatly expand research infrastructure at UMass Boston to study life sciences and enable researchers to tackle areas that currently are inaccessible at the university as well as providing the instrumentation to additional universities, colleges, start-ups, and biotech companies in the area. Researchers will have the ability to study molecular interactions that are key to research proposals aimed at understanding life processes as well as developing and characterizing potential molecules that may have therapeutic benefits.
The BIC will serve researchers tackling life sciences questions at many different levels, from basic understanding of biological processes to characterizing protein-drug interactions. It will also allow researchers to perform critical analysis of their samples for explorations of anti-cancer treatments, including research projects currently underway at UMass Boston.
"Dr. Jonathan Celli in the physics department is developing enabling technologies for image-guided photodynamic therapy for pancreatic and head and neck cancers," Dowling said. "Dr. Yivan Jiang from Window Therapeutics within the Venture Development Center is exploring the development of immunostimulatory conjugates to target traditionally immuno-therapy resistant cancers."
The new core facility will provide additional avenues for the university to expand its research environment by directly interacting with the life sciences industry in Massachusetts. With these new connections, undergraduate, graduate, and post-doc students will have the opportunity to get hands-on training experience with the cutting-edge instrumentation.
To Dowling, UMass Boston receiving the MLSC funding shows an investment in the rich, vibrant, and diverse research culture, and in particular, an investment in students and researchers.
"I really hope the BIC expands research capabilities at UMass Boston to enable our faculty to tackle new research questions that were previously difficult or unattainable for their project," Dowling said. "I'm looking forward to building new connections with start-ups and local industry members who will be able to use the facility to expand their projects."