UMass Boston Report Cites Factors in Paid Leave Compromise
---
02/15/2022
| Center for Women in Politics and Public Policy
Statewide Program Sees Nearly 86K Approved Applications in First Year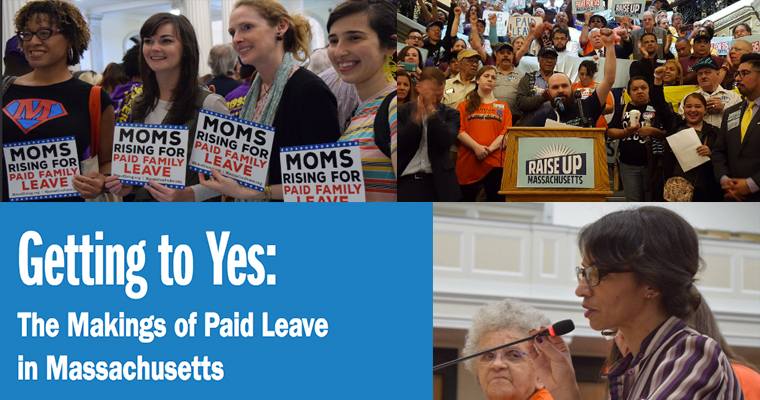 " I am hopeful that future policy issues in Massachusetts will benefit from the important lessons highlighted in this case study. "
A new report from UMass Boston's Center for Women in Politics and Public Policy offers an in-depth look at the negotiation process between labor and business that led to the adoption of Massachusetts' paid family and medical leave program as part of the 'grand bargain' signed into law by Governor Baker in 2018. The report also offers data on the initial year of program utilization by workers and overall program implementation.
Getting to Yes: The Makings of Paid Leave in Massachusetts confirms that 85,887 applications for paid leave were approved in 2021, with the majority (36,841) for employee leaves due to own serious health conditions, followed by 34,035 for child bonding, and 10,150 for pregnancy/maternity leaves. Fewer than 5,000 approved applications were for caregiving leaves for ill family members and 42 for leaves related to the needs of military service members and their families.
Released earlier today at a press conference held by Mainers for Working Families—the study's sponsoring organization—the report details the multi-faceted effort to achieve consensus on a feasible program in Massachusetts and offers recommendations for effecting paid leave laws in other states. The virtual press conference was headlined by State Senator Mattie Daughtry, a champion of paid family and medical leave, and showcased Maine business leaders and advocates.
Laurie Nsiah-Jefferson, director of the McCormack Graduate School's Center for Women in Politics and Public Policy and the study's principal investigator remarked, "As discussions regarding paid family and medical leave occur at the federal and state level, this case study provides important learnings at a critical juncture. With women, persons of color, and low-income workers disproportionately impacted by the lack of paid leave policies across the nation, developing feasible paid leave programs will help address such inequities currently facing many employees and their families."
Broad and deep grassroots organizing, steadfast legislative leadership, closed-door, good faith bargaining with many leverage points, and trusted data were identified as critical elements within the context of strong public support for paid leave and a looming ballot measure. The majority of those interviewed identified the trust-building process that took place during the negotiations as a particularly effective way to address complex policy issues in the Commonwealth. Additionally, many key informants asserted that lawmaking at the ballot box with an up or down vote doesn't adequately allow for a systematic, deliberative process to work out legislative provisions and may not be the most effective approach to policymaking.
Lead author Christa Kelleher, research and policy director of the Center for Women in Politics and Policy stated, "The consensus on a paid leave program achieved between labor and business leaders demonstrates what's possible when trust, collaboration, and data are centered in the policymaking process. I am hopeful that future policy issues in Massachusetts will benefit from the important lessons highlighted in this case study."