UMass Boston Students Encouraged to Advocate for Climate Justice with Boston's Green New Deal
---
12/07/2022
| Danielle Bilotta
We can come out better with better paying jobs and living happier, healthier lives if we tackle climate change, Oliver Sellers-Garcia, Boston's first Green New Deal director, told a large crowd of students, faculty, and staff during a discussion on campus this week.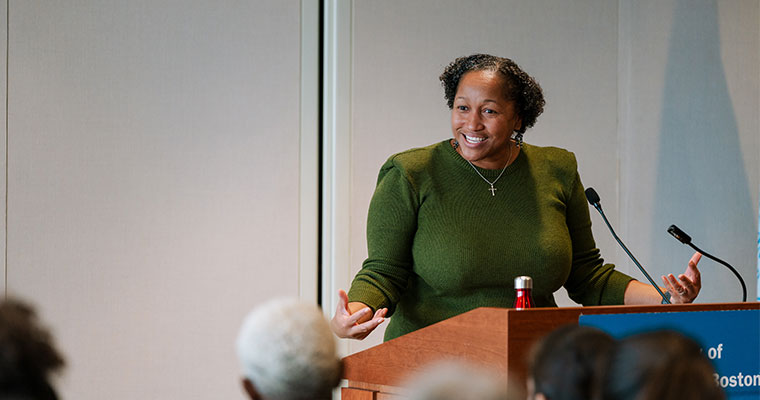 Rev. Mariama White-Hammond, Chief of Environment, Energy, and Open Space for the City of Boston
Image By: Javier Rivas
UMass Boston Honors College hosted the Chief of Environment, Energy, and Open Space for the City of Boston Rev. Mariama White-Hammond and Sellers-Garcia on Tuesday, November 29 for a conversation on Boston's Green New Deal, Mayor Michelle Wu's vision to address climate change, move away from fossil fuels, and commit to justice and equity in the city.
"Tackling climate change gives us the opportunity and the imperative to also tackle social and economic crises that are intertwined if not the foundation of some of the climate situations that we're in, for example, the racial wealth gap or health disparities," Sellers-Garcia said.
The Green New Deal began as a report by Mayor Wu when she was a city councilor and Sellers-Garcia, who joined the administration in August, said it's reshaping the way that local government and the Boston community at large can address climate change.
"At a more operational level, the Boston Green New Deal is the intentional use of more government tools to advance climate action and climate justice," he said. "There aren't a lot of cities with a Green New Deal and fewer that are actually making investments, operationalizing, and changing what we're doing with the Green New Deal."
The Earthshot Prize Awards, a global challenge to fix our biggest environmental problems, was hosted in Boston last week, and Sellers-Garcia said with Their Royal Highnesses The Prince and Princess of Wales attending the event, there are a lot of eyes on Boston.
"It is such a wonderful opportunity to demonstrate what [the Green New Deal] looks like in a city and what we can accomplish with a Green New Deal."
The City of Boston's Chief of Environment, Energy, and Open Space Rev. Mariama White-Hammond grew up in Roxbury, in what she describes as an environmental justice community, and now prefers to define her work as ecological justice. Ecology is one of the only scientific disciplines that attempts to holistically look at the relationship between organisms, she said, and addressing the challenge of climate change, and the related unequal systems we face, requires a major transformation in understanding how we do things and who we choose to be with each other.
"The Green New Deal is at the intersection of the transformation of our economy, and a transformation of our relationship with the environment," she said. "From my perspective, if we don't put both the environmental pieces and social justice pieces together, then we come back to the conundrum that saving ourselves from climate is not enough if we don't change the way we've done things to prioritize the folks that have been consistently left behind."
Interim Dean of the Honors College Susan Gauss applauded students' commitment to learning about climate change and being a part of leading the city of Boston into the future.
Addressing the packed room, Provost Joseph Berger referred to the Green New Deal as a "plan for the times" and aligned it with UMass Boston's new strategic plan, For the Times, as two initiatives that collectively and holistically address environmental, social, racial, economic, and educational justice.
"The power of the Green New Deal as well as the power of the new strategic plan and grand scholarly challenges lie not in isolation but in connection and interconnectedness," he said.
Chancellor Marcelo Suárez-Orozco said that despite the often-bleak reports on the future impact of climate change, there are pockets of resilience at the local level where communities are engaged in detailed planning, migration, and adaptation. Boston is one of those pockets, he said.
"UMass Boston stands at the forefront of helping craft Boston's short-and long-term responses to the threats posed by sea-level rise and other impacts of climate change," he said. "We look forward to deepening our collaboration with Mayor Wu on the roll-out and implementation of Boston Green New Deal initiatives."