UMass Boston Student's Princess Program Foundation Goes Global
---
10/28/2022
| Danielle Bilotta
UMass Boston students traveled to Orlando earlier this year dressed as Disney princesses to put smiles on the faces of sick children at the AdventHealth for Children Hospital in Orlando.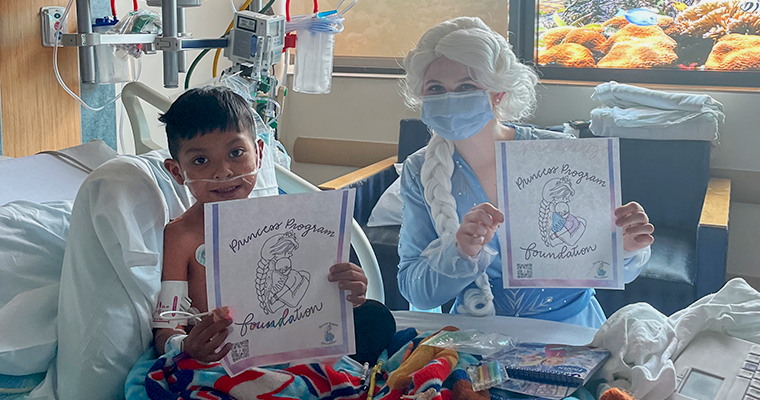 " It's groundbreaking to see the connection these characters have with these children. "
Lauren McGuirk, a Criminal Justice and Psychology Major, dressed as "The Ice Queen" Elsa from Frozen and visited individual hospital rooms, coloring and handing out toys that were donated from supporters. She was accompanied by nursing student Alyssa Banks, who leads the nonprofit responsible for the visit, the Princess Program Foundation.
Since 2017, Banks has led the growth of her nonprofit, the Princess Program Foundation, an organization that brings magic to the lives of children battling serious illnesses through one-on-one hospital visits with their favorite princesses and superheroes. In 2020, the COVID-19 pandemic forced Banks to adapt the program to virtual Zoom meetings, but advances in medicine and access to vaccines meant the program could go back to in-hospital visits this past spring.
The trip to the AdventHealth for Children Hospital in Orlando was the first time they were allowed to visit a hospital in person since the start of the COVID-19 pandemic, Banks said.
"The first patient I saw nearly brought tears to my eyes the way he looked at 'The Ice Queen', his favorite princess, with pure joy and love," McGuirk said. "The experience these kids have with their favorite princess, hero, and idol, through this program is something I believe they will never forget."
"A lot of kids asked how the Ice Queen managed to survive the heat in Florida," Banks said. "It was interesting to come up with excuses of how the heat never bothered her anyway."
"Being around children who are so brave and strong and being able to give them even a moment of joy is something I want to be able to happen for as many other fighters as possible," McGuirk said. "Every time I volunteer, it's more fulfilling than the last."
The trip to Orlando also included a special opportunity for a young girl named Harper who has been fighting leukemia for over two years. Banks had met Harper and her family during the pandemic and helped celebrate birthdays, holidays, and milestones over Zoom.
When she finished her chemotherapy treatments, Harper's family decided to plan a trip to Disney World which happened to coincide with Banks' trip to Orlando. Banks coordinated the opportunity for Harper to "swim with Ariel."
"I can't begin to tell you how special it is seeing her go from struggling to hold her head up on a Zoom call to seeing her run full force into Ariel's arms with a wide smile on her face," Banks said. "That is real magic."
Banks is proud that the foundation has grown to be able to provide these unique experiences for families. The organization was initially inspired by a conversation she had with a child who once told her she would "never get to go to Disney." To bring that Disney-like magic to them, volunteers for the foundation have dressed up as Disney princesses, superheroes, and other popular characters.
"It's groundbreaking to see the connection these characters have with these children," she said. "These characters provide something to these children that is unmatched, and I wish we could all see the world through a child's eyes."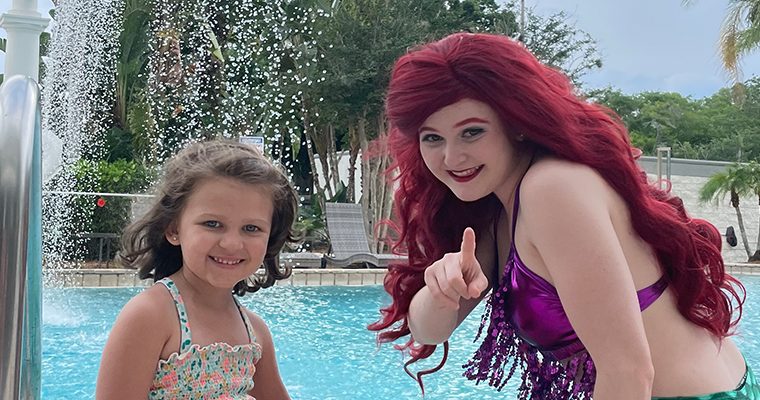 Banks' work has been featured on local news and has a growing social media audience of over half a million followers that Banks said can now be informed daily on childhood cancer issues including underfunding. Social media has also allowed Banks to make connections with other nonprofits, such as Battlecorn Care Package, a nonprofit organization that sends care packages to kids battling cancer which the founders started in memory of their daughter, Jaycee. The nonprofit invited Banks to speak at a Gala for Childhood Cancer they hosted in Appleton, Wisconsin.
Banks said she has no plans to stop Zoom meetings as an option to reach children and notes that the ability to meet families virtually has allowed the foundation to reach over 5,000 children in the U.S. and other countries around the world.
"It's really incredible if you stop and think about the possibilities in a virtual world," she said. "Just the other day, the Beauty princess had a call with a child from Poland. She was overjoyed getting to talk to her favorite character."
But Banks said there's something special about an in-person visit—she'll never take it for granted seeing a child smile in person again.
While in Wisconsin, Banks did a hospital visit and an in-home visit for another child she met through Zoom. And with the support of social media followers, The Princess Program Foundation raised enough funds to bring a family that has had countless virtual princess visits and shared core memories with the foundation, Banks said. She decorated the family's hotel room in an ice theme, and the family was treated to a weekend full of activities.
A new initiative for the foundation is giving children a "brave buddy," which is a doll that's a replica of a child including matching their eye color, skin color, and no hair as a result of chemotherapy treatments. The "brave buddy" dolls are created by the Bravery Buddies, a nonprofit organization based in Australia, and Banks said the goal with the new dolls is to remind the children that they are beautiful, strong, and can handle anything.
"It's always helpful to have a stuffed friend there with you through treatments," Banks said. "I'm excited to see what else is in store for the Princess Program."
McGuirk has been volunteering with the foundation for two years and is one of many UMass Boston students that Banks has recruited as volunteers. Students that are interested in participating with the Princess Program Foundation, or those who would like to show support through a donation, can find more information at their website.