Urban Harbors Institute Hosts Conference to Address Issues Facing Nation's Working Waterfronts
---
08/10/2022
| Danielle Bilotta
This year's National Working Waterfront Network (NWWN) Conference was held at UMass Boston in partnership with the Urban Harbors Institute (UHI) at the UMass Boston School for the Environment. The NWWN is dedicated to supporting, preserving, and enhancing the nation's working waterfronts, and this unique conference, co-hosted by the Massachusetts Office of Coastal Zone Management and Maine Sea Grant, connected stakeholders from across the U.S. to showcase, and initiate, successful and timely solutions to address working waterfront and waterway issues.
NWWN conference attendees at Columbia Point to begin their tour of Boston's working waterfronts.
UMass Boston Provost Joseph Berger welcomed attendees to the conference, encouraging them to work together to "enrich the marketplace of ideas and advance knowledge on what it means to have a working waterfront that serves the economic, recreational, and cultural interests of all stakeholders, sustainably, and equitably."
"Partnerships that leverage unique strengths and generate winning solutions have long been a reliable template for realizing transformational impact," he said. "And so, as I see it, the National Working Waterfront Network models the best cross-sector of partnerships in advancing working waterfront research and practice."
The week-long conference featured keynote speakers Lieutenant Governor of Massachusetts Karyn Polito and U.S. Representative Chellie Pingree from Maine. UMass Boston faculty and staff presented their research and work throughout the week, including Professor in the School for the Environment and Founding Director of the Stone Living Lab Paul Kirshen, Kristin Uiterwyk and Kimberly Starbuck from the Urban Harbors Institute, Professor of Environmental Law and Policy John Duff, Environmental Sciences PhD graduate Courtney Humphries, and graduate research assistant Rachel Bratton.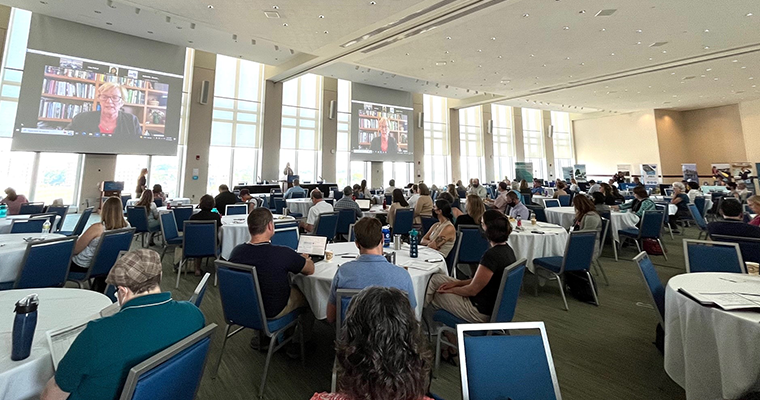 U.S. Representative Chellie Pingree delivers her keynote address to NWWN conference attendees.
Panelists and presenters spoke on a variety of topics including coastal resilience, shoreside infrastructure, offshore wind energy, and examples of climate adaptation from across the country. Senior Research Associate at the Urban Harbors Institute Kimberly Starbuck presented the study "Port by Port: Profiles and Analysis of the Massachusetts Commercial Fishery," which investigated the status of the commonwealth's commercial fishing and port infrastructure within each municipality. The study was developed through a collaboration among the Urban Harbors Institute, the Massachusetts Division of Marine Fisheries, and the Cape Cod Commercial Fishermen's Alliance, and offered recommendations that are intended to preserve or enhance access and infrastructure for the Massachusetts commercial fishing industry.
"Massachusetts is famous for its commercial fisheries, and it's a significant part of the region's history and culture," Starbuck said. "The purpose of this project was to conduct an inventory and assessment of the Massachusetts commercial fishing activity and infrastructure. We looked at existing conditions for the fisheries, what is the value of the fishery to Massachusetts, what challenges the fishery was having, and then we looked at what opportunities are there to improve the fishery."
Conference participants also had the opportunity to attend networking events and partake in field trips to select locations along the Massachusetts coastline, including a day in Provincetown, touring the MassCEC Wind Technology Testing Center, and visiting the City of Quincy's Working Waterfront.
Urban Harbors Institute Director Kristin Uiterwyk said the conference is especially timely given the significant issues and opportunities facing working waterfronts and its workforce. Uiterwyk said some of those critical issues include the need to develop and diversify the workforce for industries such as offshore wind and fishing, improving climate resiliency, making industries sustainable, and addressing the need to manage conflicting uses along waterfronts, such as early morning fishing activity and luxury condos and hotels.
"Working waterfronts—places like fishing piers and ferry terminals—are a critical piece of our nation's economy and culture, but the issues they face are complicated and require multidisciplinary collaborations to keep them working," Uiterwyk said. "This conference, which happens every two to three years, is an opportunity for people to connect and share ideas, best practices, and lessons learned to protect and enhance these special areas."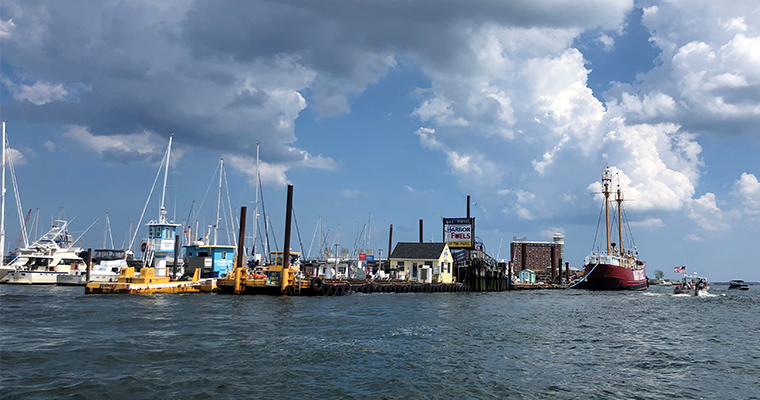 One of Boston's working waterfronts.
More information about the conference and the National Working Waterfront Network, including ways to get involved, is available on the Network's website: https://nationalworkingwaterfronts.com/.
Funding for this conference came, in part, from generous sponsors including the Walton Family Foundation and the National Sea Grant Office.