Xiaochuan Tong, PhD, '21 Awarded 2022 KPMG Outstanding Dissertation Award
---
04/08/2022
| Allison Rubin, College of Management
The College of Management's recent PhD graduate Xiaochuan Tong '21 was awarded the 2022 KPMG Outstanding Dissertation Award from the American Accounting Association (AAA) in the Gender Issues and Work-Life Balance (GIWB) section, which is awarded to only one recipient each year.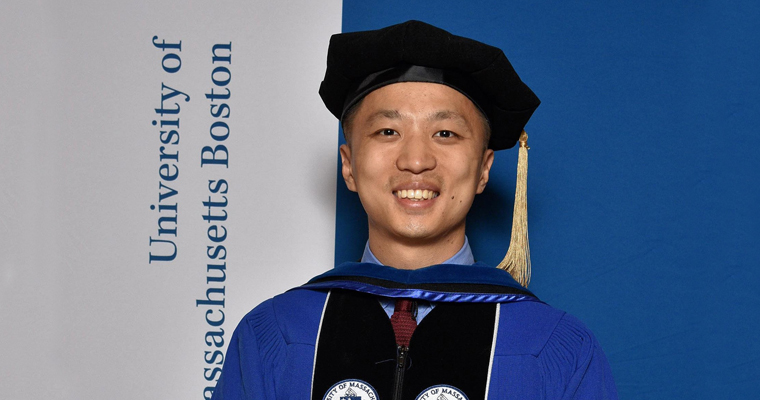 " I credit my amazing experience at UMass Boston's College of Management. "
All PhD graduates studying either accounting or finance are eligible to submit their dissertations one year after graduation to be chosen for this prestigious award. The winning dissertation is determined by the president and vice-president of research from the GIWB section of the AAA.
Tong, an assistant professor of finance in residence at Bradley University in Peoria, Illinois, chose to complete his dissertation on "Essays on Government Ownership." One of his essays looks at how female CEOs interact with government ownership and influence firm performance. Both his parents worked for state-run organizations in China; he based his research idea on his mother's experience in the banking industry and his familiarity with China's economy.
He used data-driven research and found that female CEOs, despite only being five percent of the CEO population, outperform their male counterparts when interacting with or spearheading government-owned organizations. Tong's research discovered that female CEOs thrive in government-run businesses due to a more compliant work environment. These businesses tend to be more flexible, allowing women more stability, respect, and family-work balance, taking the pressure off women.
Tong said he first heard about the award when he presented at an AAA conference while a PhD student, and made it a goal of his to achieve.
"It's a once-in-a-lifetime opportunity because I could only submit my dissertation to the committee one year after graduation," Tong said. "I credit my amazing experience at UMass Boston's College of Management. The faculty and curriculum truly prepared me to be successful in research and teaching. The well-organized and designed curriculum, coupled with the opportunities to attend seminars with leading professors from Harvard, MIT, Boston College, Boston University, and even the Mayor of Boston, Marty Walsh, attended an event on campus; this sets a program apart from the competition.
"I especially want to thank my program director and advisors, who were truly supportive and knowledgeable, ensuring my experience was a successful one," he said.