2022 Africa Scholars Forum Winnie Mandela Speaker
2022 Africa Scholars Forum Winnie Mandela Speaker Krystal-Gayle O'Neill Finds Kinship and Opportunity at McCormack
---
This year's Africa Scholars Forum event in December featured current PhD candidate Krystal Gayle O'Neill as its keynote Winnie Mandela Speaker, where she presented on the movie The Woman King and the representation of Black women in popular media. O'Neill was the Forum's third Winnie Mandela Speaker, and her presentation appropriately highlighted the powerful roles of African women in history depicted in the award-winning movie. Audience members later commented that O'Neill's presentation was dynamic, visually exciting, and thought-provoking. It also evoked a heated debate about the role of women militaries in west African histories and the role of some African precolonial kingdoms in the transatlantic slave trade.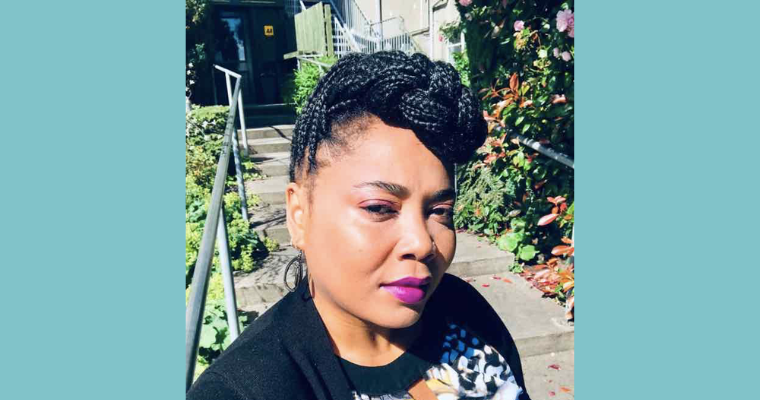 Krystal Gayle O'Neill
While the event featured a student who excels in all her work at the McCormack School, O'Neill regarded this opportunity as something more: the culmination of support she experienced throughout her time here, particularly from friends and faculty members who opened pathways that enriched her learning experience. "Everybody was very welcoming," she said, "It was truly an honor, as it always is when the dean of your school can put you onto things that you yourself didn't know you could actually do."
O'Neill recalled that when she first toured UMass Boston, she felt immense confirmation and kinship from the faculty and staff here. She shared a story of her first visit in 2016, just a week after the presidential election's final count. By nature reserved and observational, O'Neill decided to keep a low profile and take in the environment before formally introducing herself. While checking out her surroundings, she noticed that Leigh Murphy, Program Manager at the McCormack School, was looking everywhere for her, deeply concerned that, due to weather conditions, O'Neill might not have made it to orientation safely. Murphy went around to all faculty members, asking each if they had seen her, O'Neill recalled. That caused the faculty, in turn, to go around looking for her, too.
At that moment, O'Neill said she experienced a degree of safety and home that called to her so much that she canceled her remaining campus visits and settled on McCormack as her new academic home. "I was looking for a place where I could have a community and a family," she explained, "not a place where I was going to be a number or where the faculty felt like they were so revered that I couldn't see them as human. "What keeps me here are the people, because they are so invested. I'm not just talking about one person. I am talking about every single person in our department. They've been invested in me as a person. Wherever I can feel like that, I have a home."
Since that early visit, O'Neill said, "McCormack hasn't stopped supporting me." Many of the opportunities she secured at McCormack stem from the network of safety, care, and trust that she found in the program. She cites Balkissa Daouda Diallo, PhD candidate in the Global Governance and Human Security program, as responsible for her participation in the Africa Scholars Forum. Diallo serves as the Forum's Senior Program Assistant, and her early conversations with O'Neill about the representation of Black women in popular media led to interim Dean Edozie's formal invitation to headline December's event.
Throughout her time at the McCormack School, O'Neill has been a standout student, participating in several fellowships and academic opportunities. She holds fellowships with the Mercatus Center at George Mason University and the University of California's National Center for Free Speech and Civic Engagement. These experiences expand the world she found at the McCormack School. "I realize I've been privileged and sheltered in the type of people who have sponsored me, and it's such a protected bubble for me," O'Neill said. "It's good when I can get out and see what people from other colleges across the United States are talking about. It really opens me up to a different type of networking opportunity."
Before coming to McCormack, O'Neill amassed several academic and professional accomplishments. She holds three master's degrees—an MBA, an MS, and an M.Phil—and studied and worked at the University of Technology, Jamaica; Nova Southeastern University; and Wesleyan University. Her teaching assistantship duties include teaching at both McCormack and UMass Boston's Honors College. Meanwhile, O'Neill also teaches global gender politics at Babson College as an adjunct lecturer.
As she nears the end of her PhD program, planning to defend her dissertation and graduate in 2024, O'Neill is busy collecting primary data on decriminalizing LGBTQ sexuality in the anglophone Caribbean, concentrating specifically on Jamaica (her native country) and Trinidad and Tobago as her primary cases. Thus far, she has completed her Jamaican fieldwork, where LGBTQ sexuality is not decriminalized. She now is at work collecting interviews and archival materials in Trinidad and Tobago, which has decriminalized LGBTQ sexuality, and plans to compose a qualitative comparative analysis of both countries.
As she looks to a post-doctoral career, O'Neill hopes for a future in academe. She would like to bring together her background in student affairs, formal teacher training, and research in gender and sexuality and conflict resolution, ideally in a role that can bridge teaching and administrative responsibilities.