A Monumental Moment - UMass Boston
A Monumental Moment
---
05/09/2023
| Austyn Ellese Mayfield
Amid a slew of exciting initiatives, including the recent unveiling of the Embrace Memorial on Boston Common, UMass Boston alumni Paul English and Imari Paris Jeffries are key figures in the work to make Boston a city for the times.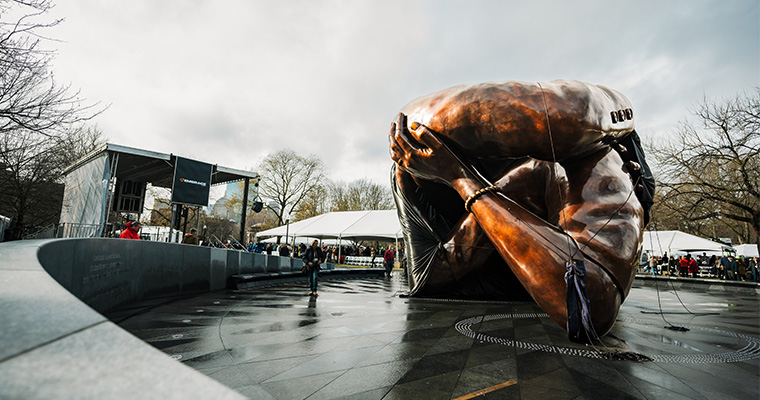 It was an unseasonably warm January day as hundreds of people gathered on the Boston Common—the world's oldest public park—for the unveiling of the world's newest commemoration of the life and legacy of Rev. Dr. Martin Luther King Jr. and Coretta Scott King. Known simply as "The Embrace," the 19-ton bronze sculpture that features a rendering of the Kings' lovingly intertwined arms stands two stories tall on a stone plaza, less than a mile from where the couple had their first date.
For decades, the Kings' connection to Boston and their Back Bay–based love story remained anecdotal at best, a footnote to their more chronicled civil rights work in the South. So, in September 2017, when entrepreneur and activist Paul English '87, G'89, H'19 learned more about the story, he saw an opportunity.
"The country was facing an increase of nationalist rhetoric, a lot of racist rhetoric. And I wanted to do something here in our city," English said. "So, when I found out that Martin and Coretta actually met in Boston, I felt like we needed to celebrate that origin story more."
Proposals and calls for a prominent King memorial in Boston had been suggested over the years, but few had made it beyond the early ideation phase. English, who is self-admittedly "extremely action-oriented," set up a $1 million seed fund for the project through The Boston Foundation and told then-Mayor Marty Walsh about the newly established fund the next day.
"I told him, 'I'm going to go raise the rest of the money. I guarantee we'll have the money to make this happen. Then [Walsh] announced it at a press conference a week later, and we became a real project," said English.
With that, the organization that would ultimately come to be known as Embrace Boston was born. And while making good on the vision to commemorate the Kings through a physical monument remained a central goal, the work of Embrace Boston—much like the monument itself—has taken on a 360-degree approach to understanding and addressing race-based disparities in the greater Boston region.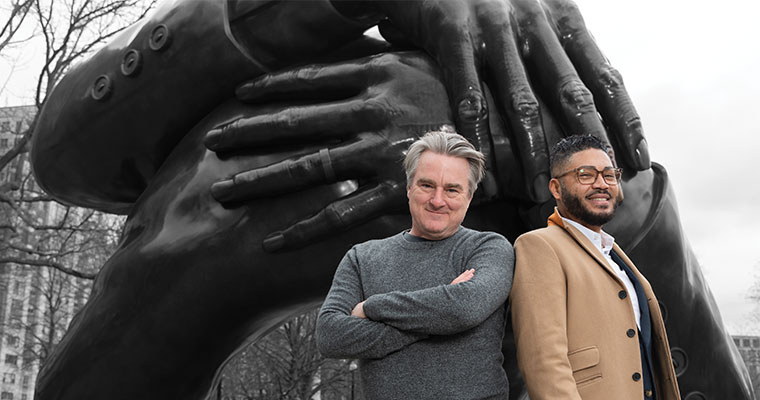 "At its core, Embrace Boston is a racial equity organization," explained Imari Paris Jeffries '97, G'99, G'03, PhD'23, who has served as the executive director and de facto lead fundraiser for the organization since June 2020. "And so, our work is through research and policy and directly through arts and culture to address the harms of racism on a citywide and, in some cases, statewide level."
According to its mission statement, the multi-hyphenate organization has positioned itself "at the intersection of arts and culture, community, and research to dismantle structural racism." In the pursuit of a "radically inclusive and equitable Boston," various initiatives, ranging from economic development to festivals and reparations carve out a path toward that end. Plans are already in the works to develop a parcel of land adjacent to Roxbury's Nubian Square for the future location of the Embrace Center, which will serve as a public cultural hub. The space will include exhibitions, a performance space, theaters, year-round gathering and workspace, and commercial spaces for lease by Black-owned dining establishments and businesses. In 2023, Embrace Boston hopes to unveil a data-rich well-being dashboard to provide asset-based framing of where the city stands regarding current equity benchmarks and set a direction for closing those gaps as Boston approaches historic milestones.
"The Pilgrims landed in Plymouth in 1620, and then, 10 years later, the town of Boston was founded in 1630. So, these are kind of big 'birthdays' occurring in our country and in our region, and we're at the center of it," said Paris Jeffries, reflecting on the timeliness of the work. "We can use these anniversaries as markers. They are chances to ask ourselves, does Boston look demonstratively different 400 years later, not only in harm mitigation, but in how we are improving the very access to well-being?"
That improvement in quality of life and access to well-being for those who have been marginalized is tantamount for both English and Paris Jeffries. And whether recalling the work that led to the completed installation of the monument or thinking ahead to upcoming initiatives, Paris Jeffries is always quick to center the impact of community and the collective as both the focus of the work and the key to its success and sustainability.
"I've heard thousands of stories from people while doing this work— their own experiences with Dr. King or Mrs. King, their own favorite quotes. The Embrace serves as a holding place for all those stories," he said, "not just the Kings, and not just the 69 who are memorialized on the plaza. It took a lot of people's time, talent, and treasure to build the monument. Beloved community is built through this work because it isn't just one or two benefactors."
When considering what it means to build an organization with long-term impact at its core, there's also a special alignment Paris Jeffries sees in this work through his lens as a member of the Beacon community.
"I think it's important that we create places that future generations can also benefit from in ways that their society at the time will need," he said. "From my bachelor's degree to my graduate work, and even as a trustee, UMass Boston has meant different things to me at different points in my life. And I know it will for other people too. It has evolved and stayed familiar, simultaneously. Those are values that are important— to be an institute for the present and the future. And I think that's what Paul and I and others are attempting to create at Embrace Boston, a place that one day will be relevant to a different generation of people in a different way."