"Achieving Cooperation, Consensus & Compromise": E
"Achieving Cooperation, Consensus & Compromise": EMKI CEO Adam Hinds Addresses McCormack's 2023 Graduating Class
---
06/29/2023
| David Hackett
The next generation of McCormack Scholars celebrated their graduation from the McCormack Graduate School at the annual awards ceremony in May 2023. Addressing graduates of an institution dedicated to addressing social inequalities and inequities through the pursuit of scholastic excellence and its practical applications in public service on local and global scales, interim Dean Rita Kiki Edozie lauded graduates on their achievement. She noted, "As newly graduated McCormack Scholars, you will now become ambassadors who represent the next generation of public intellectuals and public servants leading social change that matters." As students of a school steeped in the legacy of its namesake, graduates of the John W McCormack School have a tradition of chartering careers that bridge disciplinary and sectoral gaps within the institutes that characterize an interconnected local, national, and global system.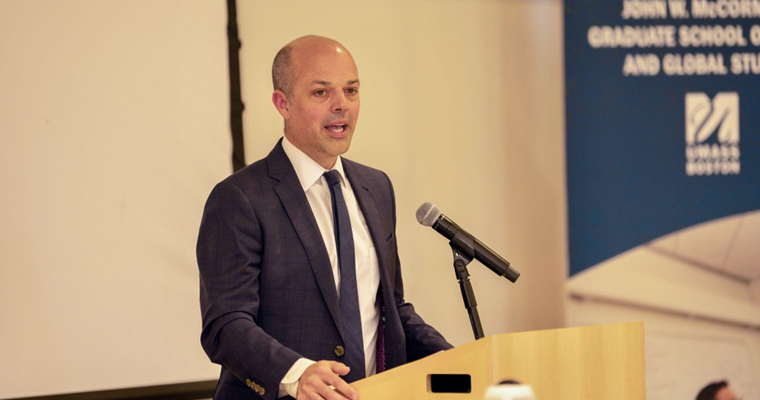 This commitment is one shared by Adam Hinds, the CEO of the Edward M. Kennedy Institute of the United States Senate—and the keynote speaker invited to address McCormack's graduates this year. A public servant whose career has spanned decades and crossed continents, Hinds' enduring dedication to addressing social injustice, conflict resolution, and strengthening democratic institutions shines through in the plethora of offices and positions he's held throughout his career. Following his initial experiences as a manager and coordinator for political campaigns across the Commonwealth, his tenure as a Political Affairs Officer of the United Nations—between 2005 and 2014—would station him in various offices dedicated to peacebuilding and conflict resolution within the Middle East. Hinds worked as a conflict negotiator alongside the Iraqi-Kurd frontier, a coordinator for stakeholder activities at the Headquarters of the United Nations in New York City, a representative of UNESCO's Middle East Peace Process and a supervisor of the disarmament of the Syrian government's biochemical weapons program. Following a return to the Bay State, Hinds built and stewarded youth- and community-development initiatives such as the Pittsfield Community Connection and Northern Berkshire Community Coalition. He later represented residents of Berkshire County as a senator from 2017 to 2022.
Hinds' remarkable career is one underpinned by an enduring commitment to public service, one which transcends sectors and has charted his professional trajectory up to the present day. From the Senate Chamber on Beacon Hill to conflict zones on the Iraqi-Kurdistan frontier, Hinds' storied career reflects a multidisciplinary, intersectional approach to public service that is embodied by the immense potential of our Beacons—and a career of engagement amid the interconnected institutions of a globally-oriented world.
Hinds' keynote address was inspiring, touching upon the interconnected themes of democracy, governance, and policy in peril in our nation and world today. Following a warm welcome from the McCormack community after "[only] having to walk a couple hundred feet" from the EMKI—McCormack's "neighbors" on Columbia Point—Hinds began by noting that the graduating Beacons were "entering the world [and] receiving [their] degrees at a pretty decisive moment for our country [...] and the terms of our democracy." Citing the current political climate within Massachusetts, Hinds observed the necessity and "transferrab[ility] [of] experiences working in conflict zones internationally" to address a domestic political environment of intense political polarization and radicalization.
Hinds offered graduates of McCormack three key suggestions on strengthening American democracy: to actively participate in the creation and preservation of democratic infrastructure, deliberately engage with trusted leaders to create an environment that allows for finding common ground, and challenge U.S. political incentives to entrench oneself within structures that reward partisan affiliation.
First turning his attention to the "infrastructure of democracy," Hinds noted that forums of peaceful and productive discourse were not inherently self-creating—and require active engagement in the face of institutions and platforms dedicated to articulating our divisions in society. Citing the EMKI's work with the Bipartisan Policy Center and the Orrin Hatch Foundation as an example of the institute's work, Hinds noted that the former foundation's namesake "couldn't have been more different from Senator Kennedy both in terms of upbringing and ideological outlook" yet cooperated with Kennedy to pass enduring legislation (i.e., the Children's Health Insurance Program) during their time in the United States Senate. Introspecting on this, Hinds further emphasized the importance of resolving conflicts in a manner that engages "meaningfully with others" without "giving up your principles" as crucial to ensuring the strength of American democracy in itself. He encouraged McCormack's graduates to "work to create that space" for genuine engagement in their communities.
Next, Hinds noted how "the messenger matters" in a political environment where news and information disseminated to constituencies is often adherent to dominant political ideologies and partisan affiliations, which incentivize policymakers and elected officials to avoid the "political consequences of engagement" in a politically-polarized space. Finding success both with impartial organizations and trusted community leaders opening spaces for dialogue during his time in the United Nations, Hinds reflected on U.N. Secretary-General Kofi Annan's success as a respected arbitrator between the parties embroiled in the Syrian Civil War. Annan managed to broker a temporary ceasefire in April 2012 at a time when the Assad regime had been seared for engaging in political violence against its people. Adapting this lesson to the work of the EMKI, Hinds spoke about continuing to position the institute as a neutral arbiter of political debate, working to "conven[e] ten U.S. Senators with the McCain Institute [...] to discuss the challenges [and] divisions in America and [...] how it's impacting the functioning of the U.S. Senate." Through these experiences and shared goals, the value of challenging these environmental constraints through engagement with political leaders was made abundantly clear to McCormack's newly-minted graduates.
Turning to his final word of advice, Hinds spoke of the need to institutionally "incentivize" cross-aisle cooperation in all political contexts. Speaking of how modern politics encourages partisan division, Hinds reflected on the nature of electoral structures and their role in encouraging political division following his assignment as a Political Affairs Officer in Baghdad in 2005; having observed the Iraqi constitutional drafting process firsthand and the "intense political power-plays among religious and ethnic identity groups," which challenged its legitimacy, it became clear to Hinds that the danger of dividing electoral districts on ethnonational lines could threaten the stability of the new government. This process, Hinds noted, draws clear parallels to gerrymandering within U.S. electoral districts, which seek to emphasize a particular political voice or dilute the influence of another—and highlight the institutional danger surrounding.
Closing his remarks, Hinds did not deny the challenges faced by public servants in pursuit of this mission. With American democracy facing increasingly corrosive challenges in the form of startling political polarization and incentives for officeholders to explicitly avoid and eschew compromise with ideological opponents—challenges that highlight an increasingly potent sense of public distrust in government institutions—Hinds emphasized that the fresh ideas and expertise of McCormack's next generation of scholars, policy practitioners, and public servants were urgently needed. However, in offering his "heartfelt congratulations" to McCormack's graduates, he assured them that the knowledge and training offered to students has equipped them with "everything [they] need" to embark upon necessary and essential work aimed at promoting a stronger, more stable American democracy.
The John W. McCormack Graduate School's mission reflects a dedication to understanding and addressing contemporary issues, and EMKI CEO Adam Hinds offered graduates keen insight into how viewing the world through such a lens can have incredible potential.