Alumni Spotlight: Q&A with Zendesk General Counsel
Alumni Spotlight: Q&A with Zendesk General Counsel Shanti Ariker '91
---
02/08/2023
| Office of Alumni Engagement
Shanti Ariker '91 is currently the general counsel, corporate secretary, and chief privacy officer at Zendesk, an integrated customer support software company headquartered in San Francisco. Throughout the years, she's been a driving force in the tech sector, lending her expertise to companies like Twilio, Autodesk, and Salesforce.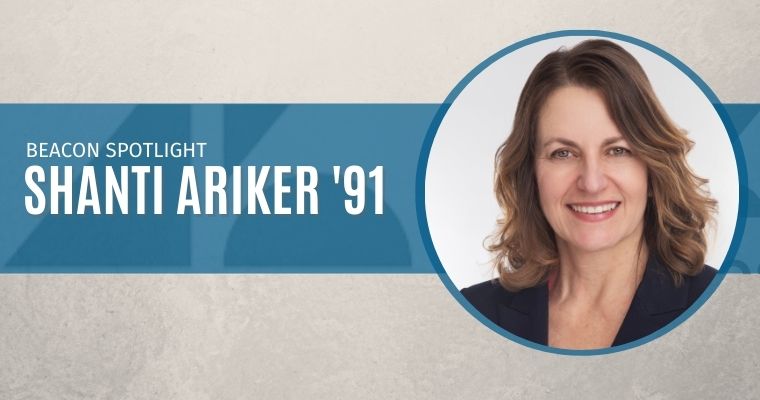 " I've really wanted to make sure that I advance other women in their careers and help everybody along the way. "
Shanti is committed to making legal assistance accessible to all. She established pro bono programs at both Salesforce and Zendesk and continues to pave the way for lawyers to give back to the community.
We recently spoke with Shanti about her role at Zendesk, her foray into corporate law, and her time at UMass Boston.
What made you decide to go into law?
Lawyers kind of played a central part of my growing up. My parents had been going through a divorce for a long time, and it was very contentious between the divorce and my custody battle and my sister. As a result, I got to see a lot more of the court system than most kids would. I was really drawn to the idea of being a lawyer as a result of what I saw growing up.
Did you also know that you always wanted to do corporate law as well?
I actually thought I was going to do environmental law. I did a couple of different internships during law school, including at a public interest law firm. I realized that it was mainly administrative law; that's what environmental law is. I spent the summer researching the Clean Water Act and how it affected the Great Lakes. It just wasn't for me, which was good to learn. It's great to know what you like to do. And it's great to know what you don't like to do. I decided to pivot and not go into environmental law. I actually spent the other half of that summer working at the U.S. Attorney's Office in Philadelphia, doing anti-mob prosecution, which was slightly different! That was quite interesting. I got to see a lot of things in court every day.
My first job out of law school was with the oldest law firm on Wall Street, called Cadwalader, Wickersham & Taft. I was in the corporate team, but then I moved over to the litigation team, and I ended up staying in the litigation group doing securities litigation. And then I moved to another firm, where I was doing securities litigation, but I was put on a business case for a company called E*Trade, which was, at the time an innovative online broker, one of the first. I became their very first in-house lawyer, even though they were already a thousand-person company and were already a public company. I started to work on all kinds of different things. And eventually, I pivoted to more transactional work. I still manage the litigation. But over time, I was more interested in transactional work. I had had a taste of it at the firm, but I did much more. So, I would say that I went in house as a litigator, and it came out as a transactional lawyer.
Do you have advice for our readers who are just starting out in their careers?
People always say, "Networking is key," and it seems so hard to understand what that actually means when you're just starting out. To me, it's as simple as just being open to talking to people, trying to make connections. I think people get nervous about asking for things or talking about themselves or informational interviews, but it's super helpful, and you never know what you're going to find out there.
What is your proudest achievement to date?
Being able to help women advance in their own careers. As I've gotten more senior, I've really wanted to continue to make sure that I advance other women in their careers and help everybody along the way. I've stayed in touch with many of the people that were on my team throughout the years and always tried to help support them no matter what.
How did UMass Boston play a role in where you are today?
I have this great professor who wrote me one of the best reference letters. I feel that he played a huge role in me getting accepted to UVA Law School. I spent so many office hours talking with him about my future, what I was interested in, and why and the things that interested me. I had several very memorable professors.