Apologizing for Boston's Role in the Trans-Atlanti
Apologizing for Boston's Role in the Trans-Atlantic Slave Trade: A Conversation with Councilor Tania Fernandes Anderson
---
Programming for Black History Month at the John W. McCormack School of Policy and Global Studies has been robust this year. One highlight of February's events was the McCormack Racial Equity Task Force (MRET)'s Black History Month Speaker Series. Professors Laurie Nsiah-Jefferson and Michael Johnson, co-chairs of MRET, were happy to invite Councilor Tania Fernandes Anderson to serve as this year's honored and distinguished Black History Month Speaker. Following a short conversation they shared at the annual Martin Luther King, Jr. Memorial Breakfast in Boston earlier this year, Dr. Jefferson and Dr. Johnson hope Councilor Fernandes Anderson's visit to the UMass Boston campus would be the start of an ongoing partnership between McCormack, the Boston City Council, and the councilor's office.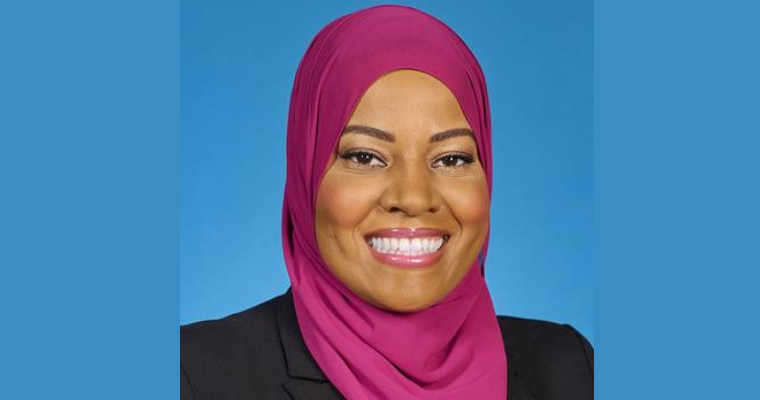 Representing District 7 residents in Roxbury, Dorchester, Fenway, and parts of the South End, Councilor Fernandes Anderson was elected in November of 2021 in a series of "firsts" for Boston: the first formerly undocumented person, the first African immigrant, and the first Muslim American elected to Boston City Council. "Being the first means that I'm the first before the next, hopefully," Councilor Fernandes Anderson commented. In just a short amount of time, Fernandes Anderson has been, as interim Dean Rita Kiki Edozie introduced her, "a trailblazer."
The focus of her talk for MRET's Black History Month Speaker Series was on one of her significant accomplishments as an elected official: the passing of Resolution 0770 in June of 2022, which acknowledges, condemns, and apologizes for the role played by the city of Boston in the trans-Atlantic slave trade, as well as the ongoing detrimental impacts experienced by the Black people of Boston. Fernandes Anderson was the lead sponsor of the resolution, which succeeded with a unanimous vote supporting the policy on June 15, 2022. As Fernandes Anderson explained during her visit to UMass Boston, many expressed their appreciation for the Council's endeavor and recognized it as a significant, albeit symbolic, step towards reparative justice for the Black community in Boston. Many others, however, seek to downplay the historical legacy of enslavement along with the systemic and structural racism that is embedded into the fabric of the city.
Titled "Apologizing for Boston's Role in the Trans-Atlantic Slave Trade: A Case Study in Restorative Justice and Policy Action," Councilor Fernandes Anderson's talk traced Boston's complicity in the kidnapping and enslavement of Africans. Doing so, she opposed the fallacy that Boston is a historically progressive city that has long condemned institutional racism. On the contrary, as Fernandes Anderson delineated, Boston's links to the enslavement of Africans go back to the mid-17th century. She explained that the first half of the 18th century saw an increase of enslaved Africans in Boston by 350%, with roughly 25% of white Bostonians invested in enslaved Africans between 1700 and 1755. "Enslaved African people were essential to the creation of white upper class yet reaped none of the benefits of that wealth creation," Fernandes Anderson said. Boston's entrenchment in the trans-Atlantic slave trade is visible in many of its street names and tourist attractions today. While some efforts to strip the city of its roots in enslavement have been successful—for example, the 2019 change of name to Nubian Square—the city is still home to Faneuil Hall, named after Peter Faneuil, who owned five enslaved humans at the time of his death. As Councilor Fernandes Anderson asked, "How are we expected to move on when so little movements have been made to correct those historical wrongs?"
Councilor Fernandes Anderson acknowledged that while the passing of Resolution 0770 can be considered a victory and an important step forward in the city's reckoning with its past, there is still a long road ahead until Boston can create a fairer and more equitable city. "This is not an end but a beginning," she said. "Think of it as an opening scalpel in a multi-pronged approach where we begin to actually deal with generational trauma and current manifestations of race and economic inequalities that stem from the process of enslavement and its aftermath." One step towards restorative justice through policy action that the city of Boston has taken after its formal apology is Mayor Wu's institution of a reparations task force that will study the lasting impacts of enslavement on the city. Councilor Fernandes Anderson was the second co-sponsor on the resolution to implement such a task force. The recently-announced team will have 18 months to convene and prepare recommendations for policies and programs that will contribute to concrete change for the Black population of Boston. As Councilor Fernandes Anderson concluded in her talk, apologizing is only a first step. "We now have to demonstrate that we are sorry and begin to repair the harm that has been done. On that day, we will begin to become a city as progressive as the platitudes that claim we are," she said.
As indicated by the engaged audience participation in a Q&A following Fernandes Anderson's talk by both in-person and virtual attendees, Boston has a long way to go on its path toward restorative justice in light of its involvement in the trans-Atlantic slave trade. Audience members addressed issues around the renaming of symbols of anti-Black sentiment in Boston like Faneuil Hall and the treatment of and opportunities for immigrants in the Boston area, among other subjects. As Dr. Michael Johnson stated in his concluding remarks, Councilor Fernandes Anderson's visit to campus for the MRET Black History Month Speaker Series event represents one of many ongoing conversations that must occur if Boston is to move forward to an equitable future for its Black population. Addressing Councilor Fernandes Anderson, Dr. Johnson said, "Your words have shown how the impacts of injustices in the past persist to the present and argue for the importance of forward-thinking policies that change our understanding of what is possible."