Author Dahlia Lithwick Calls for Courage in the Fa
Author Dahlia Lithwick Calls for Courage in the Face of Political Turmoil
---
04/28/2023
| Danielle Bilotta
The McCormack Graduate School recently hosted the 2023 Robert C. Wood Visiting Professor of Public and Urban Affairs Dahlia Lithwick for a lecture, book signing, and reception with students and attendees. Lithwick is current the senior editor at Slate as well as a lawyer, writer, and journalist who primarily writes about law and politics in the United States. Her new book, Lady Justice: Women, the Law, and the Battle to Save America, tells the story of the women attorneys that fought the racism, sexism, and xenophobia of Donald Trump's presidency.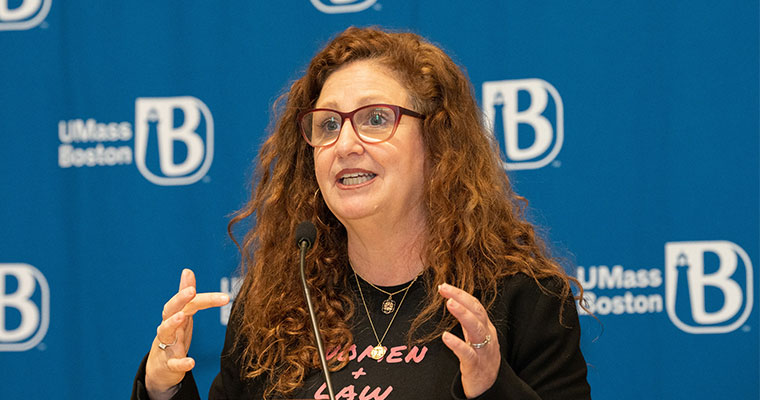 2023 recipient of the Robert C. Wood Visiting Professorship in Public and Urban Affairs Dahlia Lithwick.
Interim Dean Kiki Rita Edozie welcomed attendees to the event which included Wood's family members and members of the Wood Visiting Professorship Selection Committee. Provost Joseph Berger spoke about Wood's impact on various institutions and how his legacy is not solely due to the positions he held but the leadership he showed throughout his lifetime.
"It's not the roles that make up leaders, it's what we do and how we use those roles, whether they are formal or informal, to exercise leadership," Berger said. "I can't think of a better person than Dahlia to be here to share with us the unique brand of public leadership that she provides that inspires so many of us."
Chair of the Wood Visiting Professorship Selection Committee Marcy Murningham introduced Lithwick as having the "voice of a prophet, the words of a poet, and the moral outrage of an active citizen who is deeply committed to the fight for justice and love."
As one of the nation's foremost legal commentators, Lithwick in her lecture focused on the courts, politics, and public policy, including examining topics such as reproductive rights and the role of religion, corrupting the courts, and the current SCOTUS term.
Acknowledging the current political climate and the long list of challenges we face as a nation, Lithwick said that it's tempting to believe that nothing matters and there's nothing that can be done to fix these challenges. In those moments, Lithwick suggests that it's important to remember that "the opposite of hope isn't despair, it's surrender."
"The cure for that is to pay really close attention to what no one is paying attention to," she said. "Lady Justice lives right on the seam between deep fear for the republic and the deep principled commitment to the idea that one person can change everything, and every day one person changes the world."
Lithwick said her book is fundamentally about hope and courage and the handful of individuals who refused to fall asleep after the 2016 election. She shared the lessons she learned from the women she wrote about, including Pauli Murray, an American activist and legal scholar whose work influenced the civil rights movement and expanded legal protection for gender equality but isn't often recognized. Lithwick said Murray's legacy is representative of the many women who continue to do the work regardless of the level of recognition they may receive.
"It has been the single greatest privilege of my 25-year career as a legal journalist to be allowed to write the stories about this group of women." Lithwick said. "They built an infinite succession of presence that will model for us, and for our children and for their children, how human beings have to live. They did this standing on the shoulders of giants, nameless, faceless giants who we will also never know and all of those giants, did not know they were giants."
Lithwick's lecture was followed by a panel discussion with Edozie, Associate Professor of Political Science Erin O'Brien, and Professor of Women's, Gender, and Sexuality Studies Shoshanna Ehrlich. The discussion covered a variety of topics including Lithwick's Slate podcast "Amicus with Dahlia Lithwick", the failure to tell the impactful story behind the 14th amendment, and the power in dissent.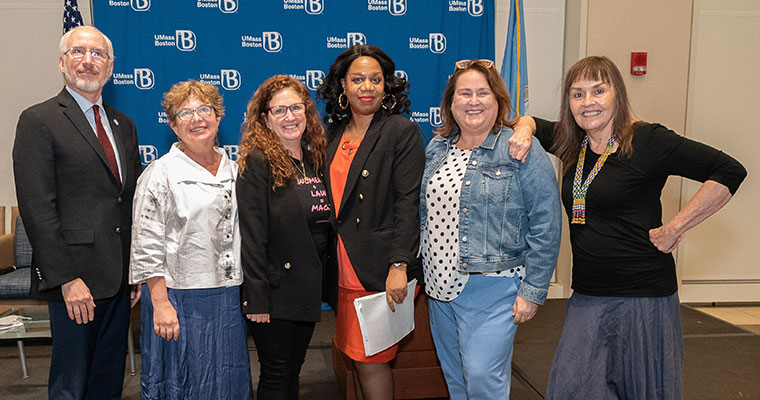 Photo Caption (from left to right): Provost Joe Berger, Professor Shoshanna Ehrlich, Dahlia Lithwick, McCormack Graduate School Interim Dean Rita Kiki Edozie, Associate Professor Erin O'Brien, and Wood Committee Chair Marcy Murninghan.