Beyond the Bagpipes - UMass Boston
Beyond the Bagpipes
---
05/09/2023
| Crystal Valencia
When Ken Casey '22 first attended UMass Boston almost three decades ago, he was admittedly just a kid getting his wits about him, working construction by day, bartending nights, and studying to become a special education teacher. That is until the dare.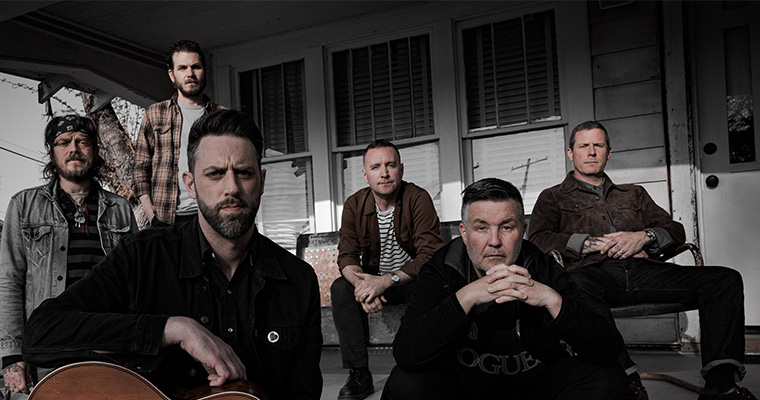 "I was 24 years old and a junior. I had never played music. One of the bartenders, he says, 'You're always talking about starting a band. My band has a show in three weeks. I dare you to open for us,'" Casey recalled. "We put together a band, just as a joke."
Casey gathered his friends, learned a few songs, and played a 30-minute set in the basement of a friend's barbershop. And just like that, out of a dare, the Dropkick Murphys were formed. By the next year, Casey had left school and the band was touring the U.S. and Europe as the opening act for The Mighty Mighty Bosstones.
"And here we are, 27 years later. Don't ask me how the hell that happened," Casey said. "But be careful. You be careful what you ask for."
Casey and the Dropkick Murphys have worked hard to accomplish what many musicians find impossible to achieve—becoming an international powerhouse while staying true to their roots. They remain Boston's hometown heroes, with their unique brand of Celtic punk rock blasting from the speakers at Fenway Park or the TD Garden as a rallying cry for the city's sports teams. Their tour schedule is relentless and their St. Patrick's Day concerts are legendary.
Their success catapulted after their hit single, "I'm Shipping Up to Boston," was featured in Martin Scorsese's 2006 crime thriller The Departed, and their remake of "Tessie" is an anthem you've likely sung along with at a Red Sox game.
Throughout it all, finishing his degree at UMass Boston was always in the back of Casey's mind.
"It had always been a goal to finish my degree, just for the sake of completing it, for my own pride, I suppose," Casey said. "And my oldest child is now a junior at Stonehill College, and I was like, 'You know what? I'm not going to let her beat me! I'm gonna get it first.'"
He finally got the chance during the pandemic, when life—and touring—came to a standstill, and all university classes went remote.
"There were always some classes I was going to need to actually attend in person, and I just knew with my schedule, and touring, I could never do it," he said. "During the pandemic, I said, 'Well, it's now or never, and obviously we might as well make something good out of a bad situation.'"
He graduated with his American studies degree last year, and he says he "took so much more in" this go-around.
"I felt like I was getting more enjoyment out of those lessons than the average kid who knew nothing about music," Casey said. "Because I always need to learn more. The music industry is changing at a rapid pace, so sometimes I was just sitting back and like, man, this is so much more beneficial for me."
He even got to share his experiences with classmates, when halfway through the spring semester, American studies Professor Jeffrey Melnick invited Casey to take over his Social History of Popular Music class.
"I had a unique perspective on some of what we were already talking about in class, so it was kind of cool," Casey said.
Rewriting Murphy's Law
Murphy's Law states that "Anything that can go wrong will go wrong," and Casey has more than a few stories to prove that true. Broken-down buses. Closed borders. Wipeouts on stage.
"It's a lot of work. We're a pretty big operation in terms of band members and crew," Casey said. "But all in all, we've been really fortunate as a band. We work hard though, you know, and hard work pays off."
Casey's hard work has brought him in directions he never would have dreamed of 30 years ago. Aside from the Dropkicks, he is co-owner of Dorchester's Lower Mills Tavern and the Yellow Door Taqueria, which recently opened its third location in Mission Hill. And there's the Claddagh Fund, which Casey and his bandmates founded in 2009 to support charities for children, veterans, and those recovering from drug and alcohol addiction. In 2015, Casey donated $10,000 to UMass Boston's William Joiner Institute in support of its veterans community outreach programs.
Casey is also known for using his platform to speak out against social injustice, racism, fascism, and abuse of political power.
"When I see direct fascism coming up from under the rock that it was buried under, it's like I was always taught, you have to speak up," Casey said. "I just think that if we ever get to a point where people are afraid to speak up about what's right, then we've already lost, you know."
That antifascist message runs through their two latest albums, This Machine Still Kills Fascists and the just-released Okemah Rising, which interpret the work of folk legend Woody Guthrie, who the band calls the original rebel. Casey and his bandmates collaborated with Guthrie's daughter Nora and her son, Cole, to choose some of Guthrie's lyrics that had never been heard or put to music.
While Guthrie wrote and sang from the 1930s to 1950s, famously scribbling "This machine kills fascists" on his acoustic guitar, many of his lyrics still resonate.
"It's scary that what he was speaking about then has come back around. But everything happens for a reason because this is right when these albums needed to happen. Woody's messages are needed more than ever right now."
Playing acoustic sets have been a new challenge for Casey, who has typically played for throbbing crowds of fans screaming back his lyrics.
"I remember the first few shows we came out and people were just in their seats, and we almost had an anxiety attack on the first song. I feel like I'm more like in a play than in a rock show. But it was great, you know . . . any time you're coming out of your comfort zone, it's a good thing."
Casey sees this new acoustic side as something to possibly transition to in another 10 years. "We're pretty high energy now, and I don't know how graceful you can be playing high-energy punk rock in your 60s and 70s," he joked.
Twelve albums in, Casey plans to keep that now almost three-decades-old dare going as long as he can.
"We've already gone about 27 years longer than I ever thought. I'm only in my early 50s . . . and the other guys are even younger than me, so you know, we'll go hard for another 10 years and assess."
"And then maybe I'll get my master's," Casey said, laughing.