Boston Teachers College Luncheon Celebrates Future
Boston Teachers College Luncheon Celebrates Future Educators
---
06/09/2023
| Vanessa Chatterley
The Boston Teachers College held its annual scholarship luncheon last month to honor six UMass Boston students pursuing careers in education.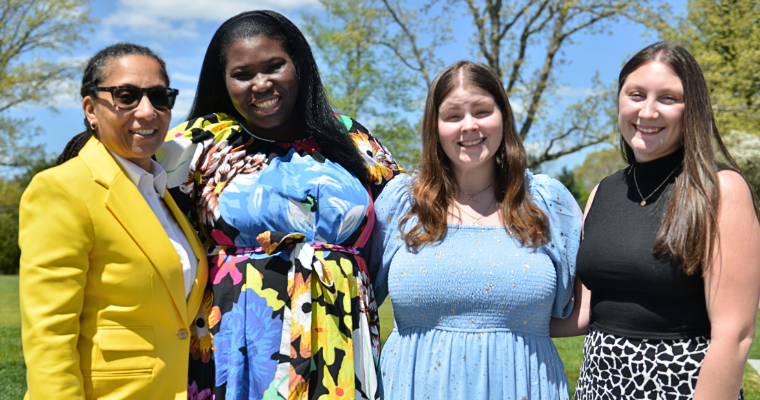 Image By: Kahrim Wade
" We'll never know the names of all the people who walked through the doors before, and yet, we keep working on opening those doors "
Hosted by the Office of Alumni Engagement, the luncheon's purpose is two-fold: In addition to reuniting alumni of Boston Teachers College and its legacy schools, the event also celebrates and recognizes the importance of supporting the next generation of teachers.
Director of Alumni Engagement Steve Whittemore said Boston Teachers College alumni share a rich and expansive history of inspiring and supporting future educators.
"We host this event each year to celebrate the impact that these educators have made in their field and to inspire the next generation of teachers to continue this important legacy," said Whittemore. "The BTC scholarship recipients are the future of the teaching profession, and it is fundamental that we recognize and support them through events like this."
The following students were named 2023 Boston Teachers College Scholarship recipients:
Ingrid Arevalo '23
Danielle Grant '23
Alexandria Jones '23
Carolyn McCarthy '23
Mijailosna Tavarez '23
Eh Thaw '23
The BTC Scholarship Fund was founded in 1996 by alumnae Marie Fox '52; Virginia Lee Langley '48; Alice O.C. DeGuglielmo '52; Jane Monahan Milano '55; Mary Doucette Duseau '57; Madeline McLean Smith '51; and Virginia M. Duseau '52. Since its inception over 25 years ago, the scholarship fund has skyrocketed, surpassing its $1 million milestone goal in 2021. To date, more than 70 students have been awarded the scholarship.
BTC Scholarship recipient Ingrid Arevalo, who will earn her bachelor's in early childhood education at the end of this month, attributes the faculty and their overall engagement and commitment to student success for helping her to stay on track over the past four years.
"I have had amazing professors who all truly show interest and passion for the field. This has been really motivating to me as a student. Having professors who care about the field and what we are learning is a quality I admire and has been beneficial to the students who are learning from them," she said.
At the conclusion of the event, CEHD Dean Tara L. Parker shared a story with the audience to remind them of the importance of opening doors, expanding access, and transforming education for future generations.
"Opening doors is what we strive to do in the College of Education and Human Development. And together, we're all working to help so many people get the benefits of our society but who have been shut out by virtue of systemic barriers. And so, we'll never know the names of the people who fought to open the doors for us. We'll never know the names of all the people who walked through the doors before," she said. "And yet, we keep working on opening those doors anyway."
To make a gift to the Boston Teachers Scholarship Fund, please visit our giving page.