Celebrating a Legend: Charlie Titus - UMass Bosto
Celebrating a Legend: Charlie Titus
---
05/01/2023
| DeWayne Lehman
More than 300 people gathered last Sunday to honor a pioneer of UMass Boston Athletics, former Vice Chancellor for Athletics, Recreation, and Special Programs Charlie Titus, celebrating his more than four-decade-long legacy of service to the campus and community.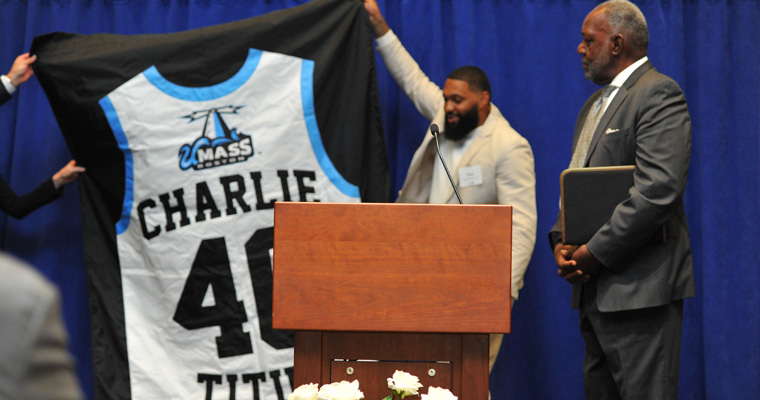 Image By: Kahrim Wade
Titus, who began his career at UMass Boston in 1974, went on to serve as the UMass Boston men's basketball coach for 29 seasons. He was named the university's first athletic director in 1980.
But his enduring legacy at UMass Boston will always be his coaching, mentoring, and leadership. As part of the celebration, Titus's former student-athletes presented him with a banner of a Beacon jersey with the number 40, which will be retired.
"We come together to celebrate a legend, Charlie Titus," said Jacqueline Schuman, vice chancellor and director for Athletics and Recreation. "It is my absolute pleasure to be with you here tonight as we honor a man who has spent his entire life giving back to his home and this diverse and growing community."
Titus, who grew up in the former Columbia Point housing project—now Harbor Point—became one of the most prominent and respected names in collegiate athletics. He was the face of athletics at UMass Boston for four decades and was instrumental in growing collegiate athletics in New England and across the country, helping to found the Little East Conference, one of the premier Division III athletic conferences in New England.
His critical leadership led to the establishment of UMass Boston's Sport Leadership and Administration program and securing a $5 million gift from New Balance to support an endowed chair for the program.
"In a city and region in which sports legends are revered for generations, Charlie Titus stands tall," said Chancellor Marcelo Suárez-Orozco. "Charlie Titus shaped a highly competitive and successful athletics program from nothing and put Beacon athletics on the map."
Over the past 13 years, Titus has been inducted into numerous halls of fame, including at Saint Michael's College, where he was a standout basketball player; at UMass Boston for his significant contributions to the university; the inaugural class of the Little East Hall of Fame; the New England Basketball Hall of Fame; Bay State Games Hall of Fame; and the National Association of Collegiate Directors of Athletics Hall of Fame.
"Charlie, a son of Columbia Point, spent his career on this peninsula providing opportunity and transforming the lives of thousands of UMass Boston students as well as many other young men and young women who had the good fortune of crossing paths with him," said UMass President Marty Meehan. "The facts and figures of Charlie's career are legendary…. [But] throughout Charlie's life, Charlie has known that the most important wins aren't necessarily those that go into the record books, but rather are found in the number of lives transformed, elevated, and saved."
Along with his many contributions to collegiate athletics, Titus has devoted himself to service in the local community and beyond. Under his leadership, UMass Boston's athletics teams engaged in annual community service efforts with Boston-area groups and organizations. In addition, since 1999 Titus has brought his love of basketball to West African nations through the YES with Africa program. Each summer, either Titus or Jason Harris, UMass Boston's head men's basketball coach, in conjunction with the program's West African athletics staff, conduct basketball clinics to give young athletes and coaches in West Africa the opportunity to hone their basketball abilities and learn leadership skills.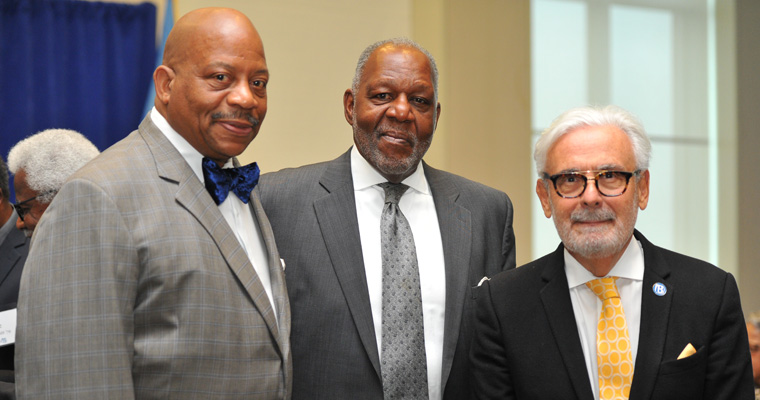 "I thank the creator for the blessing of having a man like this human being we are celebrating tonight, a man that times like this demand, a man with a strong mind, a man with a great heart, true faith, and ready hands," said Chancellor Emeritus J. Keith Motley, a former vice chancellor for Student Affairs, which oversaw athletics. "We are all so grateful to you, Charlie."
Titus officially retired from UMass Boston in June 2020, during the COVID-19 pandemic, preventing a proper celebration of his career and legacy at the university. The recent celebration also included remarks from Levester Tubbs, former vice chancellor for Student Affairs; former student athletes Tony Barros '14, Eileen Fenton '91, and Jack Lambert '00; and Charlie's son, AJ Titus '10.
The full celebration speaking program and video tribute can be viewed online.
Titus closed the evening event by naming and thanking the many colleagues he had worked with over the decades, and offered some advice to his current colleagues.
"I'm proud of what we accomplished together, and I have wonderful memories to carry with me," Titus said. "It's rare one gets to spend 40 years at the same institution, receiving new challenges, being constantly re-energized, and never bored. That has been my life on this campus.
"I tried my best to give voice to those who most needed to be heard," he continued. "I want to leave my colleague with some advice. The original mission of this university matters as much today as it did when it was conceived. What you do matters; how you do it matters. You hold the key to the future for so many who will may not be able to open the door to success without access to this great institution of higher education. As you continue to navigate the new challenges of higher education, do not forget the genesis of this campus. Do not forget those who have yet to come who will have limited pathways to a brighter future without UMass Boston.
"I am because all of you are," Titus concluded. "I thank you for lending your shoulders for me to stand on. I thank you all for 40 years of fun and life-changing moments."
Proceeds from the evening's ticket sales and silent auction benefited the Paula Titus Scholarship Fund, named in honor of Charlie's late wife, who served as a mother figure to the hundreds of men's basketball players who stepped on the court for the Beacons during his coaching career.