Celebration of Scholarship Support Unites Donors,
Celebration of Scholarship Support Unites Donors, Students
---
05/15/2023
| Vanessa Chatterley
When a student receives scholarship aid from their university, they are oftentimes not presented with the opportunity to thank the person or people who made it all possible—at least not in person.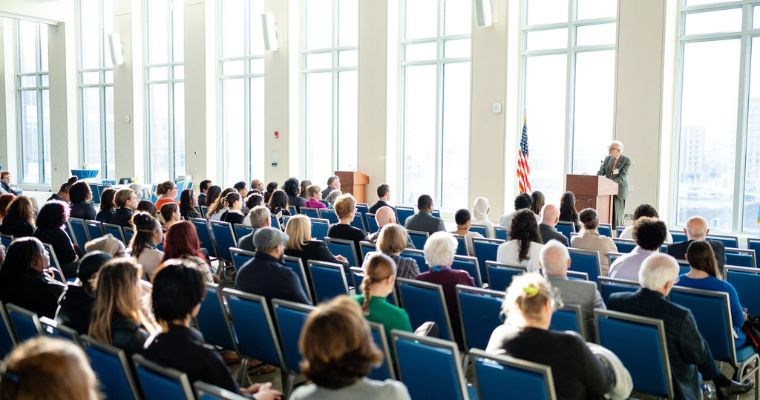 Chancellor Marcelo Suárez-Orozco greets students and donors at annual Celebration of Scholarship Support
Image By: Javier Rivas
" I speak three languages, and I couldn't find the right words to express how thankful I am to come to this school. "
UMass Boston's annual Celebration of Scholarship Support strives to change that.
On May 2, more than 200 guests gathered in the Campus Center Ballroom for the event, which brought together student scholarship recipients and university benefactors. The event serves as a recognition dyad, celebrating both academic achievements and donor generosity. Additionally, students have the opportunity to thank donors for supporting them through their generous scholarships, while donors are able to learn how their gift directly impacts student success and the ongoing mission of the university.
Tamari Kakhoidz '24 is a junior at UMass Boston and the 2023 recipient of the Dr. Berkeley W. Cue Scholarship, an endowed scholarship that Berkeley "Buzz" Cue '69 and his wife Louise established in 1999 to support students who are majoring in chemistry or biochemistry. Kakhoidz, who hails from the country of Georgia, immigrated to the United States in 2020 to begin her higher education journey at UMass Boston. Despite her scholarship's science criteria, Kakhoidz admitted to the audience that she initially hated chemistry. Over time, however, she learned to love it, crediting this change to the "people, community, and environment of UMass Boston."
"Scholarships make a great impact on students like me. This scholarship has changed my life in so many ways. I speak three languages, and I couldn't find the right words to express how thankful I am to come to this school," said Kakhoidz. In her remarks, she addressed Buzz Cue, the benefactor of her scholarship, by saying, "You are a huge part of my academic career, and I will always remember your kindness, with hopes to return it to other students one day."
Chancellor Marcelo Suárez-Orozco expressed his gratitude to the donors for their ongoing support. He highlighted the importance of scholarships in helping students to achieve their dreams and encouraged students to make the most of the opportunities that have been provided to them.
"Imagine the ways this support touches individual lives and enables the best, brightest, and most ambitious students. A Beacon scholarship gift transforms lives by supporting our talented students who might otherwise not have access to higher education," said Suárez-Orozco. "Every scholarship translates into singular unique opportunities to our students here at UMass Boston. We recognize that today's students are tomorrow's leaders and changemakers."
James "Jim" O'Sullivan '80, who serves on the Alumni Association Board of Directors and is a part of the esteemed Chancellor's Council and Lampas Society—a giving society comprised of individuals who have included UMass Boston in their future estate plans or have made gifts through life income gift arrangements—was among several donors present to have established a scholarship with the university.
His foray into university philanthropy began when a close friend of his, Vincent Mastricola, Jr. G'82, passed away in a helicopter accident. Vincent's family established the Vincent I. Mastricola Graduate Fellowship at UMass Boston—at the time, the second largest scholarship of its kind. O'Sullivan and other friends of Vincent, who they affectionally refer to as "Buster," would host annual fundraisers in the Joseph P. Healey Library to raise money for the fellowship.
Then one day, Jim and his wife Marie O'Sullivan '80 decided to create a scholarship of their own. Established in 2014, the Hayes-O'Sullivan Scholarship annually supports an incoming freshman who has applied for admission into the Honors College at UMass Boston.
After explaining the inception of the scholarship, O'Sullivan encouraged students to carry on their legacy as Beacons by one day establishing a UMass Boston scholarship of their own.
"I'm telling you: 40 to 45 years from now, I want you up here. I want you to have created a scholarship, and I want you to come back and tell your story to the students who are going here then," he said. "I love this university. I want you to love this university. Come back and be part of our university."
To learn more about ways to support UMass Boston, please visit our giving page.