Center for Social Policy's Elaine Werby Internship
Center for Social Policy's Elaine Werby Internship Offers McCormack Students Applied Research Opportunities
---
As a center committed to eliminating inequities related to race, gender, class, and economic status, the Center for Social Policy (CSP) upholds the legacy of many of its prominent fellows through its continued focus on community-engaged research. One such luminary is Elaine Werby, a prominent presence at the CSP's launch in 1992. Her legacy lives on through a public service internship that bears her name. Werby's career included prominent posts at the Boston Housing Authority and UMass Boston. She was the first professor of community planning and human services at the former College of Public and Community Service (CPCS), later serving as a CSP senior research fellow into her nineties. Long dedicated to public housing and low-income populations in the Greater Boston area, Werby died in 2016 at the age of 94.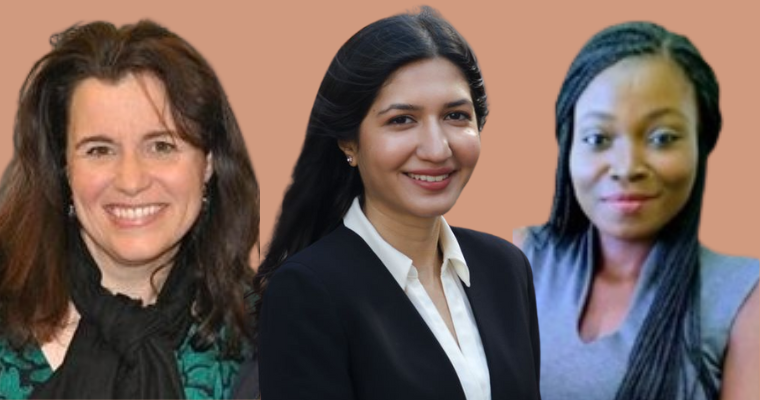 Susan Crandall, Samiya Khalid, and Rebecca Yemo (left to right)
" The Werby Internship presents one opportunity for the CSP to honor the legacy of important thinkers and policy experts... "
In honor of her commitments to the Center—and to commemorate its 20th anniversary—CSP former director Donna Haig Friedman established the Elaine Werby Public Service Internship in 2012. The internship commemorates Werby's work in community engagement that has been a CSP hallmark for decades, current director Susan Crandall explained. "Elaine was a forerunner in the world around tenants' rights as well as community-engaged participatory research," Crandall said.
Since then, it has been offered to UMass Boston students whose work aligns with social and economic justice efforts. In the summer of 2022, two students at McCormack—Rebecca Yemo and Samiya Khalid—served as CSP Werby Interns. According to Crandall, "Rebecca and Samiya were really terrific candidates. It was a very competitive pool this last year, so it was difficult to make a decision, but both of them expressed a lot of eagerness for policy and willingness to learn, and they brought much as well."
Rebecca Yemo, a PhD student in Global Governance and Human Security, demonstrated immediate dedication to the role as early as the application process. "She was on the ball from the get-go," Crandall noted. The Werby Internship offered Yemo an opportunity to bridge research and practice. Before securing it, Yemo was wondering how best to do that. "How do I let my research reflect not just the academic aspect of things, but also something that a policy person can look at and then try to translate into meaningful policies on the national level?" she later recalled. "That, of course, led me to apply for the Elaine Werby Internship this summer."
Its policy focus provided Yemo a chance to see how her own research might apply in policy spheres. She also gained skills and resources for her current dissertation research. For example, Yemo learned how to use the data visualization software Flourish, a tool for creating graphs and charts to present research in a visual way. When working on one of the reports for the CSP, Yemo became "the Flourish person—I developed the graphs," she said." Yemo intends to use this software as she progresses with the dissertation phase of her studies.
A doctoral student in Public Policy, Samiya Khalid brought with her a good deal of "on-the-ground experience," having worked as a Policy Fellow with Mayor Wu's office in the months leading up to her time as a Werby Intern. "The work at the Center is applied research, so we're working directly with local governments, nonprofits, community coalitions, and policy organizations," Crandall explained. "When someone like Samiya comes with her specific background, it's so helpful in terms of how it is applied to the work."
While the internship varies semester to semester, sometimes tasking interns with one primary project and other times exposing them to multiple projects, both Khalid and Yemo had their hands in many of the CSP's ongoing projects, including current ones and those in development. In this sense, the interns worked primarily on data analysis, research, and grant-writing.
One project, on financial and housing security in early education and care, involved Khalid and Yemo analyzing a data set collected in 2019. Others called for conducting background research on improving food access and economic opportunities for Dorchester residents, while another project saw Khalid and Yemo helping to prepare a grant proposal to conduct participatory action research that improves access to financial aid for UMB low-income students. Khalid later elaborated on her contribution to the CSP's partnership with a local community organization. "My role involved conducting statistical analysis to present findings on early education and care workforce," she said. "I worked on designing the evaluation plan, conducting research for it, and supporting Dr. Susan Crandall in the overall project plan." Khalid noted that the internship "gave me an opportunity to use my research and analytical skillsets, and I really enjoyed working with Dr. Crandall and Rebecca Yemo."
Crandall said it was particularly impressive to witness Yemo and Khalid come from two different departments in the McCormack School and collaborate so efficiently. "What was amazing with the two of them was that they were able to take on the work, assign and divide things up or work together as needed, and then, in a very organized fashion, set the research in the files and write up what they learned," she said. "The synergy of them working together really made for an effective Center for Social Policy team." Yemo agreed, noting that "it was great working with the team. Everyone was on point. When you're working with a team and everyone knows what they're supposed to do and is efficient, it makes things run very smoothly, and that was how our team was. It's one of the things I keep highlighting. We had that sort of camaraderie where everyone was driven and was working on a high level to get things done."
The Elaine Werby Public Service Internship program is supported by the William L. Saltonstall Foundation and other generous donors who helped underwrite stipends to Yemo and Khalid, thus easing their financial burdens as graduate students. Following Yemo and Khalid, Sokha Eng and Leena Maqsood are continuing some of the work that Yemo and Khalid kickstarted during their summer internship. "One of the most important aspects about the Werby Internship," Crandall said, "is that it allows us to grow and to build our capacity to do our best work. Rebecca and Samiya helped prepare grants that we are continuing to work on in the fall, so our next set of interns actually picked up a lot of that work."
Overall, Crandall added, the Werby Internship presents one opportunity for the CSP to honor the legacy of important thinkers and policy experts who, like Elaine Werby, have shaped CSP's impact at multiple levels. Put more broadly, the internship helps advance Crandall's goal of "reshaping poverty policy for and with families and communities"—all the while reflecting the center's own commitment to reducing economic inequities by generously supporting future leaders in policy and research.
As a center with a premier focus on community engagement, it is not lost on Crandall that the Werby Internship provides the CSP a chance to learn from its own community within UMass Boston and, more specifically, the McCormack School. While the internship is open to all UMass Boston students, Crandall has found that given their background, interests, and skills, McCormack graduate students tend to fit the internship best. "They bring their skills and experience, and they also have the opportunity to learn and be exposed to new skills and tools," Crandall said, referring to the fact that the Werby Internship platform enables mutually beneficial collaboration. "Its's a very effective model, one that allows students to take the fantastic in-depth academic background they're developing in their programs and direct that into an applied experience that is important regardless of their future career direction."