Center for Women in Politics and Public Policy Wel
Center for Women in Politics and Public Policy Welcomes Cohort of Massachusetts Public Leadership Mentors
---
Marking the start of a new 18-month long fellowship program, the Center for Women in Politics and Public Policy (CWPPP) welcomed its fourth cohort of fellows in a Distinguished Public Service Fellows Welcome Reception ceremony in February. Six women in public leadership join the CWPPP, located at the John W. McCormack School of Policy and Global Studies, to serve as residence mentors and thought leaders to students in the Gender, Leadership, and Public Policy Graduate Certificate program and, through public lectures and written contributions to the Center's Women's Public Leadership Archive, to the larger community at UMass Boston.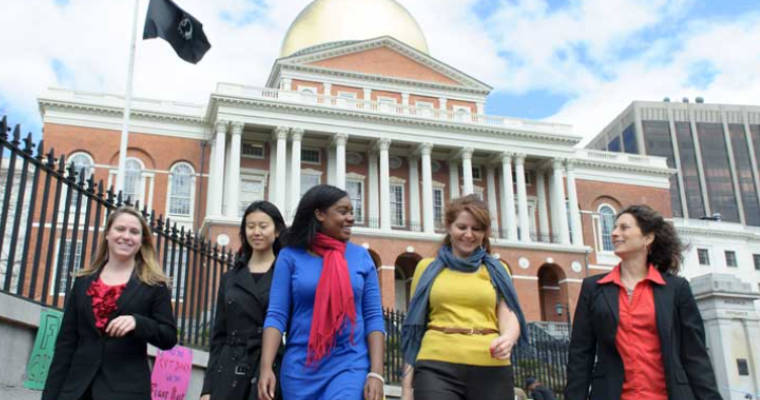 A core program at the CWPPP that promotes diverse women's political leadership, the Distinguished Public Service Fellows Program has celebrated women in public leadership roles, particularly women of color, through the selection of four cohorts since 2016. Six women leaders will serve as mentors to the community and models of dedication to politics and public policy. They include Tahirah Amatul-Wadud, Esq., executive director and chief legal officer for the Council on American-Islamic Relations–Massachusetts; Natanja Craig Oquendo, executive director of the Boston Women's Fund; Maritza Cruz, an independent anti-racist and racial equity educator and organizer; Marie St. Fleur, Esq., president of St. Fleur Communications; Mayor Sumbul Siddiqui, mayor and city councilor of Cambridge; and Susan Tracy, president of the Strategy Group.
This incoming cohort of inspiring women in politics and public policy has just begun its 18-month fellowship. Over the course of the next year and a half, the six women will help "build bridges between generations of women in public leadership and prepare them for the next generation of leadership," as interim Dean Rita Kiki Edozie explained at the start of the event. The February welcome ceremony served to introduce the women to the McCormack Community and reminded audience members of the fellowship program's overall theme and purpose: "Learning from the past to create transformative power." As Dr. Laurie Nsiah-Jefferson, Director of the CWPPP, remarked in her introduction to the event, "Exploring the past and its role in transformative power is of some import. When we unpack the theme, we should expect a lot. These fellows will tell you how they bring power to their communities in the work that they do."
Joined by Dr. Jefferson and Dean Edozie, three of the new fellows gathered in conversation to discuss two primary themes: first, the experiences that shape their lives and, second, their notions on the impact of transformative power on their work.
For Natanja Craig Oquendo, "I come with an activist heart," she said. This has informed her career in grassroots organizations and nonprofits, where she works from a sensitivity that comes primarily with lived experience. Recalling a meeting that she and her daughter attended about welfare, Oquendo thought to herself, "It is so odd to me that there is not one person in this room who can speak from experience. They can only speak from what the reports are telling them." As she said, "If I had a heart issue, I wouldn't go see a dermatologist, but for some reason in philanthropy, we dismiss and we devalue people who are actually living the thing that we are trying to impact." This belief inspired her future work in the Boston Foundation and, later, as executive director of the Boston Women's Fund, where she works with diverse communities to build a better future for everyone.
Coming from a family of service, Maritza Cruz's life and work have been shaped by her experience of and witness to injustice as a woman of color. "For me, this is work of the heart," Cruz said. "It's part of humanity. It's as simple as that." As a trailblazing woman with a lifelong dedication to racial justice despite and because of institutionalized systems of power that continue to oppress people of color and women, Cruz made waves as the first Latina woman to run for city council and the first person of color to serve as director for the Worcester Housing Authority.
For Tahirah Amatul-Wadud, a Springfield-based attorney, the accomplishments of her career as defined by her biography were never what she expected for herself as a first-generation citizen in the United States. Encouraged by her family to go into law, she identified a great need for support by her own community. "Over and over, I was called into this service," Amatul-Wadud commented. "I began to do the work because I couldn't find anybody else to help these people." Thinking back to her grandparents and parents encouraging her to "do anything," Amatul-Wadud said, "I don't think they imagined that I was going to be dismantling systems of misogynoir, of racism, of pay inequity, of dangerous existence because we are Black and Brown women, but I'm very glad that I can."
In follow-up conversations, Marie St. Fleur and Susan Tracy—who were unable to attend the welcome event—both offered additional perspective on how their life's experiences have informed their work. For Marie St. Fleur, who jokes that she is a "recovering lawyer," her call to action was informed by her experiences immigrating from Haiti when she was 6 years old and growing up in Upham's Corner, Dorchester. Having gone to law school, St. Fleur intended to become a litigator but ended up on the government side after deciding to work as a prosecutor. "I saw the power that prosecutors had over the life of regular people," St. Fleur recalled. "If there's not fairness and life experience, since life experience is injected into that space, then those who administer the law administer it from their points of view, from their life experiences, and sometimes it creates inequity." St. Fleur decided to bring her own experiences and be part of that conversation, she recalled, going on to become the first Haitian American elected to state office when she was became a House Representative in 1999.
Susan Tracy, who brings with her the experience of having been enrolled in the Graduate Certificate Program for Women in Politics and Public Policy when it was housed at Boston College before its move to UMass Boston in 1992, explained that she came from a family that was politically engaged but not outwardly political. Witnessing the Watergate hearings sparked an interest in politics and government that Tracy pursued, eventually serving Allston-Brighton communities of Boston for two terms in the Massachusetts House of Representatives. As a gay woman who was newly out in her public-facing life, Tracy experienced hardship in the 1990s when she ran for Congress in the 1998 8th congressional district race. "That was a really different time than it is today," Tracy said. "Navigating through that in my life helped me a lot and was hard but also kind of freeing in its end result."
Reflecting on the role of transformative power, the fellows agree that it involves efforts that move toward liberation, where women, people of color, LGBTQIA+ individuals, and all marginalized people are, as Maritza Cruz said, "acknowledged as human beings that have value and what we say is important." Fellows also agree that transformative power occurs in increments, rarely all at once. As Susan Tracy explained, "Transformative power is not an explosion. There might be many explosions that make a change, usually for a short amount of time and then it reverts a little bit, but transformative power in government tends to be incremental." Amatul-Wadud suggested that transformative power is not always apparent and obvious. "Sometimes we won't know how transformative a thing is until we're looking in the mirror," she said.
As the six women leaders begin an 18-month fellowship with the CWPPP that will see them offering public lectures, mentoring students, and contributing to archives documenting Massachusetts' distinguished women's political leadership, the McCormack School inches transformative power along through its mentorship to future generations of leaders.