CRHSGG Ph.D. and MA students participate in UN con
CRHSGG Ph.D. and MA students participate in UN conferences in Spring 2023
---
06/02/2023
| Lilian Sibanda
Every semester, Department of Conflict Resolution, Human Security, and Global Governance students gain practical experience related to their area of study and research interests by engaging with society and institutions. In addition, they engage locally, nationally, and globally through their initiatives or projects linked to their research assistantships. The spring 2023 semester was a great example of our students making an impact.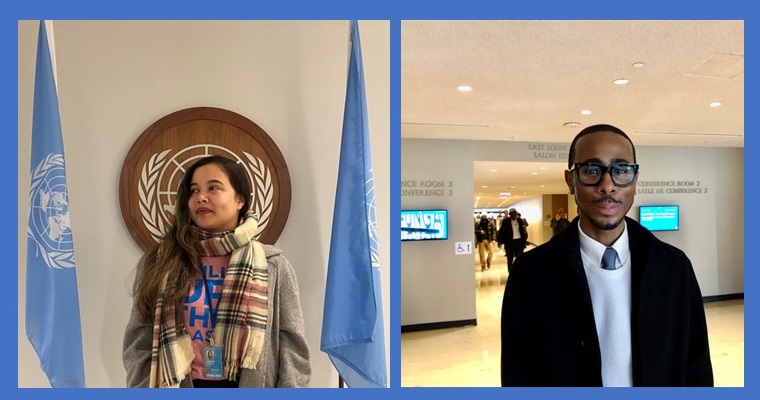 Jiedine Phanbuh, GGHS Ph.D. student (Left) and Brandon Sullivan, IRMA recent graduate (Right).
Image By: Images obtained from Jiedine and Brandon!
" Attend conferences, present papers, and meet people. "
In January and March 2023, International Relations MA student Brandon Sullivan participated in the Informal Consultations and Thematic Deep-Dives of the Intergovernmental Process on the United Nations Global Compact 2023 at the UN headquarters in New York. Sullivan engaged with decision-makers by delivering two three-minute presentations on Access to Knowledge (A2K) and Digital Inclusion. His presentation addressed the need for reflection on an imperative for access to knowledge which he sees as a common heritage of humankind. He argued that governments are decision-makers because they have the power to block social media and sites like Wikipedia for national and political purposes.
In March, Global Governance and Human Security Ph.D. student Jiedine Irene Alexandria Phanbuh participated in the UN 2023 Water Conference in NYC. The conference vision statement was "Our watershed moment: uniting the world for water." Phanbuh attended UN water plenary sessions in the General Assembly and interactive dialogues on different water areas, such as 'water for health,' 'water for sustainability,' and 'promoting water culture through learning and action' with country leaders and youths worldwide. In addition, Phanbuh shared her current research on transboundary freshwater resources on the "Youth Attaining Water Sustainability for Building Peace" panel, where she stressed cooperation to avoid water conflict. 
For Brandon Sullivan, CRHSGG courses like International Organizations and Global Governance gave him the theoretical underpinnings of how the governance of public goods works in the intergovernmental processes. The January and March meetings were co-chaired by the UN Permanent Representatives of Sweden and Rwanda, who facilitated engagements with member-states, UN agencies, the private sector, and civil society. Sullivan, an active Wikipedia editor, spoke in his capacity as the communications lead of the user group with communities of the Caribbean and delivered remarks on behalf of the community. He sees participating in conferences outside class as an opportunity to combine his love for technology and international relations and to engage with like-minded people in the world of technology. 
The Internet, he argues, is a great tool to advance critical global agendas like ICT for development (ICT4D) and "digital" human rights. Additionally, the Internet and technology are propellants in civil resistance and social movements against decision-making in authoritarian governments. Sullivan explains that it is important for IR scholars to engage critically in the use and governance of technology above state because if some states get their way, then there might be an erosion of Internet freedoms that we take for granted and allow us to exercise our freedom of speech wherever we are in the world. For example, Citizens use social media platforms to engage and advance civil rights movements against issues like police brutality, and authoritarian governments control freedom of speech [by shutting down or monitoring access to the Internet or specified social media sites]. Understanding social movement trends on the Internet enables IR scholars to understand better the "why" and "how" of states attempting to govern the Internet within and outside their borders. 
For Phanbuh, CRHSGG courses like Human Security (GGHS 710) prepared her to participate in and witness the global governance of water resources at the UN Water Conference. As part of the Human Security course, she learned of the UN's role in global governance and how the definition of security has changed over time. The move from a focus on state security to individual security means that the unmet basic needs (insecurities) of people globally need to be addressed above states. This culminates in events such as the Water Conference, where states make meaningful commitments to provide security for their people. Through her coursework, Phanbuh also learned of the drivers - the vast network of global governance actors and regional groups – which shaped the conference. Watching how states interact at the intergovernmental level was a valuable experience.
Jiedine Phanbuh believes water security is a crucial building block toward the goal of human security. She grew up in India, where nuclear-armed India and Pakistan periodically escalate their war rhetoric over conflict stemming from their shared freshwater resources. She has made it her life mission to bring light and promise of global governance to mitigating and resolving the conflict over increasingly scarce global freshwater resources. As an invited speaker on "Youth Attaining Water Sustainability for Building Peace," she toured water facilities in New York City with a group of international youth. Then she gave a presentation to raise awareness and make them enthusiastic about facing the problem of the unsustainable use of our world's freshwater resources. For Phanbuh, who will be working as a Harvard Rappaport Fellow this summer for a Massachusetts water-related agency, attending this conference was crucial to building on her current research and laying the groundwork for her future after she attains her Ph.D. This experience provided Jiedine with a front-row seat on global governance functions, including the plenary sessions where heads of state, NGO representatives, and stakeholders reported progress on and future commitments to the UN Sustainable Development Goal #6 ("ensure availability and sustainable management of water and sanitation for all") 
What would you like other students to know about participating in conferences?  
Jiedine: Go for it! Attend conferences, present papers, and meet people. The CRHSGG department will support you. Exchange ideas, make contacts, and be exposed to new ways of thinking and doing. It is incredible how your mind will make new connections between things and come up with new answers and theories in face-to-face conversations with like-minded, enthusiastic scholars and change-makers. And nothing makes you focus on your work more than having to present to a room full of professionals and scholars. I was invited to speak at the UN-Water conference after I presented a paper at the 2022 NEPSA conference in Boston last November and connected with a scholar who later asked me to speak at the UN-Water conference. This invitation afforded me a ground pass to the UN to attend the main sessions. Go! Make contacts! 
Brandon: The crucial part of being a scholar or practitioner of international relations is relationships. Building relationships that matter, and to me that is leadership and the connection of technology, development, and human rights. Participating in conferences is vital to engaging with organizations working on the issues of your interests and learning from people already working in the field. It is vital to put yourself out there even when you're scared and uncomfortable. There is support from the CRHSGG department and overall McCormack Graduate School. For example, for ISA, I was able to benefit from funding for travel expenses.  
Quote from Joseph Brown (MAIR Program Director),  
"Students in our MA programs gain a great deal from their engagement inside and outside the classroom. Working with NGOs and policymaking bodies expands our students' intellectual horizons, work experience, and network of professional contacts that will help them make a difference once they graduate from UMass Boston."