Deep Dive into Blue Tech - UMass Boston
Deep Dive into Blue Tech
---
05/09/2023
| Alumni Magazine
There is an ocean of opportunity off the coast of Columbia Point. The marine environment that covers 70 percent of the globe is home to a booming ocean-based economy. The rising demand for tools to support ocean exploration, aquaculture, offshore wind power, coastal resilience, and more is creating a tremendous need for innovations in what's known as blue technology.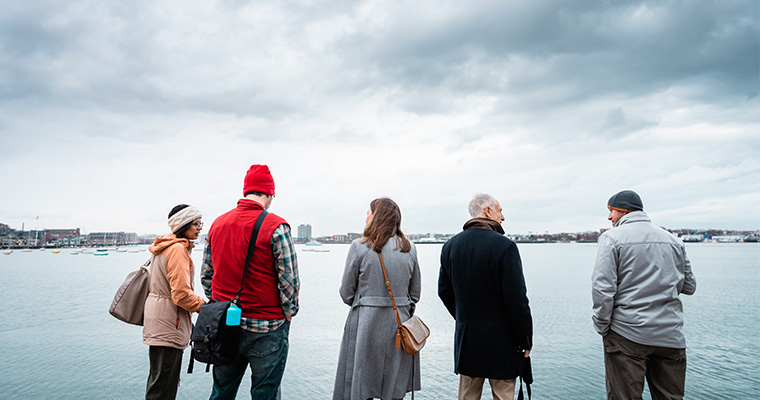 Leaders of the Stone Living Lab and Living Seawalls met in December to discuss their new collaboration in Boston Harbor.
With a major state grant and new collaborations, UMass Boston is becoming a Hub hotspot for emerging ocean technology.
The commonwealth is looking to UMass Boston to help make those advances happen. Last October, the Massachusetts Seaport Economic Council awarded the university a $820,000 innovation grant to bring new research and development tools to campus and spur engagement with blue tech startups. The funding will also expand the university's existing partnership with Boston-based SeaAhead, an organization launched in 2018 to support startups focused on innovation and sustainability in the world's oceans.
"We are thrilled to be launching Project BEACON with support from the Seaport Economic Council," said UMass Boston Provost Joseph Berger. "Climate equity is a strategic priority for UMass Boston, and this partner- ship with SeaAhead is an ideal opportunity for us to advance the blue tech economy and contribute to the sustainability of our oceans and coastal areas."
The grant, spearheaded by School for the Environment Interim Dean Bob Chen, will launch Project BEACON (Blue tech, Energy, Aquaculture Coastal and Ocean Needs), an initiative to boost the core facilities at UMass Boston to better support small blue tech companies and entrepreneurs who need advanced facilities to construct, test, and launch prototypes. Startups will be able to access an array of upgraded resources here, including a machine shop, a field prep facility, and increased direct waterfront access via the Fox Point Dock. The grant also allows for the purchase of a particle-size analyzer and an autonomous surface vessel for much-needed ocean floor mapping in the region.
Boosting the state's R&D infrastructure was a key part of former Governor Charlie Baker's administration's economic development efforts, and creating opportunities for students is also a goal of the grant.
"SeaAhead was formed around the concept of creating a new blue tech economic cluster in New England," said Alissa Peterson, cofounder and executive director of SeaAhead. "The BEACON project will accelerate this effort by providing access to critically needed infrastructure for the startups. The proximity of these startups will also create career opportunities for the diverse pool of talented students that attend UMass."
Interim Dean Chen hopes Project BEACON will introduce opportunities for students to get to know and learn from an entrepreneurial mindset. He is confident that blue tech innova- tion has found a natural home at UMass Boston.
"Boston is an ideal place in the nation to do blue tech," he said. "The brain power here is incredible. We're a major coastal urban city with a demographic that has been left out of ocean blue tech. And UMass Boston is unique within Boston—the public research university, on the T, with entry into Boston Harbor and the ocean. We are the portal."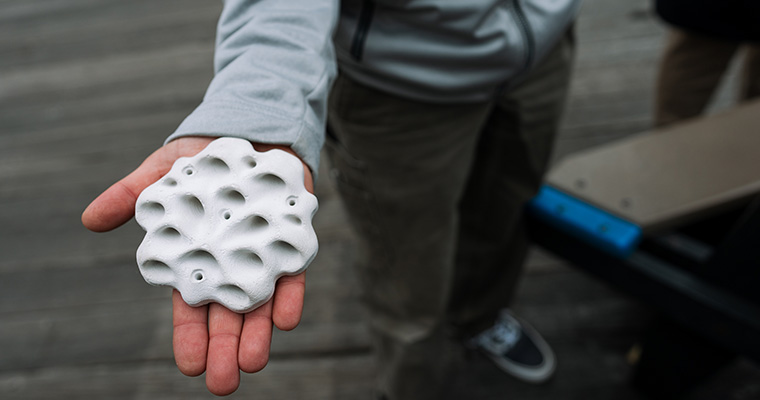 Walls to Wilderness
The Stone Living Lab and Living Seawalls plan to turn Boston Harbor's hardscapes into thriving habitats
The Australian blue tech company Living Seawalls and Boston's Stone Living Lab announced on December 1, 2022, that they will partner for an ecological restoration project on Boston Harbor's coastal seawalls to support the region's climate resiliency efforts.
The Stone Living Lab—a collaboration among UMass Boston's School for the Environment, Boston Harbor Now, the James M. and Cathleen D. Stone Foundation, and local, state, and federal government offices—was established in 2020 to research nature-based approaches for building coastal resilience in waterfront urban areas like Boston. Later this year, lab researchers will work with community members to identify two sites in Boston Harbor where concrete panels from Living Seawalls will be installed on existing seawall structures.
The modular panels are designed for "bringing life back to built structures," said Katherine Dafforn, associate professor at Macquarie University and cofounder of the Living Seawalls project. These habitat units feature various bumps, ridges, and holes that mimic natural shoreline ecosystems like rock pools and crevices. They will be fitted in scalable mosaics onto existing seawalls in Boston Harbor. The goal is to increase the habitat area available for critical marine life, such as shellfish, tunicates, and seaweed. They will also protect marine life from elevated temperatures and predators.
The partnership was announced as Prince William and his wife, Kate, the Duke and Duchess of Cambridge, visited Boston to celebrate the Earthshot Prize. The international award, launched in 2020 by William and inspired by President John F. Kennedy's Moonshot program, is designed to discover, spotlight, and scale up groundbreaking solutions to global environmental challenges in five key categories. In 2021, Living Seawalls was named a finalist for the Earthshot Prize to Revive our Oceans.
"Construction is a growing source of biodiversity loss in our seas," said Dafforn. "This project will showcase the amazing benefits to be gained by designing built structures for both humans and nature."
UMass Boston research has shown that Boston Harbor's coastal communities are threatened by coastal flooding, a threat that will grow due to climate change. The university is "honored" to collaborate with Living Seawalls to test the power of their prototype "to help improve biodiversity and manage flooding in Boston Harbor," said Paul Kirshen, a School for the Environment professor and research director of the Stone Living Lab.