Department of Counseling and School Psychology Awa
Department of Counseling and School Psychology Awarded $5.7M by Department of Education
---
The U.S. Department of Education has awarded faculty from UMass Boston's Department of Counseling and School Psychology a five-year $5.7 million award to increase representation and diversity among mental health clinicians working in Brockton, Lawrence, and Quincy public schools.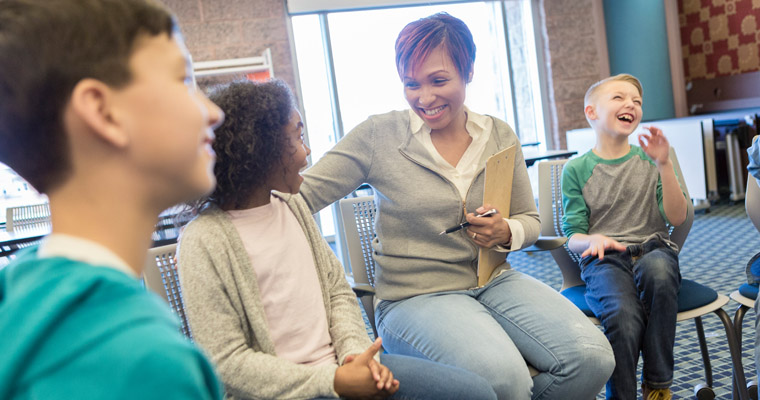 While almost half of the children who attend Massachusetts schools are considered to be from underserved communities, less than 10 percent of school personnel share a similar background. The goal of Project Beacon: Training School Mental Health Providers in Transformative Social Emotional Learning and Advocacy is to both increase the number of diverse school mental health clinicians in Massachusetts and to increase students' access to school mental health services.
Over the next five years, Project Beacon will recruit 50 Beacon Fellows, graduate students from underserved communities who will earn school psychology or school counseling degrees. Outreach to prospective students is taking place in UMass Boston's undergraduate community, local Boston-area school districts, and regional minority-serving institutions. Project faculty have already begun hosting webinars for prospective students to explain the important mission of Project Beacon and the unique benefits for the graduate students who participate in the program.
"In the Department of Counseling and School Psychology at UMass Boston, we train future school psychologists and school counselors to work with a health-promoting, social justice focus," said principal investigator Associate Professor Lindsay Fallon. "This funding makes it possible to leverage expertise that already exists in our department to fill a need for local school districts struggling to meet the demand for mental health and wellness services for their diverse PreK through12th grade student population."
Fellows will receive significant tuition support and a stipend for their internship year. Internships are typically full-time and unpaid, which can present a barrier to entering the field.
A broad range of support and educational opportunities to augment their academic and field work will also be provided to fellows. The program offers mixed reality simulation (MRS) technology to replicate real-world situations that new school-based mental health clinicians often face. Instead of experiencing complex interactions and tasks alone in the field for the first time, MRS avatars engage with student clinicians in virtual meeting spaces in a safe, supportive training environment. MRS helps new practitioners recognize and address implicit bias and engage in intensive advocacy and policy training.
Other opportunities for fellows include having field-based mentors, attending a national school mental health conference, and participating in webinars and summer institutes on transformative social emotional learning, culturally affirming mental healthcare, and advocacy.
Fallon's co-principal investigators include Associate Professor Amy Cook, Associate Professor Laura Hayden, Associate Professor Stacy Bender, Senior Lecturer Tracy Paskiewicz, and Associate Professor Tim Poynton.